Slideways Go Karting World (Pimpama)
Discover Gold Coast:
Favourite Theme Parks & Attractions
Racing Heartbeats and Adrenaline-Pumping Rush of Adventure in the Tracks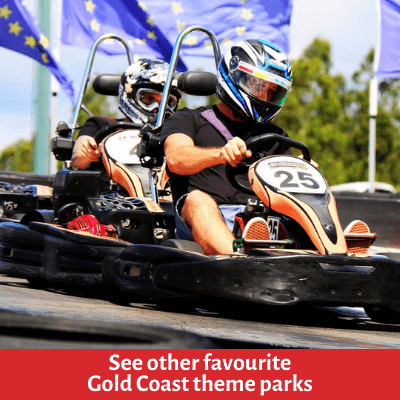 If speed is what you crave, do not go far and simply conquer the tracks of Slideways Go Karting World. This adventure has been the benchmark for indoor kart racing centers all over Australia and has been a favourite past time of many Aussies and tourists. Accessible from the major cities in Australia, Slideways is indeed one of the most spectacular circuits in Oz.
The track features a more European go karting experience and a layout known as "Nurburgring" of all karting tracks. With one of its major centres located in Pimpama, two minutes away from Dreamworld, it is indeed an outdoor adventure you will definitely  enjoy day and night. Fun for the whole family and an exciting adventure for the kids can be enjoyed here.
The race track features several elevations and changes perfect for both newbie and rookie go kart players. Sweepers, dippers, banks, and esses make the whole track adventure a truly fun and exciting one. The karts also come in various designs to be able to accommodate adults, kids, dual karts, as well as specialised family karts perfect for a one-of-a-kind family adventure. The track also features a 3-storey go karting facility 500 meters in length. It is like no other in the southern hemisphere. Perfect your steering, drifts, and pump on your gas as you hit the finish line.
If you are looking for a less boring and more fun activity you can do outdoors, day and night, the Slideways Go Karting World adventure is the best experience for you. 
The kart track features a digital timer that can measure one hundredth of a second that can be used to run up to 18 karts on the race track at a time for different multiple racing formats, for different levels of racing and go karting experience. The park promotes competitiveness but also serves as a fun escape to a memorable adventure.
Slideways Go Karting centres are also a fun experience to head out to even when the rain pours. You can still enjoy 425 meters of indoors circuit. Bucks party, corporate events, birthday parties, and hen's parties can be perfectly hosted in this venue as well. Challenge your mates or simply have a great time as you get ready, set, and go!
Ticker prices start at $7 each for the Balaclava and $72 per person for two 10-minute races. Three ten-minute races are tagged at $99 while VIP Silver passes allows you to enjoy four 10-minute races at $115 per person. VIP Gold passes start at $150 per person and will give you access to six 10-minute races. Additional races bought on the same day after the initial day purchase is at $38 per person. A parent or guardian is required for racers below 18. For small groups and corporate events, you can contact Slideways through their main website or social media to avail group packages.
Slideways Go Karting Top Activities and Experiences
✩ Kids Go Karting

The entire family and the young ones can have a lot of fun on the tracks at Slideways Go Karting.Children as young as four years old can ride the dual kart while sharing the track with drivers seven years or older. You can also enjoy the track in groups so fun is indeed guaranteed rain or shine in Slideways. An indoor track is available as well as a function room so you can celebrate children parties in style in Slideways centres.
✩ Beat the Clock and Win Slideways

During special events such as the Beat the Clock and Win @ Slideways, a driver gets to win every hour. Slideways centres offer flat price karting all throughout the day during these events and is giving away several prizes to drivers who will manage to beat the clock! Prizes include Ticket passes to Movie World, Sea World, Wet n Wild, and Paradise Country plus signed items from major sponsors and special gifts from Monster Energy, Jet Pilot, and more! 
✩ Slideways Go Karting Open Sprint Series

Social racing has never been this exciting and fun in Slideways. A part of the Slideways Scholarship Program, this event is open to drivers who are over 145 cm tall and are able to drive the Slideway Pro Karts. You'll be challenged by the normal and the reverse track direction races with random kart selections tested prior for your safety. Schedule of races are posted in the official website of Slideways Go Karting Pimpama.
✩ Slideways Scholarship Program

Slideways is not just a race track but an organisation with a cause. Every single race in the Slideways Race Events in Pimpama are counted towards the Slideways PWR Scholarship Program. The scholarship contribution racing budget goes as high as $35,000 over five stages. Such events are also your stepping stone to get into the professional world of competition in Go Karting. It is also an ideal entry level for the motorsport.
How to get to Slideways Go Karting World (Pimpama)
From the Gold Coast, Slideways Go Karting World in Pimpama is located 29.1 kilometers away. It is a short 29-minute drive via the M1 and can be easily accessed by car, taxi or shuttle service. Point to point theme park shuttle services are also available from the Gold Coast to Pimpama. The race track is within a 10-minute drive from Surfers Paradise and Broadbeach.
Sunshine Coast is a bit further from Slideways Pimpama. You can take the M1 highway and travel in between these two destinations for more than two hours. Brisbane is quite closer at less than an hour drive via the M3 and the M1 highways. The central business district is located 52.4 kilometers away from Slideways Go Karting World. Also check out Slideways centres closest to your location.
Slideways Go Karting World - Pimpama Operating Hours
Mon-Fri 12pm - 8pm          ✦          Sat 10am - 8pm          ✦          Sun 10am - 6pm
Open 7 days a week except Christmas Day. Open from 1:30pm - 8pm on ANZAC Day.
Currently now open day & night, with normal & reverse track directions available. For latest opening and track hours, pricing, race events, programs, and other booking essentials, check out the official Slideways Go Karting website.
 Address: 📍 232 Old Pacific Hwy, Pimpama Queensland 4209
Don't miss out on our Gold Coast theme park offers!
Exploring Gold Coast and your fave theme parks? Con-X-ion's got you covered.
Plan your way to your favourite theme parks and attractions with Con-X-ion's Gold Coast theme park shuttle transfers. Daily services available for the following destinations:

Slideways Go Karting is a fun activity that can be enjoyed by kids, adults, and adventurers-at-heart. If you love speed and the adventure the race track offers, Slideways is one of your best bets for your Gold Coast holiday. Unadulterated fun is indeed guaranteed at the end of the tracks in Slideways Go Karting World in Pimpama.
Take the hassle out of your travels with Con-X-ion's airport and hotel transfer services. Arrange your return transfers between Brisbane / Gold Coast Airports and your Gold Coast accommodation to Slideways Go Karting and other theme parks of your choice. Available for hotels in the following suburbs: Surfers Paradise, Main Beach, Southport, Labrador, Broadbeach Mermaid Beach, Miami, Burleigh.