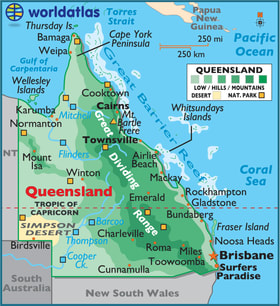 SEE: Queensland at a Glance
Welcome to Queensland!
As Australia's Sunshine State, this tropical paradise is home to numerous must-see destinations, rich heritage, scenic views, and adventure-filled activities. You'll basically be spoilt for choice wherever and whenever you choose to travel: there's always something for everyone's tastes all-year round.
From adrenaline-pumping theme park attractions and outback activities, modern city sights, cultural events and ecotourist destinations, Queensland has loads to offer for every type of traveler. Whether going on a getaway with the family, backpacking your way around, or travelling for official business, we've got you covered. 
There's a variety of ways to get around Queensland, fit for everyone's budget and traveling group size. From plane travel to public transport (bus and train), car rentals, and ferries and boats, to taking your car for a road trip or traveling by coach, here's how you can start to explore on your next Queensland trip.