Your One-Stop Themed Adventure Experience in the Gold Coast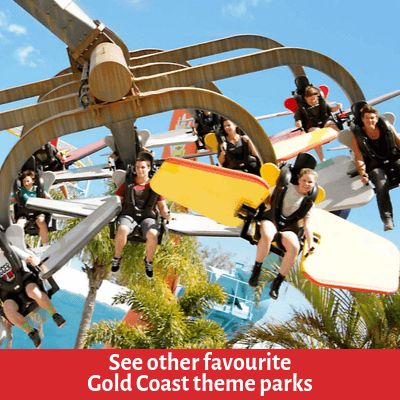 Dreamworld is the biggest and among the most exciting theme park (or parks!) and wildlife rolled into one. The park is loved and frequently visited by locals and tourists for its over 40 attractions and rides which include five exciting and heart-pumping roller coasters. The park is the home of the Australian Big Brother House since 2001.
Dreamworld is so huge that several themed lands took residence in the area. These include Tiger Island, Rocky Hollow, Ocean Parade, Dreamworks Experience, Town of Gold Rush, ABC Kids World, WhiteWater World, and the Dreamworld Corroboree. A huge collection of rides, animal exhibits, merchandise and souvenir shops, exclusive experiences, and food options are onsite.
Fun and excitement is guaranteed to be nonstop in Dreamworld. There is practically a ride perfect for any age, excitement and adventure levels as well as rides the whole family will certainly enjoy. Head to the Vintage Cars and drive along together with your kids and the whole fam. Kids will definitely adore the Bananas in Pyjamas Fun Maze or enjoy engaging their creative side at the Play School Art Room. Looking for some thrilling experiences over the water? Wedgie, The Green Room, and Wiggle Bay are some of your best bets. Can you imagine yourself flying high in the air as you scream and enjoy the extreme rides on the area? Tail Spin, The Claw, and The Giant Drop are your best bets. Restaurants are also plenty onsite as well as fun shows and interactive activities waiting for you to try them out.
Dreamworld is a destination for fun and experiences. Head to the LEGO store and shop LEGO kids while you get mesmerised by the wonderful block creations at the store. Shopping and photo outlets are also plenty so you'll get to enjoy a lot of souvenir shopping -- aim to bring home memories of the theme park to keep with you.
School reservations, events, and group tours are also available in Dreamworld.  There are lots of shows and special events to look forward to in this Australian theme park. Home to slides, shows, animals, and many other wonders, it is one of the ultimate adventures to conquer in the Gold Coast.
Tickets to the park starts at $89.00 for kids 3-13 years of age as well as AUS and NZ pensioners. Adult tickets are at $99.00 for a single day pass. Family day pass tickets for 2 adults and 2 kids are available at $340.00. You can check the official website for bundle tickets, group discounts, and extras for attractions and activities. Special events such as Happy Halloween and Park After Dark are scheduled regularly for guests to enjoy. You can check the official Dreamworld website to see the current shows and special offerings they have at the park.