An Insider's Guide: Explore Cairns & Surrounds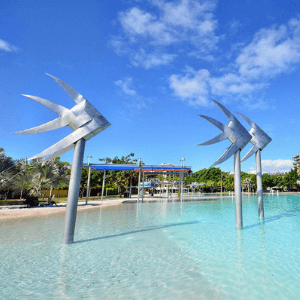 Cairns is far beyond just being Australia's gateway to the Great Barrier Reef. It is also one of the best tropical destinations located in the far north of Queensland. Music and dance are the main flavours that run deep into the culture, heritage, and tourism in the region. With its vibrant esplanade and stunning shores, the city opens you to thousands of fun possibilities.
Considered as one of the premier holiday destinations in Australia, Cairns is a favourite spot among local and international tourists and a preferred stopover for most luxury cruise ships. The destination offers adventures for all ages and suits any type of budget.
With its close proximity to the Great Barrier Reef as well as the famed Daintree Rainforest, Cairns has always been a Mecca for Scuba Divers, all types of fishing experience, reef cruises, snorkeling, and other deep water adventures.
The Skyrail Rainforest Cableway, delectable dining and fresh seafood, and the Scenic Kuranda Railway are just a few of the best things you can enjoy and see in the region. Hit the Kuranda Village and feel close to home with the warm welcome of the locals as well as the accommodating atmosphere that the region offers.
The surrounding areas are nothing less compared to the water adventures Cairns offers. You can go on hiking inside and beyond the rainforest regions. Explore the outback bushes, see native birds in their natural habitat, check out the wildlife in the region, or simply tour around the area to enjoy every piece of nature offering Cairns is known for. Home to several World Heritage wonders, you will never run out of fun and memorable things to do when in Cairns.
The town area is as equally inviting. Check out the bustling markets, the colourful cafes and the stunning beaches accessible from every vital point in town. You can either dip into a relaxing resort pool or explore the many tropical oasis in the region.