Gold Coast Airport Transfers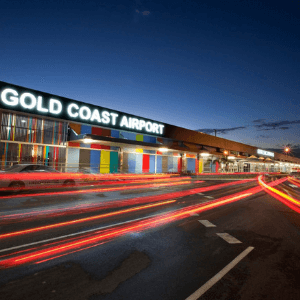 Renowned the world over for its unrivalled beaches, hinterland ranges, forests and hidden waterways, the Gold Coast is a vibrant coastal city that is enriched by a surf, sand and sunshine culture. A place where natural beauty reigns, the Gold Coast boasts 57 kilometers of spectacular coastline, of which attracts millions of visitors annually. The attractions, facilities, services and entertainment facilities are diverse and reflect the relaxed lifestyle of this unique city.
When seeking respite from the sun, why not venture to the Gold Coast's many retail precincts scattered throughout the city. From Harbour Town to Robina Town Centre, the Gold Coast is home to a wealth of shopping centres and boutiques suitable for all styles and budgets. There are also numerous authentic farmer's markets throughout the city that showcase a broad range of local produce and arts and crafts.
When it comes to good food and wine, the Gold Coast has got you well and truly covered. The Gold Coast delivers a fine range of modern Australia flavours and international cuisine, with over 500 restaurants and cafes dedicated to tantalising those taste buds. Partnering with its breathtaking natural settings, the Gold Coast's tastemakers utilise an abundance of fresh locally sourced produce to design unsurpassable menus.
If you're planning a trip to the Gold Coast, be sure to take your time to explore this flora and fauna wonderland at leisure. To ensure that your holiday is nothing but relaxing and stress-free, why not book your airport transfers with Con-X-ion and make the most of our Gold Coast airport shuttle bus service?