Recharge from Australia's Spa Capital to Another Tropical Escape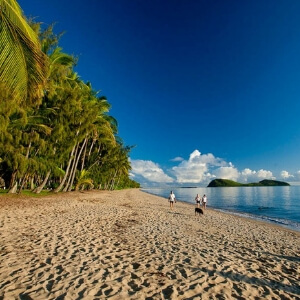 Laid-back holidays is what you can look forward to as you travel from Palm Cove to Cairns, and back. These two Queensland treasures are considered to be two of the top places to be for outdoor adventures and fun time under the sun. It will only take you 30 minutes on a bus from Cairns to Palm Cove. The gateway to Queensland's tropical north is wide open and waiting to be enjoyed all year round.
Cairns is best known to be the home of the Great Barrier Reef, but it has more to offer beyond this majestic natural beauty. The city is also home to the Wet Tropics World Heritage Rainforest - a destination that will bring you close to nature and more outdoor adventure under the sun. It is indeed a tropical oasis waiting to be unraveled and enjoyed.
Cairns is popularly known as the Spa Capital of Australia. Expect a lot of pampering and relaxing adventures to conquer while in the city. However, there are other fun and exciting things you can experience around town. The Skyrail Rainforest Cableway is an experience any daredevil should try to conquer. The Kuranda Railway and the Kuranda Village are great places to begin your adventure in Cairns, too. Dining options are also plenty. It is also one of the best places to enjoy Australia's tropical fruits and fresh seafood delights. Day cruises, outdoor sightseeing, and vivid coral gardens and marine life are also worth a visit.
Palm Cove is a quiet recluse you can escape to when you spend your holidays in Australia. You'll love the ambiance at the relaxing village located near the sea where Melaleuca trees are lined up and had been around the town for centuries. This tropical paradise is home to the best beach resorts, restaurants, spas and services not only in Australia but in the world.
Rainforest excursions are also activities you can include in your itinerary when you visit Palm Cove. Exploration adventures and excursions are thrill-filled. Such fun opportunities give you access to nearby islands where you can swim, get wet and wild, go kayaking, or simply enjoy the sun at the beach. Kids will also enjoy fishing activities and other fun things to do at the beach.
Doesn't matter whatever time of the year you'll be visiting, you'll surely not get bored with some of the best things to do and explore next time you visit from Cairns to Palm Cove (and back) all year round.