Popular Gold Coast Hotel Shuttle Transfers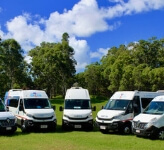 Book your Gold Coast Hotel Transfers with Con-X-ion
Con-X-ion provides daily hotel shuttle transfers to/from top accommodations all over Gold Coast. Book your transfer today so we can get you hassle-free and on time to your destination, every time.
Discover More Gold Coast Hotels
Gold Coast is one of the prime destinations in Queensland. With millions of tourists from around the globe visiting the region, it has been an Australian commitment to provide the best experience possible, not only in terms of spectacular spots to visit but also in terms of accommodations to stay in. Go on a hike on Queensland's famous hinterland, try a new water sport, visit Goldie's many parks to be up close and personal with natural fauna and flora, immerse in many culture-rich tours and activities, or explore the many theme parks available in the area. Transportation is also convenient and can tour you around the best destinations and picturesque spots Gold Coast has to offer.