An Insider's Guide: Explore Brisbane & Surrounds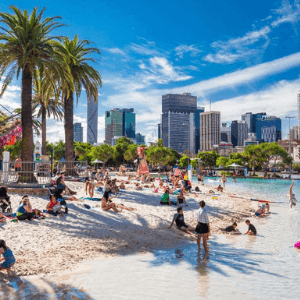 Australia's booming tourism destination and Queensland's third largest city and capital is indeed making its mark in the tourism and hospitality industry. With an estimated 450 suburbs making waves in travel blogs and favourite destination lists to beat, Brisbane is without a doubt one of Australia's fastest growing cities in terms of tourism.
Also known as Australia's "hippest city," Brisbane is among Oz's brewing centres for everything fun and exciting. Holidays are never dull in Brisbane. There is a wide variety of fun things to do, experiences and places to make you feel almost at home.
Gasp-inducing attractions to see are one of the main reasons people from around the globe gather and find a great time in Brissie. The cultural scene is superb and the nightlife, with all the bars and restaurants, are very much alive.
Areas near the Moreton Bay offer a different kind of opportunity for fun and relaxation. There are several low-lying sandy small islands with stunning turquoise waters to dip in. You can get close to the animals and swim with the whales or dolphins. Either way, a parade of sea animals can be enjoyed in the area.
West of Brisbane offers a relaxing escape. With heritage sites, rich architecture, and vast gardens perfect for those serene holiday experiences. Picturesque places are also plenty, so you'll be able to update your social media accounts with the best images and backdrops of your travel. Street art is smashing and there's plenty of friendly locals to make your holidays interesting through tours and activities hosted around the area.
Dining options are also bountiful. There is a growing number of cafes, eateries, bars, and world-class restaurants to let you experience the vast flavours and interesting cuisine featured around the refreshing and sumptuous dining options around Brisbane.

Picturesque Water Views
Situated near the Brisbane River and several other small suburbans with wonderful bodies of water to dip into, you'll have a wide variety of water activities to try. Cruising is a favourite water adventure popular in the city.

Scenic Nature Trips
Home to several sanctuaries and remote islands, there are plenty of flora and fauna to experience in Brisbane. Whether it's outdoor activity or simply enjoying nature's beauty, you can explore both options here.

Fun Animal Encounters
A visit to Australia would be incomplete unless you get up close and personal with the Koalas. There's the iconic kangaroo, too. There are several zoo and animal sanctuaries home to these animals you can visit.

Guided Tour Experiences
Traveling in groups or traveling with an expert tagged along would be an educational and complete way to experience Brisbane, especially for first-time tourists. There's plenty of free and paid tours you can check out in the city.

Outdoor Adventures Galore
Apart from skydiving or conquering the Story Bridge Climb, you can also try out a helicopter ride to take a glimpse of the whole of Brisbane on a different view. See Brisbane City on various points of view!

Entertainment at its Finest
Brisbane is also known for superb entertainment venues you can explore and indulge in. Whether it's a casino, a club, a theatre, or a cinema house, you have everything just closely located nearby in Brisbane.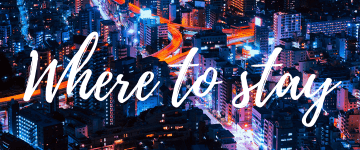 Brisbane Accommodation
There are plenty of relaxing places to stay in Brisbane. Depending on your budget, you can experience the most extraordinary, posh, and elegant places to lounge and catch a break in the city. There are also several home stays and apartments you can check out for more affordable stays with unique experiences and features to look forward, too.
If you are not renting a car, it would be ideal to stay within the main CBD of Brisbane. You can easily catch a train, ride taxis, or book a car or shuttle ride to get around the area. Staying in town also give you access to most of the things you can do around the city.
Most accommodations around Brisbane are self-contained and give you more space compared to traditional hotels. Kitchenettes are mostly available giving you the freedom to cook your own meal. Laundry facilities are also a common feature, perfect for long stays. You'll also love the stunning views, the hinterlands, the Brisbane River, and several other picturesque destinations right at your hotel window.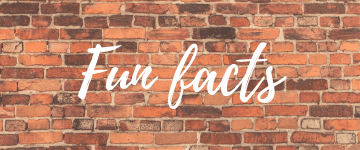 Fun & Interesting Facts about Brisbane
Brisbane is the capital city of Queensland and is also popularly known as the Sunshine State. It is also endearingly known as Brizzie or Brissie to locals and regular tourists. Misty blue hills and the popular Brisbane River surround the city.
Brisbane is not only the third largest city in Brisbane. It also happens to be a favourite destination due to its balmy climate and scenic beauty. It is rich in history and cultural heritage and was once known as Meanjin by the early Aboriginal people living in the city. Meanjin means "place shaped like a spike," describing the original look of the land making up the whole of Brisbane. During the World War II, Brisbane became the busiest submarine port hours before the ships were initially diverted to Brisbane before the famous bombing of Pearl Harbour.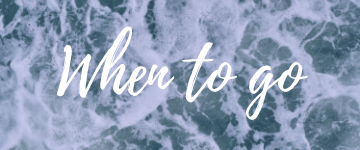 Best Times to Visit Brisbane
Any time of the year would be the best time to be in Brisbane. However, it would be ideal to go from March to May, during autumn. The Autumn Season in the Southern Hemisphere brings the best colours and makes Brisbane even more vibrant than usual.
These months are the perfect time to visit especially for tourists who are about to experience Brisbane for the first time. You'll be able to try and enjoy a lot of outdoor activities during these months thanks to the either hot or cold climate in the city. Sleeping conditions are also fairly adorable and temperatures typically vary from 24 degree Celsius during the day and 10 degree Celsius at night.
If you want to enjoy the cold weather in Brisbane, it would be ideal to visit the city on July. February tends to be rainy, but there are still a lot of activities you can enjoy indoors.
Getting around the city is very easy. Most destinations can be reached by foot, but if you're on a more secluded location, you can take the bus, a taxi, or get around through a car rental service. Shuttle services at your hotel and at various transit stops can also accommodate bringing you to and fro your favourite spot in the city.
It would be ideal to acquire a prepaid card if you intend to use the bus to get around Brisbane. There are also paper tickets that can be bought on the bus, or the ferry. You can also secure paper tickets at the ticket office or at the train stations. There are plenty of fare machines at the busway, the tram, and the train station as well.
Try out the rail network and discover Brisbane on a different light. You can visit several attractions in the city as well as nearby suburbs through the train services running daily, from morning to night in the city. Take note of the major stations located at the Roma Street Station and the Central Station.
Traveling from Brisbane Airport to the City proper is just a few minutes away. You can take a rental car, or buy a single ticket from the train station to get to the CBD. Buses are also a common option to get to the main CBD. Getting a shuttle bus transfer to bring you to your hotel or destination in the city is also very convenient at the airport.
To reach Brisbane from Sunshine Coast, it would be ideal to rent a car to reach the city in a short hour and a half. There are also public transportation and shuttle bus transfers available to bring you from one popular Aussie city to another. There is a direct bus that departs daily from Coolum Beach to Brisbane.
From Noosa, it will take you more than 2 hours driving to reach Brisbane. Travelling from the Gold Coast to Brisbane will take you an hour and 18 minutes via the M1 and M5 while driving. You can also ride the train through one of the six train stations in the Gold Coast or take advantage of more convenient shuttle transfers you can pre-book.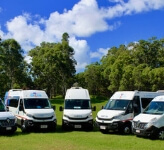 Book your Brisbane Shuttle Transfers with Con-X-ion
Take advantage of Con-X-ion's daily Brisbane shuttle bus transfers for hassle-free travel to your destination, every time. Travel with ease and book with confidence for your every Con-X-ion ride.
Explore popular Brisbane spots
Considered the heart of the CBD, fine dining experiences, delicious culinary concoctions, and fabulous restaurants are some of the best experiences you can check out in the city. Various attractions nearby await for locals and tourists alike.
You are welcomed to Brisbane by its stunning airport. The airport grounds is not just a pit stop, but it's home to one of the finest artists in the world and in Australia for a year. Popular destinations are just a few minutes away from here.
A taste of relaxation, outdoor fun, and so much more can be enjoyed in Caboolture. Filled with natural attractions to see, markets to frolic at, and visit and museums to check out, you'll have a blast indoors and outdoors during your adventure.
See other Oz Travel Guides
Known to be one of the finest destinations in Australia, the Gold Coast is indeed a treasure to see in Oz. With several stunning beaches to boot and world class accommodations to stay at, you're in for a perfect holiday.
One of the top surfing destinations in Australia and the best place to conquer the waves and get a tan. Sunshine Coast is indeed a destination filled with nature trips and activities to keep you busy all year round.
Your gateway to the UNESCO Heritage Fraser Island and Southern Great Barrier Reef, a relaxed slow-paced outdoor experience is waiting for your visit. Frolic around the parks, ride a canoe, or simply enjoy the sun and water in the region.