From Australia's Top Tourist Destination to a Trip to Its Safest Beaches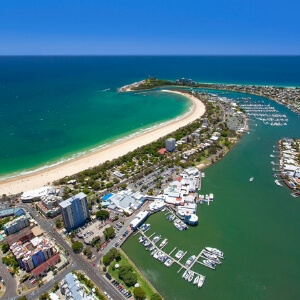 More than an hour away from each other, a holiday from Brisbane to Mooloolaba will bring you from one awesome vacation to another entertaining time away from your normal lives, hosted nowhere else but in Queensland. Get your cameras and your adventurous spirit ready for some wonderful and unforgettable experiences right in the land of Oz. A one-of-a-kind adventure awaits as you conquer the road from Mooloolaba to Brisbane.
Mooloolaba is a place for those who love the sun and the sand. A coastal town located in Sunshine Coast, the destination offers a stunning recluse where you can bask under the sun or under the stars without worries and stress. It is one of the safest beaches in Australia, and the beauty and entertainment it offers is a winner as well.
Mooloolaba is an escape. It is a destination you should visit if you would want to enjoy the most famous beaches in all of Queensland. You can wander at the pristine esplanade of the Mooloolaba Beach or stay away from the sun at the Cotton Tree Park. Known as the best playground and park in Sunshine Coast, this waterfront park is situated where the river meets the ocean in Maroochy. You can enjoy a picnic, hire a bike and tour around the area, or try out paddle boarding. A peaceful afternoon fishing or swimming can also be enjoyed in the area. A rainforest walk can also be experienced in Mooloolaba.
Brisbane is a king when it comes to tourist destinations in Queensland. Whether you are up for an extravagant and luxurious getaway or an affordable quick adventure in the city, Brisbane has an activity to offer. From high-end bars and hotels to free tours hosted by locals, you can always find a nice set of activities to keep you entertained during your stay.
Historical walks, night markets, bars, and entertainment destinations are also aplenty in Brisbane. The Brisbane River, Moreton Island, Lone Pine Koala Sanctuary, and the South Bank are some of the top places you should visit to completely enjoy Brisbane. There is a wide variety of restaurants and food stalls to explore and keep you full while enjoying the streets of Brisbane.
Doesn't matter whatever time of the year you'll be visiting, you'll surely not get bored with some of the best things to do and explore next time you visit from Brisbane to Mooloolaba (and back) all year round.