A Vibrant City Paradise Experience Like No Other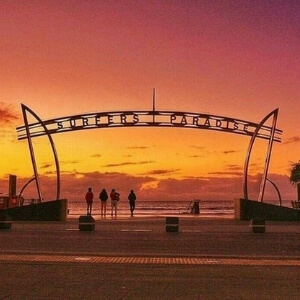 About 80 kilometers and less than 2 hours away (via direct bus) Queensland's capital is Surfers Paradise. As Gold Coast's capital set on miles of ocean surf beach, Surfers definitely has more than just the waves. From skyscraper apartment buildings, electric night clubs and pubs, to a vibrant shopping atmosphere late at night, this small piece of paradise is a busy hub all day and night.
Ever since the early days of the original Surfers Paradise Hotel, Surfers Paradise had always been a popular entertainment playground. Through the years, locals and tourists alike had repeatedly come back to enjoy what Surfers has on offer: from its world-class nightlife venues to an array of international events and overall eclectic atmosphere.

While surfing is the order of the day, other water activities such as boating and fishing can also be enjoyed in Surfers Paradise. The beachside boulevard vista overlooking the surf and sand is always bustling with cyclists, walkers, swimmers, and various people from all walks of life. Beachside shopping, alfresco and indoor dining, and and array of bars and clubs are popular attractions for domestic and international visitors. During mid-November to first week of December is Schoolies time, when up to tens of thousands of fresh high school graduates flock in the area.
Home to action-packed outdoor adventure experiences, rich urban cultural heritage, superb scenery, sunny weather and locals all-year round, and rapidly growing global connections, the sophisticated and vibrant Brisbane is aptly called Australia's New World City with a lot on offer.
Art, outdoor adventure, and hip new attractions are aplenty in Brissy, making it super easy for locals and tourists alike to explore a unique blend of local places and experiences. From colourful riverside gardens and relaxing river cruises, man-made beach attractions, historic structures, and varied tours to some of Brisbane's hippest and idyllic neighbouring islands, options are abundant for everyone to choose from.
Doesn't matter whatever time of the year you'll be visiting, you'll surely not get bored with some of the best things to do and explore next time you visit from Surfers Paradise to Brisbane (and back) all year round.