Bask Under the Rays of the Sunny Capital City to the Paradise North of Brisbane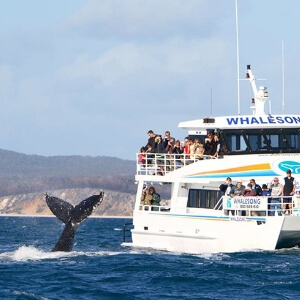 The long 3.5 to 4-hour drive from Brisbane to Hervey Bay, the city's aquatic paradise offers the best experience outdoors and with the natural wildlife of the city. Feel safe and mesmerised with the sheltered waters of Hervey Bay where you can enjoy a whole year of water sports such as swimming, scuba diving, sailing and fishing. You can even watch the whales migrate here between July and November every year.
Home to the calf nursery where whales visit every year, you'll most likely enjoy the subtropical climate of the coastal city. The pretty and quaint shores also host to cruises where you can watch and swim safely, together with the Humpback whales. There are also a lot of picnic areas, shops and alfresco cafes you can enjoy within the vibrant marina.
A day trip to one of the largest sand islands in the world – Fraser Island, is also an adventure you should never miss. Forget about your fear of heights and brave the skies and experience a skydive that lands on the beautiful tropical island. You can also opt to fish instead, for the less adventurous types. Rows of comfortable hotels and apartments that features beautiful views of the esplanade can keep you warm and cozy while staying in the bay. Lush gardens and indoor pools are also perfect for honeymoon and private parties. The Akama Resort and Aqua Aqua host to incredible ocean views you can enjoy during your stay.
Brisbane is as equally stunning and offers as much outdoor fun as Hervey Bay does. There are a lot of pristine riverside gardens and man-made beaches to soak into. Art galleries are a plenty and you'll love to spend an hour or two in the creative spaces and music lounges in the area. Hip new restaurants serves equally sumptuous meals and Instagram-worthy delicacies.
The eclectic arts scene is another tourist-worthy adventure Brisbane boasts. A trip on a bus from Hervey Bay to Brisbane is a true eye-candy. You'll see the hippest shops and neighborhoods worthy of your visit. Several neighboring Islands surrounds the landscape of the city, making it a boiling point for fun, adventure and cultural experience.
Doesn't matter whatever time of the year you'll be visiting, you'll surely not get bored with some of the best things to do and explore next time you visit from Brisbane to Hervey Bay (and back) all year round.