From City Hopping to an Island Adventure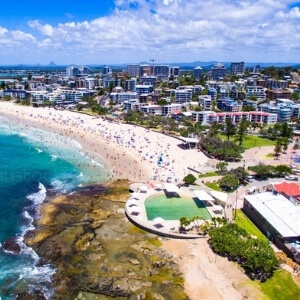 A bus from Caloundra to Brisbane Airport will take you a long 2-hour ride. There are bustling streets and busy alleys to see along the way. Several restaurants, shops as well as locals and tourist frolicking around the area keeps you entertained while on board. This is indeed one of the best 2 hour drive you'll find yourself in while exploring Brisbane to Caloundra. Is your itinerary already set? You might want to include these destinations.
There are hundreds of things to do and enjoy while in Brisbane. The locals are a good bunch to keep you entertained in the city. See those people in red shirts with big smiles on their faces, you've seen a Brisbane Greeter. These volunteers will tell you stories and guide you around the city. They can give you plenty of ideas and places to go while in the area.
Learn more about the region while taking a walking tour with Walk Brisbane. Hear the history of the people, see cool street art and get the best tips on where to take a sip of coffee, dine or party at night. You'll definitely learn a lot about Brisbane through its local. Tired of walking? You can take a bike ride via the Brisbane by Bicycle and stroll around the city's historical sites and several cultural attractions to boast. Get an insider guide from one of the tour guides on which restaurants to visit or the best places to wine and dine. There are many ways to level up your familiarity of Brisbane through the help of its friendly locals.
If basking under the sun is your definition of a great vacation, the beautiful sandy beaches of Caloundra will not disappoint. There are several main beaches to jump into. These includes the Kings Beach, the Shelly Beach, Moffat Beach, Bulcock Beach and the Currimundi Lake and Beach. Each beach also offers a unique water activity you can try out when you visit.
The beaches are also perfect fun spots for your kids. They feature several playgrounds to explore as well as family-friendly dining options close to the gorgeous calm waters. There are also several paths and trails where you can hike or enjoy a leisurely afternoon walk. Grab a bike as you explore the many stalls and joints along the coastline.
Doesn't matter whatever time of the year you'll be visiting, you'll surely not get bored with some of the best things to do and explore next time you visit from Brisbane to Caloundra (and back) all year round.