An Insider's Guide: Explore Melbourne & Surrounds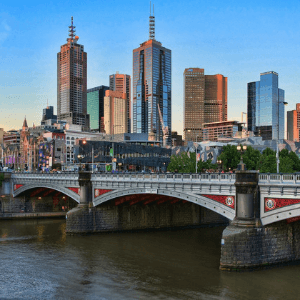 Melbourne is a haven for coffee lovers and for those who enjoy sports and live entertainment. Besides its booming tourism industry, Melbourne is known for its annual sporting events, the Melbourne Cup and the Formula One Australian Grand Prix. The city is also host to the Australian Tennis Open and the Rip Curl Pro in Bells Beach.
Culture and heritage is also rich in Melbourne. You'll see plenty of Victorian buildings that go as far as the 1850s, promenades, and laneways that give the region a very distinct European appeal. Every street and corner has a vibrant offering for its visitors.
Foodies will find a lot of things and places to love in the city. Culinary experts and talents have found a home in Melbourne which offers a wide range of flavours from around the world. You'll experience Greek, Mexican, Spanish, and American feasts in plenty of the dining areas in the city.
History is also clearly visible in plenty of heritage and cultural areas in the city. Head to the Federation Square and inhale the fumes of the old world and the famous Gold rush era. The area is also home to several galleries and museum dedicated to Australian Art. Fed Square also happens to be the largest free Wi-Fi area in Melbourne.
Melbourne also managed to embrace its natural resources and landmarks despite how it infused its society with the modern necessities of today. Several proofs would be the Royal Botanic Gardens and the Melbourne Garden that have been around since the 1840s. Here is where more than 8,500 species of plants both from locally and overseas are homed and continuously nurtured. It is also a free thing to do, but the experience and memories will be just as great like the rest of Melbourne's top tourist spots.
World-class coffee is another selling point that makes Melbourne a great place for relaxation. Known as the coffee capital of Australia, you will find a wide array of coffee selection in the multitude number of cafes and bars accessible in the main CBD and other nearby suburbs.
Best of Melbourne Tourism

Museums and Heritage Landmarks
A walk down memory lane would be perfect during a lovely afternoon in Melbourne. Some of the best places are the Melbourne Museum, Science Works, and the Old Melbourne Gaol. Tag along your kids during the trip.

Annual Sporting Events
Melbourne is known to be the sporting capital of Australia. It hosts the yearly Melbourne Cup, Melbourne Cricket, the Australian Open, and several other fun and exciting sporting events.
Nature Trips and Adventure
Spending time outdoors is indeed entertaining in Melbourne. Head to the Ada Tree Walk for some exciting challenges with friends and families. The Dandenong Ranges is a good place to enjoy Melbourne's flora and fauna.

Fun Tours and Activities
There are plenty of sights to see in Melbourne. Do it in style by riding the City Circle Tram. As it's a free ride and can get crowded, schedule your visit during non-peak season to get the most out of the ride.

Relaxing Cruise and Sightseeing
Glide and float over the Melbourne River via a relaxing cruise in the area. You can try the City River Cruises or the Melbourne River Cruises to enjoy the view of the South Pacific, New Zealand, and the east coast of Australia.
The World of Shopping and Fashion
Melbourne is also the best place for fashion and shopping. Melbourne Fashion Week is celebrated every year from August 28 to September 5. Fashionistas and aficionados will enjoy such festivities.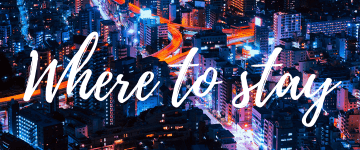 Melbourne Accommodation
Melbourne has been the most liveable city in the world for almost seven years now. With such good climate, friendly crowd, and accessible tourist attractions, one can't help but to stay to experience what the city offers. From traditional hotel rooms, apartments, and caravans, getting the best accommodations in Melbourne is as easy as A, B, C.
There are hundreds of hotels and accommodations that can be your temporary home while in the city. Some of the favourites include the Fraser Place Melbourne and the Jazz Corner Hotel. There are also apartments and unique home stays available to accommodate guests.
Unique accommodations such as Notel, an airstream trailer turned hotel, would be a must-experience to try. The Ovolo Laneways features a combination of stylish street art and fine accommodations. Glamping is also becoming a booming hospitality industry in Melbourne. Beachside-inspired home stays are also available around the main CBD and nearby suburbs.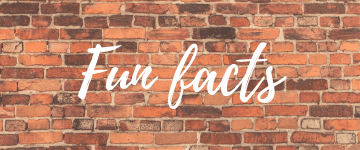 Fun & Interesting Facts about Melbourne
Melbourne, the coastal capital of Australia, has several intriguing facts. Prior to being Victoria's capital, it was once the capital city of Australia from 1901 to 1927. The city's weather for one is very unique and you may experience 4 different seasons, all in one day.
Melbourne has also managed to grow in the hearts of the people frequenting the city. It has the largest number of Greeks and Italian residents who are located outside of Europe. Back in 1856, it was in Melbourne where stonemasons demanded the 8 hour work shift and ended the era of unlimited slavery. This earned the city the title of "Workingman's Paradise." Speaking of titles, Melbourne was born as Batmania and was later renamed as Melbourne in 1838. Its former name was from one of the city founders name, John Batman.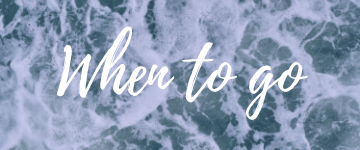 Best Times to Visit Melbourne
Melbourne is one of those Australian cities where you can travel all throughout the year. Summer would be the best time to go when the weather is mostly pleasant and warm. However, crowds tend to be big during December to March.
The Australian Tennis Open, Boxing Day Test, and the Australian Grand Prix are celebrated during the summer time so you can add the sports enthusiasts to be among the people you'll meet if you visit during this season. Hotel rates tend to be more expensive during these months. It would be ideal to book in advance to be able to steal a nice deal in your accommodations. Stay away during these months if you're not up for some hot weather.
The sun is more pleasant during September to November as well as March and May. It is the perfect time to go around on foot or stroll around in a bike outdoors. Picnics would be best hosted during this season.
Traveling around Melbourne is quite accessible with plenty of options to choose from, both public and private rentals. A unique experience would be taking the tram to get to the inner area of the city as well as the other inner suburbs. Traveling is also convenient, but it would be ideal to travel light as trams can get crowded at times.
Buses and trains are also very convenient and accessible to use when traveling around Melbourne. The buses would be the perfect network to choose to fill the gaps in between the tram and the train services. Trains and trams do not always have stops on every suburb so you may need to hop out and get on a bus to reach some areas.
You can also try bike riding if you love to take stops simply to inhale and enjoy the beauty of every corner you see in Melbourne. Car rentals, cabs, and airport transfers can be booked ahead to help you go around the city. Water taxis are also available and can bring you to the inner towns and areas of the city.
Traveling to Melbourne offers a variety of modes to choose from. You can either take a fly internationally or domestically, drive, take the bus, or ride a train to get to the coffee capital of Australia. Flying would be the best bet especially from the Gold Coast and Brisbane. Bus services and trains are also available but some do not offer direct stops.
Flights from Sydney to Melbourne are just a short hour and a half. However, driving is a different story. It will take you anywhere from 9 hours or more to get to Melbourne if you're driving a car to get there. Small towns can be passed by but not exactly scenic via the inland route which is the Hume Highway.
You can opt for the coastal route if you are up for some scenic places to see while you drive from Sydney to Melbourne. Follow the A1 Princess Highway to do so but be ready for the long drive that takes about 13 hours on average. Tag along a friend to enjoy the route and have someone to take turns on the wheel.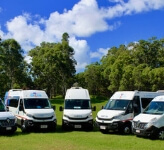 Book your Melbourne Shuttle Transfers with Con-X-ion
Take advantage of Con-X-ion's (and/or our partner transport provider's) daily Melbourne shuttle bus transfers for hassle-free travel to your destination, every time. Travel with ease and book with confidence for your every Con-X-ion ride.
Explore popular Melbourne spots
Melbourne Airport, also known as the Tullamarine Airport, is not just the primary terminal that serves domestic and international flights to the city. It also happens to be one of the busiest airports in the world and the gateway to your adventure in Melbourne.
Situated near the CBD and the major attractions in the city. Melbourne City is a gem among the suburbs in Melbourne. It offers a wide range of activities to enjoy, both indoors and outdoors. Some of the best coffee shops and bars can be accessed conveniently here.
See other Oz Travel Guides
One of the fastest growing cities in Australia. A perfect escape that entertains you with a wide variety of destinations to visit, food to indulge in, and coffee to enjoy. Nature adventures are also plenty and waiting for you to conquer.
One of the top surfing destinations in Australia and the best place to conquer the waves and get a tan. Sunshine Coast is indeed a destination filled with nature trips and activities to keep you busy all year round.
Known to be one of the finest destinations in Australia, the Gold Coast is indeed a treasure to see in Oz. With several stunning beaches to boot and world class accommodations to stay at, you're in for a perfect holiday.