Movie World
Discover Gold Coast:
Favourite Theme Parks & Attractions
A Memorable Hollywood Theme Park Experience in Goldie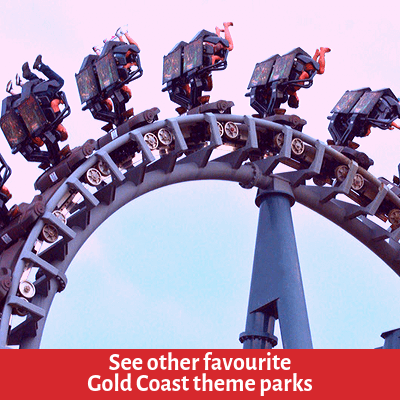 Warner Bros. Movie World is an all-time favourite big screen-inspired theme park in Gold Coast. Based on the characters and the iconic scenes from the DC Comic characters and the Warner Brothers film characters such as Tom & Jerry, Bugs Bunny, Tweety Bird, and Sylvester, it's indeed captured the hearts of many families visiting Queensland every year.
Movie World opened in June 3, 1991 and is the only film-related theme park in all of Oz. Mostly composed of movie-themed rides, you are indeed up for some heart-pumping and enjoyable time outdoors in the area. Motion simulators, slow river rides, and roller coasters are among the top rides you can look forward to inside the park. 
Live shows and entertainment are one of the features in the theme park. You can meet and greet Tom and Jerry and see their funny and troublesome antics at the park grounds. Head to the Hollywood Stunt Driver to see extreme precision driving (and more!) located on Main Street. This show can be too intense for some kids and adults. A daily parade come 3:30 PM, the Streets Star Parade is featured on the Main Street starting from the Fountain of Fame back up to the Main Street. The Lego Movie 4D Experience is one of the best shows available in the theme park perfect for the whole family and for kids and kids at heart! Available at the Roxy Theatre, moving chairs and water spray effects will keep you on top of your feet as you enjoy the show.
Famous Warner Brothers and DC Comic characters patrol the theme park grounds daily where visitors get the chance to take photos with them. Enjoy bonding with Austin Powers, the Green Lantern, Wonder Woman, Scooby-Doo, Shaggy, Batman, Bugs Bunny, and many more. Singing performances and short skits are hosted daily or impromptu at the park.
Active film studios are also featured in the park. Check out the House of Wax, the first ever Scooby Doo Film, or relive the magic of Peter Pan in the 2003 movie Ghost Ship The Condemned. With so many activities perfect for the curious child or the young adult looking for some high-end action, Movie World has something fantastic perfect for you.
Hollywood Stunt Driver 2 show starts at 11 am and ends at 1:50 pm. Entrance usually opens 30 minutes before showtime. The Looney Tunes Party starts the earliest at 10:45 am while the much-awaited Streets Star Parade starts at 3:30 pm. Movie schedules and other presentations at the main street can be accessed at the park. Single Day Pass entry in Movie World is tagged at $95.00. For show rates and bundle passes, you can check Warner Brother's Movie World's main website.
Movie World Top Rides and Attractions
✩ Thrilling Rides
Theme parks are all about exciting rides perfect for the adventurous soul.  There are around 8 exciting and nerve-wracking rides available in the theme park. Among the top thrilling rides available in the park is the Doomsday Destroyer. It is a looping 21-meter high ride that features intense effects not suitable for young kids. With a speed of 10RPM and suspended twin hammers, you are in for some heart-pounding experience.
✩ Family-Friendly Rides

Movie World is a destination for all ages. Younger kids are guaranteed to have as much fun as they can get with the kid-friendly rides available in the theme park. Go on a laser 3D ride at the Justice League 3D - The Ride, make memories at the Looney Tunes Carousel, bond with the other kids at the Speedy Gonzales Tijuana Taxis, or see the area a few feet up in the air at the Sylvester & Tweety Cages.
✩ Fun and Exciting Events

Movie World features seasonal fun and exciting events hosted at the Roxy Theatre half way down the Main Street. Fright Night, featuring horror mazes, rides, and precincts are scheduled regularly from 6pm to 10pm at the park. You can check the website for event dates and park directions. The White Christmas event during December is another festive event to look forward to in the theme park.
✩ Exclusive Experiences

Memorable experiences are one of the unique offerings available at the theme park. The Prince & Princess Experience Parade Exclusive Experience allows kids to get the chance to be part of the Streets Star Parade as one of the crowned prince or princess. Other fun experiences to try include the Hollywood Stunt Driver 2 Experience and the Star Tour - Access All Areas Experience.
✩ Retail Therapy

Shop for your favorite DC Comic character merchandise or simply enjoy going around the stalls and boutiques in the area. The Movie Memorabilia features autographed posters from classic movies while accessories and souvenirs are available at the Warner Brothers Boutique, the Superman Store, Scooby-Doo Store, Charlie & the Chocolate Factory Candy Store, and more. There are plenty of fun treats available in the area.
✩ Group Visits and Private Events

Experience a more in-depth and tailored adventure inside the Movie World theme park through the various events and world-class shows. Have a personalised group experience in the park available through the private events and group activities offered. Whether it is a wedding, corporate event, a private tour, or a special occasion, the Warner Brothers Movie World team has something amazing for you.
How to get to Movie World Gold Coast
Getting to the Movie World theme park is quite accessible even without a private vehicle. You can take the TransLink bus, the tram network, or the train to get to the Gold Coast. Movie World theme park shuttle services are also available to get you to the park from a specific point of location such as your Gold Coast accommodation.
From the Gold Coast, you can catch a tram, train, or a bus heading to Helensvale station. From here, you can transfer to bus route TX7. From Brisbane, you can catch a train at the Coomera station and then transfer to bus route TX7. Buses leave every 15 minutes daily from 9am-11:30 am from Helensvale.
Movie World Operating Hours
Theme Park Access: 9:30AM to 5PM          ✦          Theme Park Rides: 10:00AM to 5PM
Open everyday except on Anzac Day and Christmas Day
For latest theme park schedules, prices, day passes, and rides and attractions, check out official Movie World website.
Address: 📍 Pacific Motorway, Oxenford, Gold Coast, Queensland 4210
Looking for Movie World theme park deals?
Don't miss out on our Gold Coast theme park offers!
Exploring Gold Coast and your fave theme parks? Con-X-ion's got you covered.
Plan your way to your favourite theme parks and attractions with Con-X-ion's Gold Coast theme park shuttle transfers. Daily services available for the following destinations:

With a huge number of park rides to try, memorable and personalised experiences to discover, huge shopping and dining options and genuine fun at your fingertips, you'll never run out of enjoyable things to do on your Gold Coast holiday. Create memories and literally make dreams come true at Movie World Gold Coast.
Take the hassle out of your travels with Con-X-ion's airport and hotel transfer services. Arrange your return transfers between Brisbane / Gold Coast Airports and your Gold Coast accommodation to Movie World and other theme parks of your choice. Available for hotels in the following suburbs: Surfers Paradise, Main Beach, Southport, Labrador, Broadbeach Mermaid Beach, Miami, Burleigh.