A Memorable Hollywood Theme Park Experience in Goldie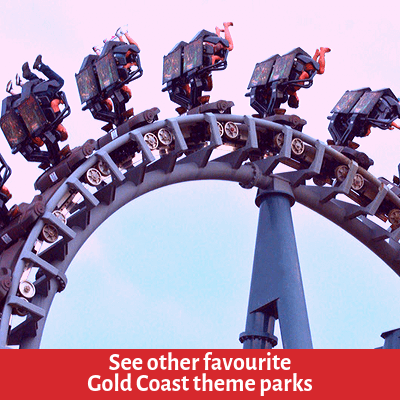 Warner Bros. Movie World is an all-time favourite big screen-inspired theme park in Gold Coast. Based on the characters and the iconic scenes from the DC Comic characters and the Warner Brothers film characters such as Tom & Jerry, Bugs Bunny, Tweety Bird, and Sylvester, it's indeed captured the hearts of many families visiting Queensland every year.
Movie World opened in June 3, 1991 and is the only film-related theme park in all of Oz. Mostly composed of movie-themed rides, you are indeed up for some heart-pumping and enjoyable time outdoors in the area. Motion simulators, slow river rides, and roller coasters are among the top rides you can look forward to inside the park. 
Live shows and entertainment are one of the features in the theme park. You can meet and greet Tom and Jerry and see their funny and troublesome antics at the park grounds. Head to the Hollywood Stunt Driver to see extreme precision driving (and more!) located on Main Street. This show can be too intense for some kids and adults. A daily parade come 3:30 PM, the Streets Star Parade is featured on the Main Street starting from the Fountain of Fame back up to the Main Street. The Lego Movie 4D Experience is one of the best shows available in the theme park perfect for the whole family and for kids and kids at heart! Available at the Roxy Theatre, moving chairs and water spray effects will keep you on top of your feet as you enjoy the show.
Famous Warner Brothers and DC Comic characters patrol the theme park grounds daily where visitors get the chance to take photos with them. Enjoy bonding with Austin Powers, the Green Lantern, Wonder Woman, Scooby-Doo, Shaggy, Batman, Bugs Bunny, and many more. Singing performances and short skits are hosted daily or impromptu at the park.
Active film studios are also featured in the park. Check out the House of Wax, the first ever Scooby Doo Film, or relive the magic of Peter Pan in the 2003 movie Ghost Ship The Condemned. With so many activities perfect for the curious child or the young adult looking for some high-end action, Movie World has something fantastic perfect for you.
Hollywood Stunt Driver 2 show starts at 11 am and ends at 1:50 pm. Entrance usually opens 30 minutes before showtime. The Looney Tunes Party starts the earliest at 10:45 am while the much-awaited Streets Star Parade starts at 3:30 pm. Movie schedules and other presentations at the main street can be accessed at the park. Single Day Pass entry in Movie World is tagged at $95.00. For show rates and bundle passes, you can check Warner Brother's Movie World's main website.