The Ultimate Australian Dining, Show, and Wildlife Experience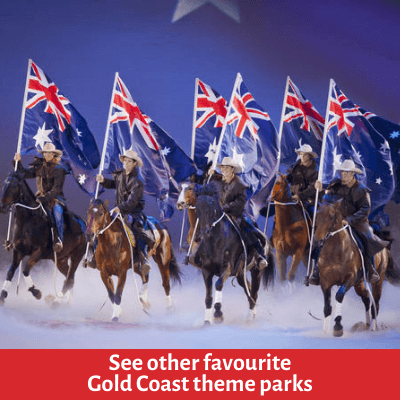 The Australian Outback Spectacular in the Gold Coast is an Australian dinner and show package that features the major Australian fauna. Singing, entertainment, and a taste of the bush tacker are some of the fun activities you'll get to enjoy in this Gold Coast attraction. This adventure sits between the Warner Brothers Movie World and Wet 'n Wild Water World theme parks.
Also a member of the Village Roadshow Theme Parks, Outback Spectacular is one of the best chances to experience the Australian outback life. Pre-show entertainment, great food, and a truly spectacular show is something you can look forward to during the whole event. The high country is indeed an experience not to be missed in the Gold Coast.
Saddle up and arrive in your best outback-inspired costume and start a one-of-a-kind adventure inside the Australian Outback Spectacular Show. The greatest stories of the best country legends and their captivating acts and stunts are brought to justice through this show. Musical scores are stunning and head bobbing and special effects are captivating. There are plenty of animals present during the show making it a charming extravaganza of everything Aussie. Dining is also superb. Get to enjoy a 3-course barbeque dinner with friends, the whole family, or a special someone. Vegetarian meals are also available as well as your favourite chicken, beef, and drink options. Enjoy all of these in your cowboy boots and cowboy hats as you blend in and enjoy the offerings the Australian Outback Spectacular show has to offer.
Pre-show entertainment is one of the delightful experiences you can enjoy the very moment you step inside. Prepped with live outback music, you can simply grab an ice cold beverage and catch up with the crowd at Bazza's Bar. You can even take quick photos as you have a blast before the show starts.
A gift shop is also available inside so you can easily grab an item or 2 as a memory of your experience in the outback. Live music makes the experience even more fun as you get entertained by the talented artists featured in the main arena.  A backstage tour is available for you to get a more in-depth experience in the outback.
General admission starts at $99.99 while top rail premium experiences can be enjoyed at $129.00. Backstage tours, celebration packages, pre-paid souvenir programs and pre-paid drinks are on top of your general admission fee. Taking souvenir photos with animals will cost you a minimum of $10.00. Dinner, show, and stays together with passes to Paradise Country starts at $295.00. The venue opens an hour before the show enough for you to enjoy the pre-show entertainment. Show duration takes almost two hours including your three-course meal.