Australian Outback Spectacular
Discover Gold Coast:
Favourite Theme Parks & Attractions
The Ultimate Australian Dining, Show, and Wildlife Experience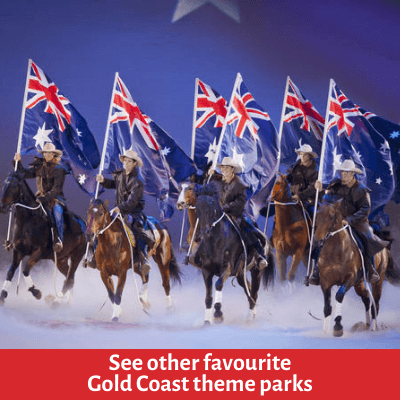 The Australian Outback Spectacular in the Gold Coast is an Australian dinner and show package that features the major Australian fauna. Singing, entertainment, and a taste of the bush tacker are some of the fun activities you'll get to enjoy in this Gold Coast attraction. This adventure sits between the Warner Brothers Movie World and Wet 'n Wild Water World theme parks.
Also a member of the Village Roadshow Theme Parks, Outback Spectacular is one of the best chances to experience the Australian outback life. Pre-show entertainment, great food, and a truly spectacular show is something you can look forward to during the whole event. The high country is indeed an experience not to be missed in the Gold Coast.
Saddle up and arrive in your best outback-inspired costume and start a one-of-a-kind adventure inside the Australian Outback Spectacular Show. The greatest stories of the best country legends and their captivating acts and stunts are brought to justice through this show. Musical scores are stunning and head bobbing and special effects are captivating. There are plenty of animals present during the show making it a charming extravaganza of everything Aussie. Dining is also superb. Get to enjoy a 3-course barbeque dinner with friends, the whole family, or a special someone. Vegetarian meals are also available as well as your favourite chicken, beef, and drink options. Enjoy all of these in your cowboy boots and cowboy hats as you blend in and enjoy the offerings the Australian Outback Spectacular show has to offer.
Pre-show entertainment is one of the delightful experiences you can enjoy the very moment you step inside. Prepped with live outback music, you can simply grab an ice cold beverage and catch up with the crowd at Bazza's Bar. You can even take quick photos as you have a blast before the show starts.
A gift shop is also available inside so you can easily grab an item or 2 as a memory of your experience in the outback. Live music makes the experience even more fun as you get entertained by the talented artists featured in the main arena.  A backstage tour is available for you to get a more in-depth experience in the outback.
General admission starts at $99.99 while top rail premium experiences can be enjoyed at $129.00. Backstage tours, celebration packages, pre-paid souvenir programs and pre-paid drinks are on top of your general admission fee. Taking souvenir photos with animals will cost you a minimum of $10.00. Dinner, show, and stays together with passes to Paradise Country starts at $295.00. The venue opens an hour before the show enough for you to enjoy the pre-show entertainment. Show duration takes almost two hours including your three-course meal.
Australian Outback Spectacular Top Activities and Experiences
✩ Outback Shows

The main event of the Australian Outback Spectacular is the main show that compels you into an emotional ride to the heart of the Australian outback. The show features members of the local community who show tremendous courage and inspirational stories involving the outback and the type of life they lead. This immersive and interactive show is indeed one of the best highlights of this attraction.
✩ Delectable Three Course Dinner

Dining is also a delicious experience you can enjoy in Australian Outback Spectacular. Vegetarian options are available but the main three courses feature tender chicken or a juicy eye fillet steak. Deserts are also equally sumptuous featuring dark chocolate flan and chocolate ganache with salted caramel sauces. You can contact their team for special dietary requirements in advance prior to your visit.
✩ Pre-Show Entertainment

Guests are advised to arrive 30 minutes earlier to be able to experience the pre-show entertainment in the venue. You can take selfies at the bar or together with the  horses in the venue. Souvenir photos with the star animals featured in the show can also be purchased on the venue. Backstage tours are available with additional fees before the show. Arrival photos and dog photos can be availed as souvenirs of your outback adventure.
How to get to Australian Outback Spectacular
The Australian Outback Spectacular is located 45 minutes from the southern region of Brisbane and 20 minutes north of Surfers Paradise. You can take a car and drive along the Pacific Motorway if you are from Brisbane or via the Gold Coast Highway from Surfers Paradise.
Buses are also available at the Gold Coast as well as shuttle services that will transfer you directly to the Australian Outback Spectacular venue. You can also book Australian Outback Spectacular shuttle transfers to/from your Gold Coast accommodation. From the highway, head to the Entertainment Road and enter the Roadshow Way. The  theme destination is located near the Village Roadshow Studios along the Production Drive in Oxenford, Queensland.
Australian Outback Spectacular Operating Hours
Evening shows start at 7:30pm        ✦          Monthly Sunday matinee starts at 12:30pm
View Show Dates & Times at the website. Outback Spectacular is closed on Christmas Day.
Show schedules are subject to seasonal changes throughout the year. Venue doors open 1 hour before the show, pre-show entertainment starts 30 minutes prior to show time. Shows last for 1 hour and 50 minutes with a 3-course meal served onsite. For latest list of Outback Spectacular shows and pricing, dates, and times, check out the official Outback Spectacular website.
Address: 📍 Pacific Motorway, Oxenford, Gold Coast, Queensland 4210
Don't miss out on our Gold Coast theme park offers!
Exploring Gold Coast and your fave theme parks? Con-X-ion's got you covered.
Plan your way to your favourite theme parks and attractions with Con-X-ion's Gold Coast theme park shuttle transfers. Daily services available for the following destinations:

The Australian Outback Spectacular is one of the genuine outback experiences you can enjoy conveniently in Goldie. Immerse yourself into the music, entertainment, and shows featured in the venue. Kids looking to get close to animals? The outback adventure has plenty of this fun offering to keep you entertained during your Gold Coast holiday.
Take the hassle out of your travels with Con-X-ion's airport and hotel transfer services. Arrange your return transfers between Brisbane / Gold Coast Airports and your Gold Coast accommodation to Australian Outback Spectacular and other theme parks of your choice. Available for hotels in the following suburbs: Surfers Paradise, Main Beach, Southport, Labrador, Broadbeach Mermaid Beach, Miami, Burleigh.