Paradise Country
Discover Gold Coast:
Favourite Theme Parks & Attractions
A Homestead of Adventure and Close-to-Nature Experiences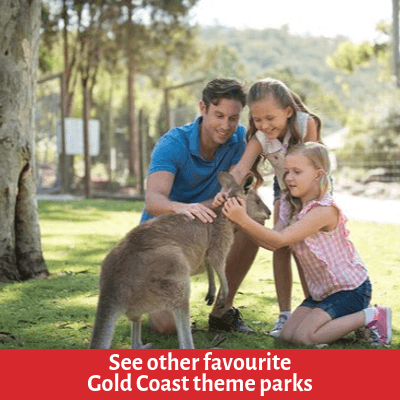 The Gold Coast may be popular for its beaches and stunning nightlife adventures but it also has a lot of nature adventure offerings. Paradise Country is one of the Aussie homesteads that feature various animals that you can meet and mingle with in this enjoyable destination. This attraction is also managed by the Village Roadshow Theme Parks.
Situated in Production Drive, Oxenford Queensland, you'll get to enjoy a farm tour that also features shows starring the famous billy tea, stock horse demonstrations, boomerang throwing shows, and so much more. The theme park has been around since 2005 and one of the best places to enjoy in the Gold Coast. 
Discover Australia's unique wildlife and be close to gorgeous and friendly farm animals as you bring your whole family to a fun and memorable experience in Paradise Country. The whole family, especially the kids, will surely find great experiences and interesting activities they can enjoy while in the area. You can have breakfast with the Koalas, go on a wildlife tour and see kangaroos, emus, and koalas in their natural habitat. The Farmyard Nursery is also a must-stop destination and exhibit you'll get to enjoy in the park. Kids can pet piglets, lambs, and other cute little animals. Daily feeds in the  farm park are also a must-try experience for the whole family. A tractor ride can be enjoyed in the park as you tour around the vicinity and see the other cute and cuddly animals featured there.
Animal encounters are one of the best features of the park. However, for younger kids, they can still get to enjoy the adventure shows hosted by the mascots in Paradise Country Gold Coast. The Pigs Playground is also a fun-filled experience and interactive adventure your kids will truly remember. Parents get to sit back and watch their kids enjoy their visit.
A playground, kiddie slides, and a lot of climbing can be enjoyed in this area close to the Farmhouse Restaurant. Other attractions and activities kids will love include Gold Panning, Opal Mining, Tiger Cub Encounters, Animal Exhibits, and Adventure Shows. Adventure camps for kids are also available onsite as well as several dining restaurants for your convenience.
A single day pass ticket is available at the park or online for $39.00. Animal encounters and activities have different entrance fees ranging from $5.00 for pony rides up to $169.00 for tiger cub encounters in the park. You can check the Paradise Country's official website for latest ticket bundles and other extras available. Shaun's Aussie Adventure Show, a favourite among kids, starts at 11:30 AM till 1:30 PM. Wildlife Walkabouts starts at 10:30 AM and can last up to three hours. Meet and greet with the park mascots Bitzer and Shaun starts at 12:20 PM till 2:20 PM.
Paradise Country Top Activities and Attractions
✩ Sheep Shearing and Ram Parade

One of the most interesting shows available in the park is the Sheep Shearing and Ram Parade presentation. This show features an authentic and master sheep shearer that gives kids a look into wool production and to showcase the skills of the master shearers in the park live in action. Set at the Shearing Shed near the Farmhouse Restaurant, shows are hosted daily at 10:30 am, 12:30 pm, and 3:00 pm currently.
✩ Farmyard Nursery

Young kids, teens, and every kids-at-heart and animal lover will definitely enjoy spending time at the Farmyard Nursery. The area is where the "baby animals" are kept. Rich in personality, guests will get a close encounter with lambs, kids, rabbits, piglets, guinea, and several other young animals. This can be accessed at the Farmyard Play Paddock where several adult animals are also kept in their natural habitat.
✩ Stock Horse Arena and Billy Tea Show

Relax and experience an authentic campfire activity in the park as you enjoy the traditional Billy Tea. Get to see the Aussie Outback in live action as you witness a full show of Australian Stock Horses in all their raw beauty and in full action, speed, and skill. Shows are available daily at 11:00 am, 2:00 pm and 3:30 pm. A complimentary Billy Tea and Damper is also available during the presentation. It is located in the Stockman Arena precinct of the park.
✩ Gold Panning

There are plenty of other activities that can be enjoyed by both kids and adults in Paradise Country. Apart from animal encounters, you can try out the Gold Panning activity available in the theme park.vThis activity is set at the Farmhouse Restaurant. You can book for the experience by purchasing a ticket on the Homestead Gift Shop or by buying it as a bundle together with your day pass ticket online.
✩ Koala Breakfast

The best way to begin and enjoy your adventure in Paradise Country Gold Coast is by enjoying a delicious breakfast together with the Koala Bears at the Farmhouse Restaurant. This adventure is only available during the weekends and includes an educational talk with the wildlife team of the park. You'll have a friendly Koala present during the whole of the experience. A souvenir photo is also given to guests to take home after the experience.
✩ Opal Mining

Gold is not the only precious mineral you'll get to enjoy and experience in Paradise Country. Opal Mining is another fun, unique, and interesting activity you can try. Head to Clancy's Mine located at the back of the Farmhouse Restaurant where you can pick an axe and experience the excitement of hunting for the elusive gem. Every discovery is a hard-earned souvenir you can take home.
How to get to Paradise Country
There are five different ways on how you can get to Paradise Country from Surfers Paradise. The most recommended route is by taking the tram from Cavill Avenue Station heading to Helensvale Station. On platform 4, there is a bus that will bring you to Paradise Country. 
The tram route takes around an hour and thirty minutes. If you prefer to get to the park faster, you might want to take an Uber or a taxi and it will only take you around 19 minutes to get to Paradise Country. The bus route is the longest which takes more than two hours and is even more expensive compared to driving your own car. If you are staying in a hotel, there are also various Paradise Country theme park transfers available daily from/to your Gold Coast accommodation.
Paradise Country Operating Hours
Park Access: 9:30am to 4:30pm          ✦          Show & presentation schedules vary
Open everyday except on Christmas Day and Anzac Day.
For latest park operating hours, shows and presentation schedules, day passes and prices, and animal encounters and experiences, check out official Paradise Country website.
Address: 📍 Production Drive, Oxenford Gold Coast, Queensland 4210
Looking for Paradise Country theme park deals?
Don't miss out on our Gold Coast theme park offers!
Exploring Gold Coast and your fave theme parks? Con-X-ion's got you covered.
Plan your way to your favourite theme parks and attractions with Con-X-ion's Gold Coast theme park shuttle transfers. Daily services available for the following destinations:

Paradise Country is one of the nature-inspired adventures and destinations featured in Goldie. Located near the top theme parks and destinations in Queensland, the farm park gives you access to Australia's local animals as well as fun activities perfect for your kids. One of the best destinations for the whole family on your next Gold Coast holiday.
Take the hassle out of your travels with Con-X-ion's airport and hotel transfer services. Arrange your return transfers between Brisbane / Gold Coast Airports and your Gold Coast accommodation to Paradise Country and other theme parks of your choice. Available for hotels in the following suburbs: Surfers Paradise, Main Beach, Southport, Labrador, Broadbeach Mermaid Beach, Miami, Burleigh.