SeaWorld
Discover Gold Coast:
Favourite Theme Parks & Attractions
A Bite into Australia's Exciting Marine Theme Park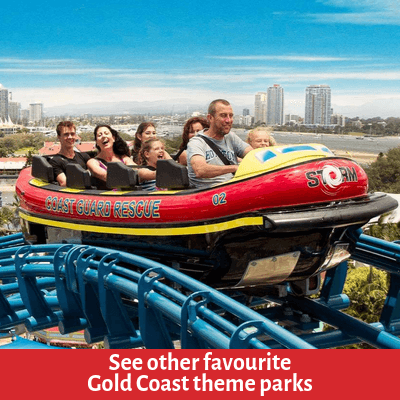 Sea World in Gold Coast, Australia brings the ocean and marine life closer to our hearts. A theme park, oceanarium, and marine mammal park all rolled into one, Sea World is not just a place to explore and experience; it is also one of the most influential advocates in education, conservation, and preservation of marine life. 
Managed by Village Roadshow, the division behind the likes of equally unforgettable theme parks in the Gold Coast such as the Warner Bros. Movie World and Wet'n'Wild Gold Coast, Sea World is indeed an experience close to anyone's heart. Originally dedicated as Surfers Paradise Gardens, it has come a long way and became a major local attraction in Goldie. 
Dubbed as Australia's #1 Marine Park, Sea World has a lot of fun and interesting activities and shows to offer to its guests. Amazing adventures await inside the theme park. A total of 13 animal adventures are featured in the marine park currently. Among the popular animal encounters include the Dolphin Aqua Adventure Child, one of the many water-based animal adventures in the park. For land-based animal adventures, you might want to check out the Penguin Arctic Adventure or the park's Marine Rescue Range experience. Summer programs are also a popular adventure in the marine park aimed to educate kids and adults alike about the diversity and importance of marine life in the Gold Coast and the rest of Australia. You can even be more intimate with the animals via the park's Trainer for a Day Program.
There are plenty of marine life to enjoy in this Gold Coast theme park. Sea World Gold Coast is home to many dolphins, seals, turtles, sharks, sea birds, tropical fishes, rays, sea jellies, penguins, and polar bears. Guests can get access to these animals through the guided tours and adventures available onsite. You can even go behind the scenes and see how animals are trained in the park.
Rides and precincts are also available in Sea World. Among the popular ones include the SeaWorld Sky Flyer, the Sea World Monorail, and the Bikini Bottom Crosstown Express. Upcoming rides to look forward to include the Vortex while an outdoor precinct - The New Atlantis - is bound to add more fun in the theme park by 2021.
Presentations at the park usually start at 10:15 pm and will take a minimum of 3 hours of your time to enjoy the full animal shows. The Thunder Lake Stunt Show starts later at 1:30 pm and ends at 4:15 pm. You can check Sea World's website to get a detailed schedule on the shows, parades, and presentations available at the theme park. Single day ticket passes for a one day experience in the marine park is tagged at $85. Ticket prices for 7 day, 14 day, or annual passes can be accessed via Sea World's main website.
SeaWorld Top Rides and Attractions
✩ Animal Close Encounters

Getting up-close and personal with the animals in SeaWorld is among the top experiences you can get to enjoy in the theme park. From curious seals to lively dolphins and cute sea jellies, several marine life featured in the park will definitely bring you closer to various ocean and sea creatures. Animal live shows, presentations and several adventures will keep you busy all day long inside the marine park.
✩ Animal Exhibits

There are nine animal exhibits available in the marine park. These include the Penguin Encounter, an indoor penguin exhibit, Polar Bear Shores, Penguin Point, Sandy Shores Lagoon, Sea Jellies Illuminated, Ray Reef, Seabird Rehabilitation Aviary, Seal Harbour, and Shark Bay. You'll get the chance to see the animals in their man-made habitat while learning a few fun facts about these marine animals.
✩ Flavourful Dining Experiences

With the numerous activities you'll get to enjoy in Sea World, grabbing a bite or two might be necessary to get energised for your next adventure. Grab a delicious seafood basket at the Lakeside Cafe or enjoy an overlooking view of Nickelodeon Land at the Dockside Tavern where signature Dockside fish and chips can be enjoyed. Fresh snacks are available at Village Bean and Fresh Focus Cafe.
✩ Wide Shopping Options

You can easily grab souvenirs or buy your favourite Nickelodeon character at the Nickelodeon Store. Plush toys, apparel, and trinkets are available at the shop. Billabong, Trade Winds, and SeaWorld Resort Store also offer a wide selection of shopping items that the whole family can enjoy. The SeaWorld Exit Shop is also a must-destination before you leave the park. There's plenty of fun souvenirs to remind you of your adventure in the marine park
✩ Live Shows and Presentations

Plenty of shows and presentations will keep you at your seats in Sea World. One of the cutest shows in the area is the Penguin Feeding Presentation at Penguin Point. Other favourite shows perfect for kids include the PAW Patrol Goes on Holiday, Turtle Power Live Show, the exciting Thunder Lake Stunt Show, and the Nickelodeon Character Meet and Greet. Kids and kids-at-heart will definitely enjoy these various shows in the marine park.
✩ Monorail Ride

Wanting to take a break from the adventures available in Sea World? Experience a scenic adventure at this Gold Coast Theme Park via the Sea World Monorail. This 2-kilometer ride features three stations at the park, the Main Station situated beside the Penguin Encounter Exhibit, the Mid Station near Shark Bay, and the Sea World Resort Station, the last stop of your monorail adventure.
How to get to Sea World Gold Coast
SeaWorld is located 25 kilometers away from the Gold Coast Airport and 9.6 kilometers away from the Gold Coast City proper. It will take you around 47 minutes to get from the airport to Sea World via the Gold Coast Highway/ State Route 3.
You can get to Sea World Gold Coast from Brisbane via a bus, tram, train, taxi, car or a shuttle service. The fastest route would be via a taxi, shuttle service, or a car which will take you 54 minutes from Brisbane CBD. Direct buses depart from Brisbane Roma Street and arrive at Southport. Buses to the marine park are available three times a day daily at this bus station. Daily Sea World shuttle transfer services are also offered to/from popular Gold Coast accommodations.
Sea World Operating Hours
Theme Park Access: 9:30AM to 5PM          ✦          Theme Park Rides: 10:00AM to 5PM
Open everyday except on Christmas Day; Open on Anzac Day from 1:30PM to 5:00PM.
For latest theme park operating hours, maintenance dates, day passes, shows and presentation schedules, prices, and rides and attractions, check out official Sea World website.
Address: 📍 Seaworld Drive, Main Beach, Gold Coast, Queensland 4217
Looking for Sea World theme park deals?
Don't miss out on our Gold Coast theme park offers!
Exploring Gold Coast and your fave theme parks? Con-X-ion's got you covered.
Plan your way to your favourite theme parks and attractions with Con-X-ion's Gold Coast theme park shuttle transfers. Daily services available for the following destinations:

SeaWorld is indeed one of the best marine parks in the land down under. The park is home to several marine life and exciting rides and adventures perfect for the whole family and for guests of all ages. Close encounters with these marine life are considered to be the best experiences you can enjoy on your Gold Coast holiday.
Take the hassle out of your travels with Con-X-ion's airport and hotel transfer services. Arrange your return transfers between Brisbane / Gold Coast Airports and your Gold Coast accommodation to Sea World and other theme parks of your choice. Available for hotels in the following suburbs: Surfers Paradise, Main Beach, Southport, Labrador, Broadbeach Mermaid Beach, Miami, Burleigh.