Wet n Wild
Discover Gold Coast:
Favourite Theme Parks & Attractions
Enjoying AU's Biggest and Most Extreme Water Slides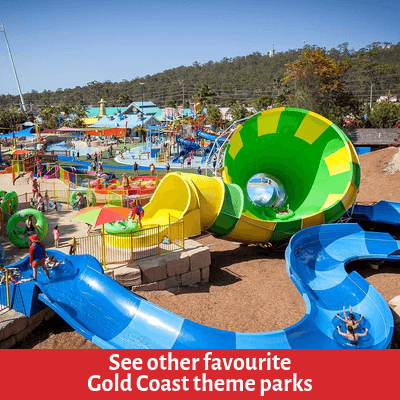 Adjacent to the Warner Brothers Movie World is Wet n Wild on the Gold Coast, one of the top water parks in Queensland. Splash into another world and enjoy the biggest, the best, and the most extreme water slides and adventures not only in the Gold Coast but in the whole of Australia. The water park is operated by the Village Roadshow Theme Parks.
Wet'n'Wild Gold Coast is home to some of the most exciting water slides in the world. In fact, the theme park ranked number eight in the whole world for having the most number of visitors in 2009. The water park is accessible all-year round, even during the winter months, with heating facilities to keep you warm during the cold season. Six other Wet'n'Wild parks operate outside Australia.
The sun and the warm splash of water on your cheeks are just a piece of the heavenly servings you'll get to enjoy in Wet'n'Wild Gold Coast. There are plenty of heart-pumping rides to try out, precincts and relaxing sports to enjoy, as well as exclusive experiences that will make your summer escapade a truly remarkable and memorable one. Hit the FlowRider and be hit by the waves as you enjoy this moderately exciting adventure. For maximum experience, the SkyCoaster would be your best host for adventure. For a more leisurely experience in the region, hit the Calypso Beach or the Wet N Wild Junior precinct to enjoy some sweet time with your kids and the whole family. The Giant Wave Pool is also a fun experience you should check out.
Wet N Wild Gold Coast has been around since 1984 and recently celebrated its 35th year last September 2019. It was originally dedicated as Cade's County Water Park during its opening in 1984 and eventually evolved into Wet'n'Wild Water World in 1997. The park currently features 4 pools, 17 water slides, and two children's areas.
Included amongst the most extreme water slides in the water park are the following - Tornado, Constrictor, Surfrider, Kamikaze, and AquaLoop. Perfect water slides for kids and the whole family include the River Rapids, Super 8 Aqua Racer, and the Mammoth Falls. Whether you seek thrills or relaxation, you'll find something perfect for you in Wet'N'Wild Water Park.
The park is open daily even on weekends from 10 AM in the morning till 5 PM in the afternoon. Ticket prices are worth $69 AUD for kids aged 3 to 13 . Adults will have to pay $74 AUD for a day of fun and adventure inside the park. Special pass prices and group discounts are available on the website. Planned and scheduled maintenance are regularly implemented in the attractions and water slides featured in the park to keep guests safe while enjoying the park amenities. 
Wet n Wild Top Rides and Attractions
✩ AquaLoop
For a maximum thrilling experience in the water park, you'll enjoy not just one but four looping and adrenaline-pumping transparent slides. This is one of the ultimate slides you'll get to enjoy in the park. You'll be released via a trap door that will make your heart race as you vertically fall into one of the four slides featured in the attraction. You need to be within 45 to 120 kilos to be able to enjoy this thrilling water slide.
✩ Kamikaze

A tube water slide that features a giant U-shaped slide that comes with a nerve-wrecking 11 meter drop before you land on a steep 70 degree angle on the Kamikaze. Speeds on the slide can reach up to 50 kph so prepare for one heart-pumping action-filled experience. Maximum combined weight for thrillseekers is 180 kg and should be above 110cm in height. It is a two-person attraction you can enjoy with your partner in adventure.
✩ Surfrider

Take on another thrilling experience in one of the many adventure water slides in the water park - Surfrider. The slide features a giant surfboard that slides up and down against a 39 meter wave! You'll plummet 30 meters from the air and can reach speeds as high as 70 kph backed with 360 degree turns in a minute of heart-pumping action. Riders must be 140 to 196 centimeters tall to be able to get access to this ride.
✩ Wet N Wild Junior

Splash into a more relaxing ambiance in the water park or simply see your kids enjoy the warm sun and the water below at the Wet N Wild Junior Experience in the water park. This precinct features eight kid-friendly water slides, smaller versions of the thrilling slides featured in the park. It is located in the shallow portion of the children's pool so kids can have an interactive adventure without parents worrying about their safety.
✩ Mammoth Falls

For slides for the big kids or the whole family, you can head to the Mammoth Falls. Ride a raft together with the whole family as you twist and turn. This water slide features two winding slides, 250 meters in length and 4.5 meters in width. Kids need to be at least a meter tall to be able to enjoy this water slide. A total weight of 660 kg is the maximum limit and those with certain medical conditions are not allowed in this attraction.
✩ SkyCoaster

Enjoy one of the most exclusive experiences in the Wet N Wild Water Park and be catapulted over the Giant Wave Pool on the park as you see a different view of the area while on a moving suspended cable. The challenge would be pulling your own ripcord as you plummet face first towards the ground! It is one of the pay per play attractions in the park with seasonal pricing available. You need to be at least 120 cm to access this experience.
How to get to Wet n Wild Gold Coast
Via public transport, you can take a train from the Brisbane International Airport Terminal to get to the Gold Coast. Buses 534, 118, and 169 from Orion Springfield Central will take 81 minutes before you get to the area. Buses 590, 310, and 66 are available from Brisbane's Airport Terminal.
Wet n Wild shuttle transfers also available daily to/from top Gold Coast accommodations and various pick-up points. Your access to an unadulterated summer experience is just 40 minutes away from Brisbane and 15 minutes away from Surfers Paradise by train, the fastest route available. A fun day out or a short escape from your busy and tiring days is just a short distance away here in Wet N Wild Water Park Gold Coast. Summer is indeed endless and so much fun here!
Wet'n'Wild Operating Hours
Current Water Park Access: 10am to 5pm          ✦          Opening and closing times are seasonal
Open everyday except on Christmas Day and Anzac Day.
For latest theme park operating hours, day passes, prices, and rides and attractions, check out official Wet'n'Wild website.
Address: 📍 Pacific Motorway, Oxenford, Gold Coast, Queensland 4210
Looking for Wet n Wild theme park deals?
Don't miss out on our Gold Coast theme park offers!
Exploring Gold Coast and your fave theme parks? Con-X-ion's got you covered.
Plan your way to your favourite theme parks and attractions with Con-X-ion's Gold Coast theme park shuttle transfers. Daily services available for the following destinations:

Wet N Wild Water World is one of the fun-filled summer and winter destinations not to be missed on your Gold Coast holiday. There are plenty of exciting water slides to experience and enjoy, as well as fun water escapes and adventures perfect for the adventurous at heart. 
Take the hassle out of your travels with Con-X-ion's airport and hotel transfer services. Arrange your return transfers between Brisbane / Gold Coast Airports and your Gold Coast accommodation to Wet'n'Wild and other theme parks of your choice. Available for hotels in the following suburbs: Surfers Paradise, Main Beach, Southport, Labrador, Broadbeach Mermaid Beach, Miami, Burleigh.