WhiteWater World
Discover Gold Coast:
Favourite Theme Parks & Attractions
Your One-Stop Themed Adventure Experience in the Gold Coast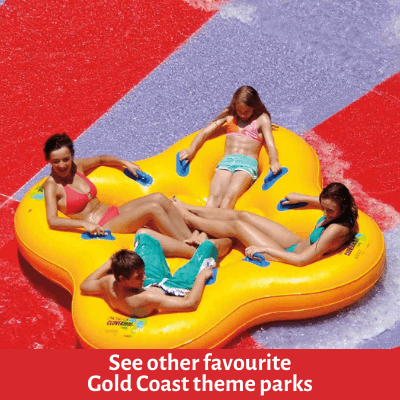 WhiteWater World located in Coomera, Gold Coast is one of the best places to be to enjoy the water and the park's stunning collection of water slides and fun water activities. A total of 11 water slides are featured onsite currently. White Water World began its operation back in December 2006 and is a big part of the Dreamworld Theme Park.
Beach culture / theme surrounds WhiteWater World. All these fun water facilities and adventures cost around 56 million AUD. Interestingly, despite the huge demand for water in the park, water use is designed efficiently, thus making sure that every attraction is filled with clean, safe, and relaxing water supply.
There are currently eleven fun water adventures available in the water park. These include the  Pipeline Plunge for kids, Super Tubes Hydro Coaster, the Wiggle Bay, the Cave of Waves, Temple of Huey, Triple Vortex, The Green Room, The Little Rippers, The Rip, The Bro, and The Wedgie. Cabanas are also available inside where you can relax after enjoying the water activities onsite or if you simply want to bathe under the sun. There are currently 23 luxury Cabanas available for guests to rent inside the park. There are even mini refrigerators, couches, and coffee tables available for your comfort. Cabanas can accommodate 6 to 16 guests. Prices start at $119 for small cabanas and $299 for the biggest ones called Treehouse Cabana - double storey three by six meters accommodation.
There are certain restrictions implemented inside WhiteWater World.  Minimum and maximum height requirements are followed for certain water slides. Cave of Waves is free for all while Wiggle Bay is limited to guests up to 120 cm in height. Temple of Huey is only for those with heights 120 cm and up while The Bro is only for those 140 cm and above in height. 
You can check Dreamword-WhiteWater World's website to see restrictions for each water slide. Restrictions are also displayed on the water slide for your guidance inside the park. Maintenance schedules are also implemented regularly on the water slides to be able to ensure safety and fun for guests. This is also available online through the park's website.
Ticket prices and bundle ticket deals can be bought online or at the park. A one day ticket pass to Dreamworld and White Water World is $89. Three day ticket  passes are also available at $99 for the two parks with additional access to SkyPoint Observation Deck and a 3-day bonus photo pass. Annual pass tickets start at $169 for tourist and $119 for locals and retirees. Fun starts at 11 am during weekdays and 10 am during weekends at the WhiteWater World theme park.
WhiteWater World Top Rides and Attractions
✩ The Little Rippers

The Little Rippers is a medium thrilled water slide adventure you can try at WhiteWater World. You need to be 120 centimeters in height to be able to try this exciting activity. It is one of the newest slides in the park that features single/two man tubes instead of the usual 4 cloverleaf tubes in other water slides. You'll experience a smooth and fun ride from the top, through the center of the bowl into the plunge pool at the end of the slide.
✩ Cave Waves

The Cave Waves is the biggest water attractions you can enjoy inside the water park. It is around 2,685 square meters in size and can accommodate 1,343 guests at a time. It is a relaxing water adventure inside the park. Simply enjoy the surging swells produced by the wave pool technology attached to this attraction that creates fun waves perfect for all ages. Lifeguards are on standby to keep the whole family safe and secure.
✩ Temple of Huey

One of the most colourful water slides inside WhiteWater World is the Temple of Huey. It features intertwined slides - the Broken Headz, the Cut Snake, and the Screamin' Right Handers. With a combination of high-speed drops in tubes that can accommodate up to two persons, you can indeed test your limits with the twist and turns featured in this attraction. It is one of the  most exciting slides featured inside the water park.
✩ Triple Vortex

One of the most thrilling water slides inside the water park is the Triple Vortex. Experience high accelerations and decelerate in style inside the water raft as it maneuvers up and down the waterslide. The Triple Vortex is considered to be one of the highest capacity tube rides on the planet. Dare to get inside the dark snake-like tunnels and be surprised with the excitement that the multiple open funnels offers. 
✩ The Rip
One of the maximum water rides you'll get to enjoy in White Water World is The Rip. The slide begins as you are launched in a 16 meter high tower plummeting to a 12 meter pitch black cave before you are blasted off to a  massive Behemoth Bowl, one of the best experiences you'll ever experience inside the water park. Two to four riders can be accommodated inside the cloverleaf tubing. 
✩ The Wedgie

A water slide featuring a launch chamber that will test your limits for excitement and adventure. This superloop body slide is one of the most extreme slides in White Water World. You'll be launched five stories down as you plummet feet first on a translucent pip inside the human half coil, a unique feature that sets this ride apart from all the water slides in all of Australia. Get ready to be "wedgied" in this water slide.
How to get to WhiteWater World Gold Coast
You can easily get to WhiteWater World through the various public transportation available around the area. From Surfers Paradise, you can take a taxi or an Uber and be at the park in 20 minutes via the Pacific Highway. There are signages available leading to the park along the way.
The Gold Coast is further and is 35 minutes away via a car ride, taxi, or Uber. You can also take the bus but it will take you longer on the road before you get to WhiteWater World. There are also various WhiteWater World theme park transfers available to/from the Gold Coast accommodation you're currently at. Brisbane is an hour away from the water park. You need to travel to the Coomera Exit. From there, you are guided with several signages leading you to the water park's location.
WhiteWater World Operating Hours
Theme Park Access: Monday-Friday: 11am - 4pm        ✦          Saturday-Sunday: 10am - 5pm
Open everyday except on Christmas Day and Anzac Day.
For latest theme park operating hours, single day / multi-day tickets and prices, and rides and attractions, check out official Dreamworld - WhiteWater World website. Also check maintenance schedules and off-peak ride hours on the site before you plan your next visit.
Address: 📍 Dreamworld Parkway, Coomera, Gold Coast, Queensland 4209
Don't miss out on our Gold Coast theme park offers!
Exploring Gold Coast and your fave theme parks? Con-X-ion's got you covered.
Plan your way to your favourite theme parks and attractions with Con-X-ion's Gold Coast theme park shuttle transfers. Daily services available for the following destinations:

WhiteWater World is indeed among the best water slide adventures Australia has to offer. If you enjoy the waters and crave the exciting challenges and fun adventures that it offers, this water park is one of your best bets for your Gold Coast holiday. There are plenty of slides perfect for all ages and thrilling water slides that will test your flair for adventure and excitement.
Take the hassle out of your travels with Con-X-ion's airport and hotel transfer services. Arrange your return transfers between Brisbane / Gold Coast Airports and your Gold Coast accommodation to WhiteWater World and other theme parks of your choice. Available for hotels in the following suburbs: Surfers Paradise, Main Beach, Southport, Labrador, Broadbeach Mermaid Beach, Miami, Burleigh.