Your One-Stop Themed Adventure Experience in the Gold Coast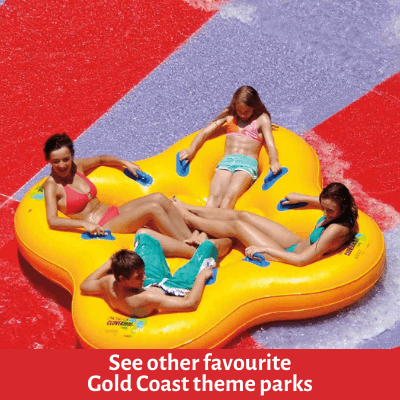 WhiteWater World located in Coomera, Gold Coast is one of the best places to be to enjoy the water and the park's stunning collection of water slides and fun water activities. A total of 11 water slides are featured onsite currently. White Water World began its operation back in December 2006 and is a big part of the Dreamworld Theme Park.
Beach culture / theme surrounds WhiteWater World. All these fun water facilities and adventures cost around 56 million AUD. Interestingly, despite the huge demand for water in the park, water use is designed efficiently, thus making sure that every attraction is filled with clean, safe, and relaxing water supply.
There are currently eleven fun water adventures available in the water park. These include the  Pipeline Plunge for kids, Super Tubes Hydro Coaster, the Wiggle Bay, the Cave of Waves, Temple of Huey, Triple Vortex, The Green Room, The Little Rippers, The Rip, The Bro, and The Wedgie. Cabanas are also available inside where you can relax after enjoying the water activities onsite or if you simply want to bathe under the sun. There are currently 23 luxury Cabanas available for guests to rent inside the park. There are even mini refrigerators, couches, and coffee tables available for your comfort. Cabanas can accommodate 6 to 16 guests. Prices start at $119 for small cabanas and $299 for the biggest ones called Treehouse Cabana - double storey three by six meters accommodation.
There are certain restrictions implemented inside WhiteWater World.  Minimum and maximum height requirements are followed for certain water slides. Cave of Waves is free for all while Wiggle Bay is limited to guests up to 120 cm in height. Temple of Huey is only for those with heights 120 cm and up while The Bro is only for those 140 cm and above in height. 
You can check Dreamword-WhiteWater World's website to see restrictions for each water slide. Restrictions are also displayed on the water slide for your guidance inside the park. Maintenance schedules are also implemented regularly on the water slides to be able to ensure safety and fun for guests. This is also available online through the park's website.
Ticket prices and bundle ticket deals can be bought online or at the park. A one day ticket pass to Dreamworld and White Water World is $89. Three day ticket  passes are also available at $99 for the two parks with additional access to SkyPoint Observation Deck and a 3-day bonus photo pass. Annual pass tickets start at $169 for tourist and $119 for locals and retirees. Fun starts at 11 am during weekdays and 10 am during weekends at the WhiteWater World theme park.