Cairns City: Your Doorway to World Heritage Sites and Nature Adventures
Cairns is a preferred pit stop for tourists and travelers heading to the Great Barrier Reef region. Besides being the gateway to this World Heritage site, the region also offers several natural reserves, rainforests, and nature activities waiting to be explored and enjoyed. Thrilling adventures also await in the downtown area of the city.
Cairns Esplanade brings you close to the restaurants and shops located near the waterfront area. Home to the Daintree Forests, you'll get a balance between water and forest adventures in the region.
Top Things To Do and See in Cairns City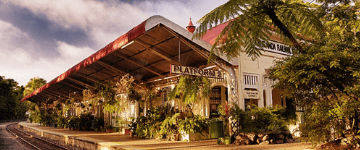 Cairns Railway Station
Enjoy the stunning views of nature and scenic highways of the Kuranada Scenic Railway by taking a ride at the Cairns Railway Station. The station runs from the coastal city of Cairns up to the town at the Atherton Tableland.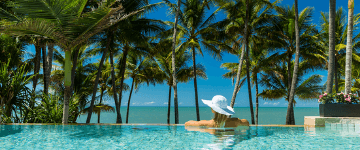 Palm Cove
Just a short minute drive away from the main city of Cairns is Palm Cove, a coastal suburban area that is perfectly lined with palm trees by the beach. The area is home to several coral reefs and a zoo. Some crocodiles are also seen in the region from time to time.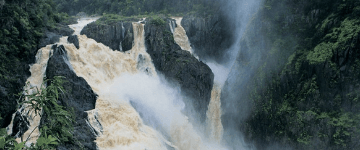 Barron Falls
Be captivated by the stunning waterfalls that create a dramatic scenic view of Barron Falls. Take a picture and relive this moment over and over. This lookout spot is one of the many loved scenic destinations in Cairns City.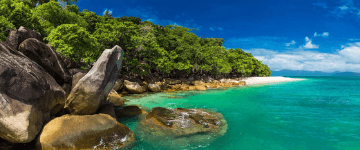 Fitzroy Island
Go hiking, get a tan, enjoy the beach, or simply frolic under the sun as you enjoy the lush tropical island of Fitzroy. The area is home to a pristine beach located near several upscale resorts and hiking trails that bring you close to the rainforests in the vicinity.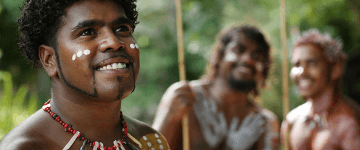 Tjapukai Aboriginal Cultural Park
The Tjapukai Aboriginal Cultural Park is one of the hearts of cultural experiences in Cairns. The area is an indigenous cultural center that features shows, events, and entertainment to tourists. It is also well-known for its hearty cuisine and buffets delivered the native Australian way.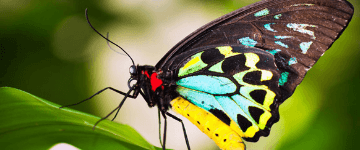 Australian Butterfly Sanctuary
Located in the region of Kuranda, the Australian Butterfly Sanctuary is a magical destination where you get to see the largest flight aviary and exhibit of butterflies in Australia. The sanctuary is also a record-holder in the Guinness Book of Records for this category.
Eat & Drink

There are plenty of dining options to explore in Cairns City. Head to the Cairns Esplanade for a food trip adventure in the region. Enjoy flamed grills, steakhouses, noodles, and French cuisine in the vicinity. There are also plenty of restaurants that offer Australian seafood and authentic Australia dining delicacies for you to enjoy. Milk bars are also plenty and a favorite hub for tourists visiting the region. There are lots of seafood dining options to enjoy in the region. Your breakfast, lunch, and dinner are guaranteed fresh and delicious when in Cairns.
Stay

Resorts and hotels are mostly located in the waterfront region of Cairns. Be captivated by the stunning views on your hotel windows or simply enjoy the luxury of being close to the seas while having access to the best facilities and hotel services in the region. Travelers on a budget can easily secure apartments, homestays, and backpackers inn for comfortable and affordable accommodations. You can also rent a campervan as your home away from home while in the beautiful region of Cairns.
How to Get Here
From Cairns Airport, you can rent a car to get to your hotel or accommodation. This would be the most comfortable and accessible mode of transportation for you in the region, but not necessarily affordable. There are also plenty of public utility buses that can take you from the airport terminal to the nearest bus stop located near your accommodations. Some hotels can arrange a coach or a shuttle service to pick you up from the airport and bring you to your hotel. Shuttle services are also available at the airport terminal.
Getting Around Cairns City
There are plenty of ways, both free, affordable, and lavish to get around the beautiful city of Cairns. You can easily walk from your hotel resort and head to Cairns Esplanade to dine or simply enjoy the region's feel. Plenty of shops are also located close to the top accommodations in the region making it convenient for you. Biking is also a preferred and an easy way to get from your hotel to nearby attractions and destinations. Rent a car to get you far from the beach and close to the nature adventures you can enjoy in the city. Buses can also conveniently bring you from your hotel areas to the top destination areas in the region. Cairns City shuttle bus and cabs can be hailed easily or booked online to help you enjoy and explore Cairns tourist offerings.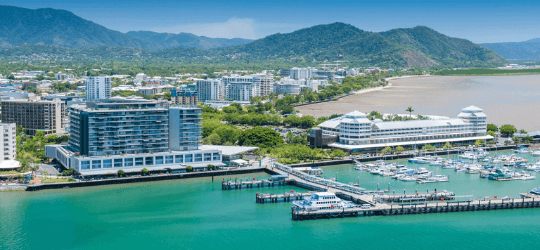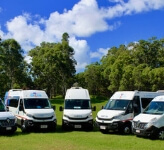 Ready to explore Cairns City?
Con-X-ion (along with our partner transport provider) offers daily shuttle transfers to and from Cairns City. Book your Cairns City transfers today so we can get you hassle-free and on time to your destination, every time.