A Tropical Holiday Escape to the Land of Oz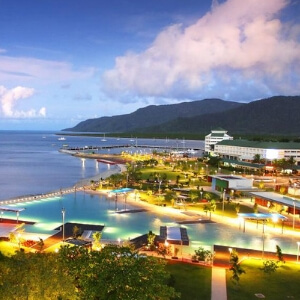 One of the seven natural wonders of the world found its home in the Cairns region of Queensland Australia. Cairns Airport to City buses will just take you 11 minutes and would welcome you to Australia's best offering of tropical fun and adventure. The town is a great escape perfect for families, friends, lone travelers, and digital nomads who would want to experience the pristine beauty of the region.
Cairns Airport shuttle bus to City proper is a short 6 kilometer away. Your excitement will be quickly reciprocated as soon as you step out of your bus and feel the relaxing tropical climate Cairns is known for. This popular destination is home to the Great Barrier Reef, one of the seven natural wonders of the world.
Whether your travelling alone or with friends, there are plenty of things to do and enjoy in Cairns. You can simply jump into the clear waters of the Coral Sea. Bask under the sun or have a stroll at the World Heritage listed National Park or enjoy lounging at the Cairns Esplanade. The Kuranda is a great spot where you can seclude yourself from the hustle and bustle of the city. A breathtaking view is featured at the SkyRail and Scenic Railway. Cultural activities and historical tours will keep you busy and entertained at the Tjapukai Aboriginal Cultural Park. White Water Rafting would be so thrilling at the Barron River, too!
Looking for other things to enjoy? Dining options are plenty and delicious in the city. You can check out the Lilypad Cafe or the Paleo Cafe for a relaxing dining experience. The Atherton Tablelands is a favourite amongst locals and tourists visiting the area. The Daintree Adventures should also be one of the activities on top of your list.
The beauty of your stay in Cairns cannot be contained in pictures and memories alone. You should get your bags packed and prepare to spend days and nights of fun adventure and unique experiences that will make your holiday in Australia truly remarkable. Grab your bags and passports and prepare to experience to enter the gateway to Queensland's famous north.
Doesn't matter whatever time of the year you'll be visiting, you'll surely not get bored with some of the best things to do and explore next time you visit from Cairns Airport to City (and back) all year round.