Welcome to the Buzzing CBD and Experience the Victorian Gold Rush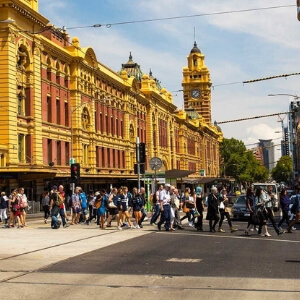 A short 20 minutes or 30 minutes ride from Melbourne Airport to City Centre will take you to the state capital of Victoria, Melbourne City. The city briefly known as "Batmania" was originally named after one of its founders John Batman. Today, Melbourne is known to be one of the world's most livable cities and continuously captivates you to go out, enjoy its city delights and experience the fun and adventure the busy Central Business District offers.
The streets of Melbourne feature no less but opportunities and adventure for locals and tourists alike. It is considered as the richest city in the world in the 1880s. The Victorian Gold Rush helped the economy boom and become that city it is known today. The art and festivities in every corner of the city attracts people to come, visit and stay.
March and April are two of the best time and busiest season in the city because of the Melbourne International Comedy Festival. The celebration is impossible to miss because it takes place practically in every corner of the Melbourne CBD. Crowds are mesmerized with the pink and yellow banners lined in the streets as people gravitate themselves to the Melbourne Town Hall – ready for a night of boisterous laughing and a ton of entertainment. Considered as the third largest international comedy festival in the globe, the Melbourne International Comedy Festival boasts of over 400 shows tourists and locals can choose from.
Take souvenir photos while at the Melbourne Airport to City Shuttle of the city's equally enchanting and eclectic street art. Visit the open-air markets of Queen Victoria Market for some shopping and a few local entertainments. The best place to explore the café scene is also in Melbourne. Melbourne City is paradise for any coffee enthusiast.
If you feel like getting away from the busy district of the city, find yourself headed to the lush green parks and mountain ranges in the area. The dynamic and versatile city is also known for its cultural diversity, giving you a visually appealing tour of the city. The Yarra Valley is a destination you should never miss. The vineyards and the farmhouses will truly keep you relaxed and entertained during your visit.
Doesn't matter whatever time of the year you'll be visiting, you'll surely not get bored with some of the best things to do and explore next time you visit from Melbourne Airport to City (and back) all year round.