Melbourne City: AU's Second Biggest City and Victoria's Charmer Capital
Melbourne City is the capital city of Victoria and also happens to be the second largest city in the whole of The Land Down Under. Home to millions of Aussies, it also happens to be the richest city in the world during the economic boom in the 1880s. The Victorian Gold Rush was indeed the start of the majestic beginning of Melbourne City. At present, Melbourne is considered as one of the best places to go to for a diversified tourism experience.
Melbourne is well-loved for its world-class coffee. It is home to the best and the brightest coffee concoctions around the globe naming it the Coffee Capital of the World. Street art and entertainment is also something to look forward too during your visit. It is also home to the popular Melbourne Cup where millions of people from around the world visit to see the games.
Top Things To Do and See in Melbourne City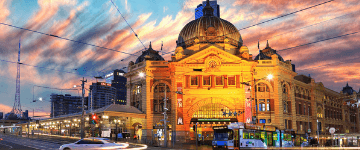 Flinders Street Station
If you are up for some fun time with the crowd, you will definitely enjoy taking souvenir pictures or simply watching the crowd go by at the stunningly decorated Flinders Street Station. This station is a photogenic landmark destination where trams attend to over 100,000 commuters passing through the station every day. The iconic station clock is not to be missed.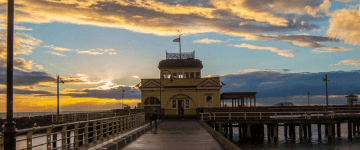 St. Kilda Pier
Want to immerse yourself into beauty and colours, the St. Kilda Pier would be a perfect spot for you in Melbourne. You can see plenty of Art Deco mansions, retro-inspired flats, kosher bakeries, artists, rollerbladers, and hipster cafes. The stretch of St. Kilda is an eye candy and has been home to countless TV shows, films, and novels. A favourite bayside in the area.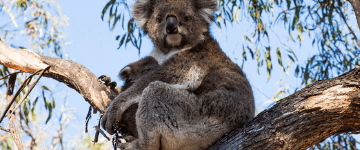 Koala Conservation Centre
Phillip Island's Koala Conservation Centre is not just a place where you can bond together with this iconic Australian marsupial. It is also a perfect place where you can enjoy the surroundings and take pictures on elevated boardwalks. October to December would be a perfect time to visit so you can see the fur seals at the Seal Rocks that migrate and visit annually.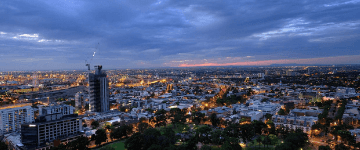 Corner Hotel
A vibrant music scene is what makes Melbourne different from other cities in Australia. Visit the Corner Hotel and experience head shaking and hip grinding music from the 40s to the present time. Popular personalities such as Mick Jagger, the White Stripes, Crowded House, and David Gilmour have graced the Corner Hotel stage. The best live music experience in the area.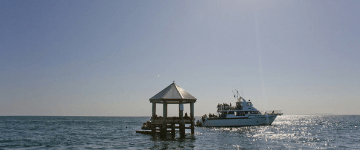 Port Phillip Bay
The thrill of swimming with the dolphins would be best experienced at the Port Phillip Bay. You can secure boat tours in the area to enjoy a guided tour as well as getting close with the famous bottlenose dolphins of Melbourne. It is a powerful experience that you should not miss. If you're testing the waters, you can enjoy a view of the experience on deck.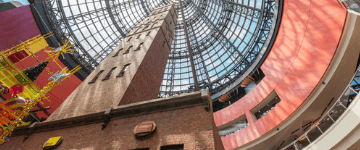 Melbourne Central Shopping Centre
Melbourne offers the best places to shop and visit to bring home souvenirs or to simply enjoy your day indoors. You should not miss the Melbourne Central Shopping Centre. Besides a massive option for dining and shopping, you'll adore the statuesque Coop Shot Tower design of the building with its domed glass windows that stands a stunning 84-meter high.
Eat & Drink

Melbourne is well-known for its dining and cafe scene. Some of the famous dining spots you should go and visit includes the Taxi Kitchen near Flinders Street. It's a spacious upscale dining space that features chic spots perfect for your Instagram worthy pictures.There's also the 8bit, a perfect destination for late night dining and a place where kids can grab their favourite dishes. Wines and upscale dining can be experienced at the Scopri Italian Food and Wine. A unique cafe experience would be ideal at the Cat Cafe Melbourne in Guildford.
Stay

Melbourne City accommodations are nothing less but the finest. There is a wide variety of traditional and unique places to stay that can definitely help you relax and make your stay in Melbourne memorable. You can try out themed-rooms and home hotels near the bay areas. There are also entire cabins and apartments available for you to stay at especially with kids and the whole family in tow. You can also book at several famous hotels in the CBD such as the Fraser Place Melbourne, the Mantra Southbank, or at the Best Western Melbourne City.
How to Get Here
From Sydney to Melbourne, the best option to get to the city would be via air that will only take an hour and a half. Driving from Sydney to Melbourne would be a long 9 hour drive, but the views in between would be so worth the effort. From the Sunshine Coast, domestic flights are also available. It will take two and a half hours to travel from one city to the other. Gold Coast which happens to be just beside Sunshine Coast will also take that much time by plane to Melbourne. Biking from Gold Coast to Melbourne is possible but would take 84 hours or 3 and a half days.
Getting Around Melbourne City
Trams would be a unique and fun way to get to the city and other inner suburbs in Melbourne. Trains are also a convenient option but the trams is something you should experience at least once during your visit. There is also a number of bus routes and networks available around and in and out of the city to help you get around. Bike riding would be an ideal option if you prefer short trips or if you are getting familiar with the area. Taxis and car rentals are very accessible especially in the CBD. Airport and hotel transfers offer a more lux and convenient way to get around the city. Water taxis are also plenty near the coastal areas.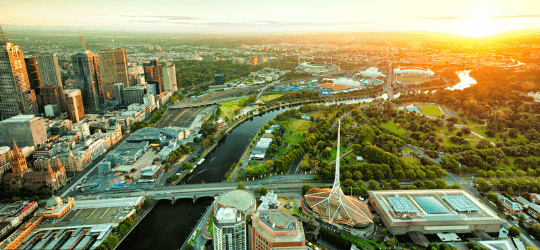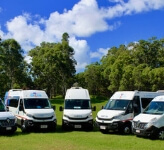 Ready to explore Melbourne City and surrounds?
Con-X-ion (along with our partner transport provider) offers daily shuttle transfers to and from Melbourne City. Book your Melbourne City transfers today so we can get you hassle-free and on time to your destination, every time.