A Fusion of Partying and Relaxation from Gold Coast to Surfers Paradise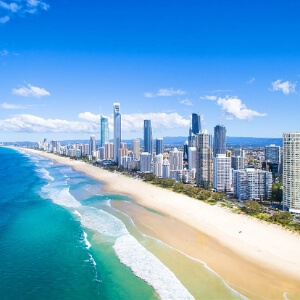 A trip from Gold Coast to Surfers Paradise gives you access to the golden beaches and annual festivities perfect for the part atmosphere. You can also enjoy a series of thrilling theme parks, several brilliant activities, sights and mostly experiences. A Gold Coast Airport to Surfers Paradise transport will usually take less than an hour but the view and the experience along the way are memories you can keep from your trip.
The party scene is what Gold Coast is best known for. You can simply break free, forget about your inhibitions and let your hair down in one of the many local hotspots in the city. Gold Coast is known to be Australia's finest holiday destination perfect for both families and single tourists alike. With endless possibilities and things to do in Gold Coast, you might want to get your own backyard and stay.
The Gold Coast is home to the globe's largest subtropical forest. The hinterland is indeed a destination you should not miss. Learn about the Australian flora and fauna when you head to the Currrumbin Wildlife Sanctuary. You'll be able to see the popular Australian kangaroo, koala as well crocodiles and other native fauna in the area. You might as well enjoy the local scene and visit the local stores and restaurants where you can find great souvenirs and dive into great cuisines. With flights to Gold Coast to Surfers Paradise getting cheaper, the two would be the best starting point for your one of a kind adventure in Australia.
Surfer Paradise is home to as equally awesome activities and experiences to discover. The popular Wax Museum is located at the very heart of Surfer Paradise. You can also get easy access to family-friendly adventures at the Slingshot and Vomatron Amusement Rides as well as the Quack R Duck.
Adventure seekers can visit the Ripley's Believe It or Not Odditorium, Aqua Duck Tours and the 7D Cinema. River cruises and the Sky Point Climb are tourist favourites you shouldn't miss. The Tamborine Forest Skywalk is a offers a less exhilarating experience than the other theme parks in the main city. Whichever your preference is, you'll find an adventure perfect for your much needed vacation.
Doesn't matter whatever time of the year you'll be visiting, you'll surely not get bored with some of the best things to do and explore next time you visit from Gold Coast Airport to Surfers Paradise (and back) all year round.