Enchanting Bodies of Water from One Refreshing City to Another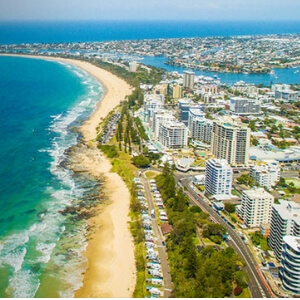 The sun, sand and the breeze are some of the best experiences you'll get to enjoy from one Queensland natural beauty to another. Sunshine Coast to Noosa offers a balance between fun and relaxation through its endless coastline, natural forest, friendly neighborhood and welcoming locals to boot. It's a place where activities, attractions, food, shopping and world-class events will keep you coming for more.
There is no shortage of fun and activities to do when you visit Sunshine Coast. The sun and warm weather are available almost all-year round making the Queensland beauty an ideal place for outdoor recreation, sports under the sun and dining outdoors. You'll also enjoy hiking, swimming, surfing, golf and a ton more of activities to keep you busy all day long.
Be close to nature and enjoy a sunny day exploring the villages of Maleny and Montville. If you are up for a more peaceful time near the waters, a trip to the Caloundra beaches or the Pumicestone Passage for fresh dining options located near Mooloolaba. The Glass House Mountains is a popular spot you should not miss. More outdoor adventure awaits at the Rainbow Beach and continuous to run along the coastline up until you reach the cool and effortless ambiance at Noosa. Whether you are exploring solo or with a group, you can get guided tours to avoid missing out an attraction or adventure.
Exploring the rest of Sunshine Coast to Noosa Heads is an indeed an experience you should not miss. Travelling with kids offers vast entertainment and fun options as well with the help of attractions like the Australian Zoo, the Aussie World and the SEALIFE Sunshine Coast. The local eco-systems and multitude of places to go will keep your days busy.
Be surrounded with beach, hinterlands and national parks as you continue your outdoor fun at the Noosa region. There are many natural settings that can offer you time to relax and soak in the surroundings. Noosa is the perfect place to go to for pristine beaches, fishing and diving as well as several other outdoor activities and adventure.
Doesn't matter whatever time of the year you'll be visiting, you'll surely not get bored with some of the best things to do and explore next time you visit from Sunshine Coast to Noosa (and back) all year round.