Coolangatta: Home of the Sandy Beaches and Worldclass Surf-Breaks in Gold Coast
Coolangatta is a coastal town located South of main Queensland. The suburb is considered as the gateway to the beautiful Northern New South Wales and the Gold Coast. Pure excitement is what you can anticipate when you spend your holidays here. Situated near its twin town Tweed Heads, there is a lot of things to do in Coolangatta from nature-filled to adventure-inspired activities and places to explore.
Sunblocks are not necessary but prepare to enjoy a lot of sun. Surfing is a favourite sport and there are plenty of clubs that offer lessons for those who would want to take their chances above the waves. Shopping options are also plenty.
Top Things To Do and See in Coolangatta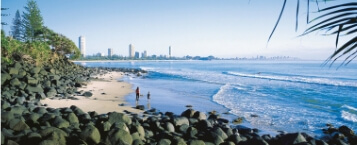 Coolangatta Beach
What's more fun and redeeming way to enjoy a holiday in Coolangatta than heading straight to the beach? The Coolangatta Beach is one of the best places to start your adventure. There's plenty of sun and enough shade to give you comfort as you lazily stroll around the beach.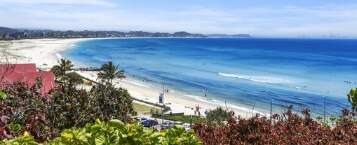 Kirra Beach
Calm waters perfect for families and solo travelers alike. You can try enrolling in one of the surfing schools in the area and be able to ride the waves before your vacation ends. Kayaking is also a fun activity to do, even with kids. All these with a professional at a reasonable cost.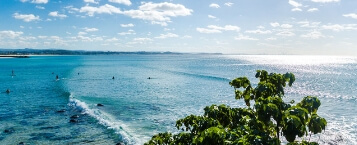 Greenmount Beach
A pretty beach perfect for your OOTDs and your social story updates. There's plenty of large ponds in the area if you want to stray away from the sand. Walk around towards the headland to enjoy the gorgeous view. A surfing spot for many and a good place to watch the sun set.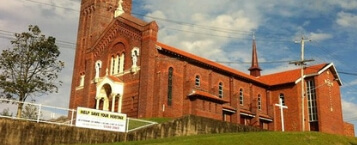 Saint Augustine's Catholic Church
A welcoming parish located near the hill on Maclean St. would be a nice escape from the busy schedule of your holiday. Sit inside and be captivated by the church's architecture. The church has been well-maintained and the facade would be a good place to take a souvenir picture.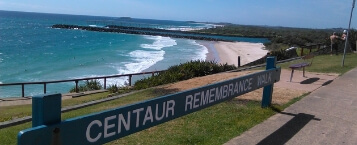 The Centaur Remembrance Walk
The Centaur Remembrance Walk is an easy path located close to the ocean. The tour will bring you close to several monuments that will help you be acquainted with Coolangatta and its histories during the conflicts of the war. An educational experience is indeed guaranteed.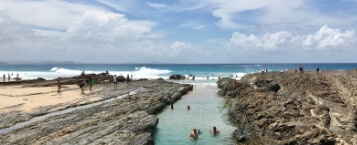 Snapper Rocks
A small rocky outcrop located at the northern side of the Point Danger at the southern end of the Rainbow Bay is the famous Snapper Rocks. A very famous and well-visited area to surf break, you can enjoy the sun and take pictures while you conquer the waves.
Eat & Drink

Coolangatta restaurants are all about delicious food and pleasant service. Bin 72 is a great place to settle down as you enjoy a drink or two to conclude or start your holiday in Coolangatta. If you are up for some Greek wine, steak, and more protein, Xenia Grill would be a great place to start. Lunch time would be set perfectly at the Baskk at Kirra Point after enjoying surf breaks at the beach. Fresh seafood and smoked delicacies are served at the Choofas Smokehouse & Seafood. You might bring home a couple of inches around the waist after your visit.

Apartments, boutiques, hotels, and homestays are some of the Coolangatta accommodations you can try in the area. Among the favourite apartments in the area would be the Treehouse by the Beach. Perfect for couples, its location is conveniently located near tourist points in the vicinity. Mantra Coolangatta Beach is a premier hotel you can visit. Awesome crowds can be enjoyed at the Komune Resort and Beach Club Coolangatta. Rainbow Bay Resort is another hotel favourite. Campsite setting can be enjoyed at the Kirra Beach Tourist Park.
How to Get Here
You can reach Coolangatta from the airport as it's quite easy being a favoured destination among tourists. There are several transport options available in the area including car rentals, shuttle services, coach, and buses. A car ride would be an easy drive on the Pacific Motorway and will take you a short hour and a half from Brisbane and another hour north of Ballina. Although you might want to sit back and enjoy the view by taking regular shuttle services that operate out of the airport.
Getting Around
Public transport and transfers are available in Coolangatta. Although it would be easier to get around with a rental car or a point-to-point shuttle service, you can try out the public transfer to see what it feels like to be a local in the area. Buses can take you to multiple locations around Cooolangatta and can also be accessed in several points. Walking around is fun and relaxing and can bring you close to several distinct tourist destinations in the area. Going around with a bike would also be ideal. The G-Link can also take you from the airport to Coolangatta, a preferred mode of transportation by many.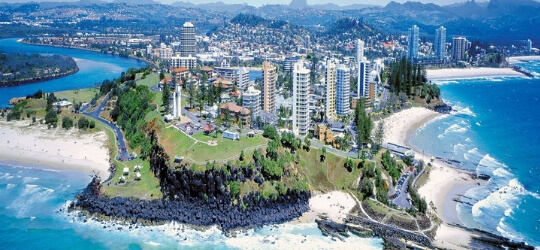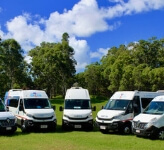 Ready to explore Coolangatta?
Con-X-ion provides daily shuttle transfers to and from Coolangatta. Book your Coolangatta transfer today so we can get you hassle-free and on time to your destination, every time.