A Glamorous Coastal Strip to Australia's Nature Adventure Destination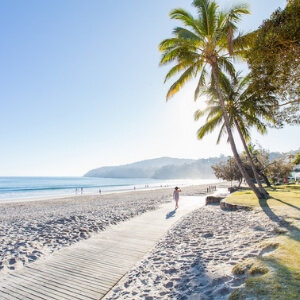 Just more than 2 hours via a bus from Noosa to Gold Coast would give you one of the best experiences you can have on your holiday in Australia. Whether you are up for an outdoor adventure, a relaxing trip at the spa, exploring shopping destinations, or watching sports events, Gold Coast can offer something entertaining and close to home to you. A trip from Gold Coast to Noosa should be included in your dream destinations.
The sun, sand and the sea are three of the stunning assets that Gold Coast is proud of. With 3 kilometers of majestic coastlines, the beach is still where the people are at to enjoy and fully experience Gold Coast. Skyscrapers are also plenty, but the beach remains to be pristine and picturesque, perfect for kids and adults alike.
You can build sand castles, surf together with locals and tourist water enthusiasts, or simply bask under the sun while enjoying the shores of Gold Coast. Safety is not an issue due to the numerous lifeguard patrols in the area. Hiding away from the sun is not necessary, but you can do so in one of the shops, cafes, and restaurants along the beach to catch your breath and rehydrate. Bargain hunting is a fest for those who love to shop. Seize the day and enjoy treats and souvenirs every Wednesday, Friday, and Sunday at the Surfers Paradise Beachfront Markets. There's more than a hundred stalls featured during these days.
The sun also shines bright in Noosa. There are plenty of outdoor and water activities to do while visiting this favourite Australian destination. Shopping areas are also plenty where local produce and handmade items can be enjoyed. The Noosa Farmers Market, Noosa Marina Markets, and Peregian Markets will keep you occupied.
Natural man-made attractions are also plenty, but you'll have the best time in Noosa's natural beauties. The everglades is something you'll also love to check out. You can enjoy kayaks or even learn to surf with the help of the Discovery Group or the Kanu Kapers that hosts activities such as these in Noosa.
Doesn't matter whatever time of the year you'll be visiting, you'll surely not get bored with some of the best things to do and explore next time you visit from Gold Coast to Noosa (and back) all year round.
Bus from Gold Coast to Noosa
If you're traveling between Gold Coast & Noosa, be sure to catch Con-X-ion's bus from Noosa to Gold Coast for a hassle-free travel to your destination. Regular daily services are available so you get to choose times and pickup and dropoff points suitable to your requirements. Hop aboard, sit back and relax, and let Con-X-ion transfer you in stylish comfort to your destination.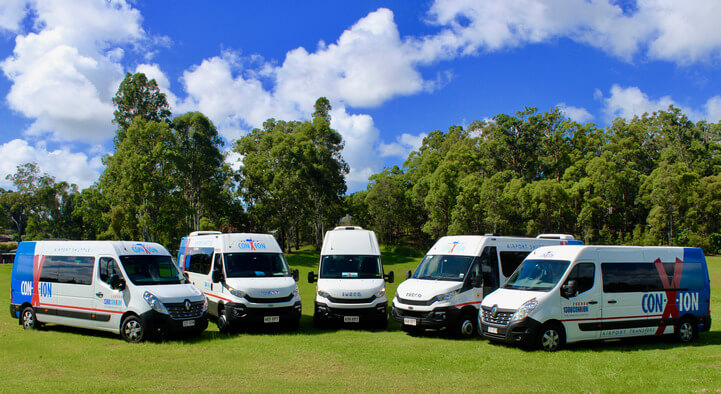 Top Things to Do & See for Gold Coast <> Noosa Trip
Tamborine Rainforest Skywalk

A heart-thumping experience is what you'll get to experience at the Tamborine Rainforest Skywalk. It is a one-and-a-half kilometer rainforest that managed to incorporate a steel Skywalk Bridge, a steel Skywalk Cantilever, and the Cedar Creek Viewing Platform that make the experience even more exciting. The pristine beauty of the rainforest will keep you from coming back for more when you visit Gold Coast.
TOPGOLF Gold Coast

Bring home a one-of-a-kind memory together with your friends and families at the TOPGOLF. This tourist destination is host to several fun and competitive games for all ages. These include golf, bowling and several climate-controlled playing bays any age-group would enjoy. There are also high-definition televisions in the venue to watch big games and music selections perfect for any group size. There's restaurant to keep you full after all the entertainment.
O'Reilly's Tree Top Walk

Located on top of the World Heritage-listed National Park is the O'reilly's Tree Top Walk. If you are up for some nerve-wracking experience, this suspension bridge allows you to enjoy and observe life in the rainforest, with a bird's eye view and or at close range. The area features nine suspension bridges that are around 180 meters of excitement, 15 meters above the ground. There are many birds, ferns, and animals featured in this local rainforest.
Harbour Town Outlet Shopping Centre

One of the largests outlet shopping destinations in Australia is conveniently located in Gold Coast: Harbour Town Outlet Shopping Centre. You can spend the whole day finding souvenirs, shopping for clothes, or simply enjoying your much deserved retail therapy with over 240 stores to choose from. There's alfresco dining available in the area, entertainment options you can try indoors, and services that will keep you comfortable and relaxed while in the area.

Noosa National Park
Free access of the Noosa National Park is one of the adventures you should not miss when you stay in Noosa. The park is situated a few steps away from the Noosa Main Beach ad features a trail of stunning flora, a couple of coves and small beaches around the park, perfect for surfing and swimming. Some Koalas are also hosted in the park and you can catch a glimpse of them up the trees surrounding the national park.
Noosa Main Beach

A natural beauty with sparking clean water that would entice you to sit and get soaked under the sunshine is just a picture perfect sight you can enjoy at Noosa Main Beach.This strip of blond sand is one of the biggest pride of Noosa Heads. You can see a lush group of pines, pandanus and palm trees. Surfing spots are plenty and there's a place perfect for experienced surfers at the First Point. Yearly every March, the Noosa Festival of Surfing is hosted in the region.
Fraser Island

Fraser Island is one of the most favourite destinations for island tours and nature exploration. It is considered as one of the best and the largest island in Queensland. There are a lot of native animals to see and several lakes to enjoy and experience. The Lake Mackenzie, Lake Wabby, Eli Creek, Maheno Wreck, and the Champagne Pools are located in the island. With so many things to do and experience, Fraser Island is a destination you should not miss.
Noosa Horse Riding

Time at the beach is one of the most enjoyable things to enjoy when visiting Noosa. There are plenty of things to do at the beach and that includes horse riding. Be absorbed with the natural beauty of the island and take a short trip at the Lake Weyba. Have no experience with a horse? There're tour guides and instructors that can help make your time in Noosa an educational and entertaining holiday.
Who We Are
With over 30 years of experience in the field of transportation, Con-X-ion is a trusted provider of direct airport shuttle services within Australia. We also provide charter options and premium transport services in various parts of Queensland, as well as Sydney and Melbourne areas.
Our mission is to provide timely, comfortable, and convenient way to travel for each of our customer. Our proven track record as a direct shuttle and private transport and our unmatched customer service are what sets Con-X-ion apart in the industry.
Service excellence for more than 30 years, completed 10 million transfers -- and counting.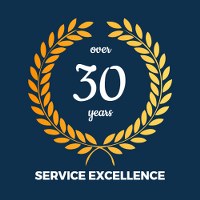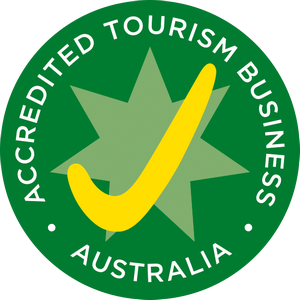 ARRIVAL PROCEDURE
All arriving passengers are to make their way to the Con-X-ion counter prior to collecting their luggage. The departure schedule will be displayed at the counter.
Passengers are required to be at the counter ready to depart 10 minutes prior to departure time.
Passengers are expected to actively look for their driver who will be wearing a blue shirt and red Con-x-ion hat.
If you require assistance, please phone 1300 266 946 or +61 7 5556 9888.
LATE FLIGHTS
Passengers arriving from delayed flights, who missed the last service of the day, are required to make alternative travel arrangements at their own expense. Passengers booked on/who missed the last service hour will be eligible for a refund for the unused service. If your flight has been delayed please contact Con-X-ion immediately on 1300 266 946.

*Please note: Our services are unable to wait for delayed flights or late passengers. Con-X-ion is not responsible for delayed flights.

 
DEPARTING PROCEDURE
Your service should arrive during the 20-minute window outlined on your confirmation. You must be ready and waiting for the entirety of your pick up window.
If you miss your allocated service please make contact with Con-x-ion directly on 1300 266 946 (Australian) or +61 7 5556 9888 (international) ASAP. Ask your hotel/concierge if you require assistance.
Please ensure your mobile is switched on in case we need to contact you.
Passengers that are not found may not be eligible for refund or reimbursement.
Please do not depart in a taxi without making contact with Con-x-ion first.