A Glamorous Coastal Strip to Australia's Nature Adventure Destination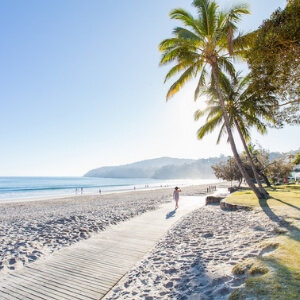 Just more than 2 hours via a bus from Noosa to Gold Coast would give you one of the best experiences you can have on your holiday in Australia. Whether you are up for an outdoor adventure, a relaxing trip at the spa, exploring shopping destinations, or watching sports events, Gold Coast can offer something entertaining and close to home to you. A trip from Gold Coast to Noosa should be included in your dream destinations.
The sun, sand and the sea are three of the stunning assets that Gold Coast is proud of. With 3 kilometers of majestic coastlines, the beach is still where the people are at to enjoy and fully experience Gold Coast. Skyscrapers are also plenty, but the beach remains to be pristine and picturesque, perfect for kids and adults alike.
You can build sand castles, surf together with locals and tourist water enthusiasts, or simply bask under the sun while enjoying the shores of Gold Coast. Safety is not an issue due to the numerous lifeguard patrols in the area. Hiding away from the sun is not necessary, but you can do so in one of the shops, cafes, and restaurants along the beach to catch your breath and rehydrate. Bargain hunting is a fest for those who love to shop. Seize the day and enjoy treats and souvenirs every Wednesday, Friday, and Sunday at the Surfers Paradise Beachfront Markets. There's more than a hundred stalls featured during these days.
The sun also shines bright in Noosa. There are plenty of outdoor and water activities to do while visiting this favourite Australian destination. Shopping areas are also plenty where local produce and handmade items can be enjoyed. The Noosa Farmers Market, Noosa Marina Markets, and Peregian Markets will keep you occupied.
Natural man-made attractions are also plenty, but you'll have the best time in Noosa's natural beauties. The everglades is something you'll also love to check out. You can enjoy kayaks or even learn to surf with the help of the Discovery Group or the Kanu Kapers that hosts activities such as these in Noosa.
Doesn't matter whatever time of the year you'll be visiting, you'll surely not get bored with some of the best things to do and explore next time you visit from Gold Coast to Noosa (and back) all year round.