Gold Coast Airport: Conquering Queensland's Gold Rush Haven
Famous for its vibrant nightlife, premier holiday accommodations, theme parks, surf sports, and beautiful beaches, Gold Coast is indeed one of the best destinations in Australia for some fun, relaxation, and excitement. Situated east of Brisbane, Gold Coast has always been famous for its white sand beaches and fun water activities.
A gastronomic adventure is also something you can look forward to when staying in Gold Coast. Take time out from the sun and check out the hinterland or explore the cultural spaces and galleries featured in the area.
Top Things To Do and See in Gold Coast Airport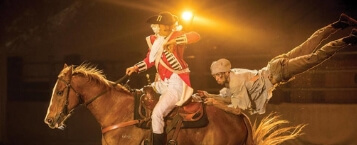 Australia Outback Spectacular Gold Coast
Enjoy a great 3-course dinner while being entertained with talented animals and people via the live entertainment featured in the area. There's horseback riding demonstrations, circus theatrics, and musical entertainment. Wine and beer are also available.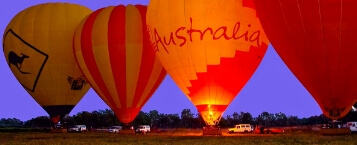 Hot Air Balloon Adventure
Enjoy a once-in-a-lifetime scenic 30 to 60-minute view of Gold Coast's hinterland via a hot air balloon ride. You'll see several vineyards while enjoying a full hot breakfast and champagne thousands of feet above the sky. Hotel pick-up and drop off is included in the activity.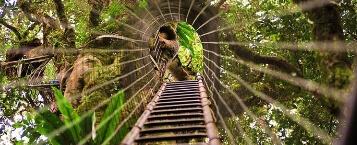 Gold Coast Lamington National Park
Enjoy a guided tour of the rainforest, see spectacular waterfalls, and travel via a 4-wheel drive to enjoy the native wildlife and natural beauty of the Gold Coast Lamington National Park. Soak up in Australia's natural wonders and later enjoy an authentic Aussie BBQ at the end of the trip.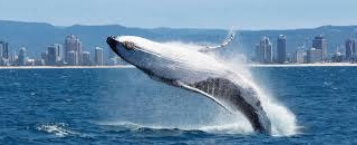 Whale Watching and Canal Cruise
Get closer to Aussie's famous humpback whales while onboard a catamaran. There's a marine naturalist aboard to keep you informed during the trip and some good old biscuits and coffee to enjoy as you glide along past the luxurious homes along the Gold Coast canals.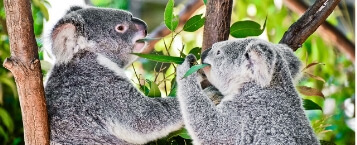 Currumbin Wildlife Sanctuary
Be close to Aussie's native animals at Currumbin Wildlife Sanctuary. There's animal shows and presentations hosted on site as well as close encounters with koalas, wombats, kangaroos, and Tasmanian devils. Unique flora is featured at the Lost Valley, a 5-acre forest located onsite.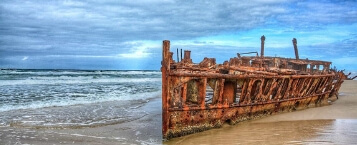 Fraser Island Tour
Book a 2-day guided tour of Fraser Island to completely immerse yourself with the beauty of this sweet escape. The Seventy-Five Mile Beach gives you access to shipwrecks and other enchanting spots you can lounge or frolic around while in this majestic island.
Eat & Drink

Gold Coast features a number of fine restaurants and dining options oozing with appeal and boasting of picturesque views of Gold Coast. Glass Dining & Lounge would be the best place to go for a cocktail during the sunset or dine with candlelight with ambient music to enjoy. Cucina Vivo offers fine Italian dining and hosts special occasions. You can also check out Le Jardin - Palazzo Versace. Shuck Fine Dining Restaurant would be your go-to place for vegetarian dishes. Domani and Bistro On3 features steak and fresh sea foods for your taste buds.

Sea World Resort offers great room and services, not to mention easy access to Sea World's Theme Park. Home stays and apartments are also plenty and can give you cheaper accommodation options. Palazzo Versace is situated near the Spit, a famed surfing spot in Gold Coast. Unique home hotels can also be availed in the area via Airbnb. Most accommodations are conveniently located near the beach so you'll enjoy plenty of sun and time in the sand without having to worry about transportation and accessibility.
How to Get Here
Gold Coast is a prime destination that can be accessed from many directions. Gold Coast Airport transfers can bring you to different scenic spots in the suburb. Door-to-door airport transfers Gold Coast are also possible. You can also take the bus or a coach from Brisbane, Byron Bay, Sydney, and other major centre to get to Gold Coast Airport. QLD's capital, Brisbane is just a short 1 hour drive away from Gold Coast. You can drive from Sydney to Gold Coast via the Pacific Highway but will take you half a day to get there. The view, however, is so worth it.
Getting Around
Walking and cycling would be an ideal way to get around Gold Coast especially if you are staying near the main tourist areas. There's plenty of bike paths that connect you around the neighbourhood. Most accommodations are also situated near or by the beach making it very accessible on foot. Buses are also available but are advisable for longer trips. Cabs are also plenty and can be booked in advance. Water taxis and ferries are available when you check out Stradbroke Island from Gold Coast. Car rentals and airport shuttles remain to be among the most versatile options to get around Gold Coast.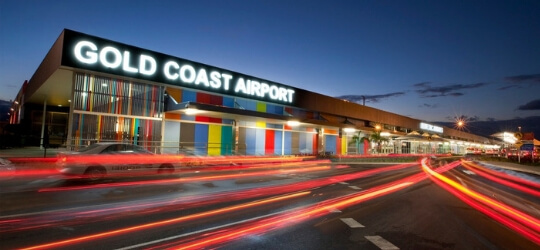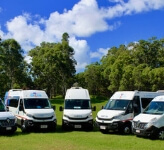 Ready to explore Gold Coast Airport and surrounds?
Con-X-ion provides daily shuttle transfers to and from Gold Coast Airport. Book your Gold Coast Airport transfer today so we can get you hassle-free and on time to your destination, every time.