Queensland's Prime Nature Escape and Holiday Destination
Visit Noosa and experience the waves and the sun it is truly renowned for. Host to the Festival of Surfing every March, there's plenty of surf culture and fun under the sun to enjoy. Dining options are plenty and there's fresh produce to enjoy everywhere. Entertainment and accommodation selections are relaxing and one-of-a-kind in the whole of the Sunshine Coast.
There's several escapes in the area filled with art, fashion, music, comedy, and other entertaining activities locals and tourists will definitely enjoy. Natural and man-made attractions are also plenty so you'll enjoy a balance of indoor and outdoor fun during your visit.
Top Things To Do and See in Noosa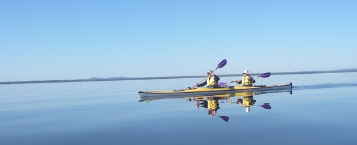 Noosa Everglades Kayak Adventure
Head out above the peaceful water of the Noosa Everglades and enjoy a relaxing kayak adventure. The Great Sandy National Park is home to the everglades which has always been a favourite aquatic destination in Noosa. Basic skills are taught in the area for newbies.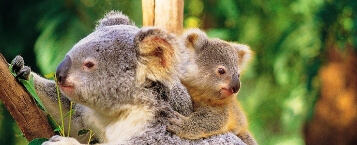 Australia Zoo
Experience Australia's natural beauty through its flora and fauna at the Australia Zoo. You'll ride a 10-seater air-conditioned vehicle as you explore the zoo. The tour will bring you closer to the Glass House Mountains Lookout where the most appealing view of the countryside is available.
Noosa Heads
Sun-bronzed shores and fashion-filled streets are just some of the happenings you'll see and experience at Noosa Heads. Also known as one of the most famous towns in Australia, there's plenty of shops to check out as well as craft villages and art stalls to see.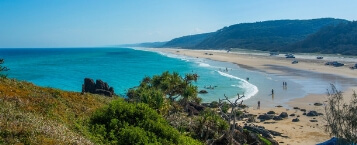 The Great Beach Drive
See dolphins in their natural habitat and enjoy a tour around Noosa up to the Great Beach Drive at the Great Sandy National Park in Noosa. You'll see views of the famous Fraser Island as well as the coloured sands of the stunning Rainbow Beach.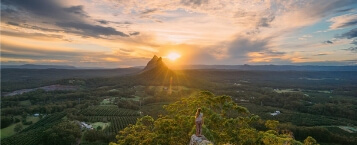 Hinterland Tour
An eye-catching small village and farms along your way to the Blackall Range is an awesome welcome that brings you closer to the coastline view of Queensland. The Mary Cairncross Scenic Reserve and the Glass Mountains Lookout are a short distance from the hinterland.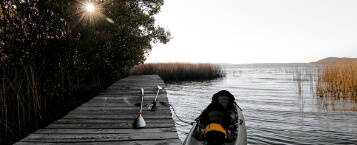 Lake Cootharaba
Paddle boats and kayak rides can be accessed and enjoyed at the pristine and peaceful Lake Cootharaba. Located inside the Great Sandy National Park, you can also swim onsite and simply enjoy the serenity and the unique wilderness featured in the area.
Eat & Drink

For a more lively crowd, it would be ideal to head to Miss Moneypenny's for a nice cocktail after dinner. Whisky Boy is also a good place to start to chomp a few burgers or to enjoy the night with a few drinks and beers. Rickys River Bar & Restaurant is a prime location where you can enjoy local Australian cuisine and delicious local beverages. Candle light dinner would be perfect at the Flux Restaurant Lounge. Sails Restaurant is just as stunning as the rest of the Noosa restaurants and dining options you can visit.
Stay

Noosa accommodation options can be considered as one of the best in the whole of Sunshine Coast. Most have provisions for water activities both indoors and outdoors making them perfect for any type of traveler. Premier rooms and services are offered at the Peppers Noosa Resort & Villas that also features an upscale restaurant and a spa. Sofitel Noosa Pacific Resort also has a spa inside as well as studio apartments with balconies facing the stunning view of Noosa. Modern villas situated in lush gardens are available at the Islander Noosa Resort.
How to Get Here
The closest airport to Noosa is Sunshine Coast. A short half and hour drive via a car rental or a shuttle service can take you from the airport to Noosa. There are direct flights that operate from Brisbane to Noosa. From the Gold Coast, it will take you 3 hours to reach Noosa by car. Bus and coaches operate directly to Noosa and will bring you from the airport to Cooroy where you can take connecting services that will bring you to Noosa. Train services do not reach Noosa but you can take one up to Cooroy and then ride a cab or a bus to get here.
Getting Around
Public transportation services are available to get around Noosa. You might need to walk in short distances to be able to get access to public bus stops. There's a bus stop at the Noosa Junction, Gympie Terrace, or by Hastings Street. You'll see plenty of establishments along the way. Renting a car makes it easier to access tourist destinations like the beach which is quite a distance from the main city. Some hotels offer shuttle and coach services that will bring you to your destination and then bring you back to your accommodation after. Taxis are also available to get around the area.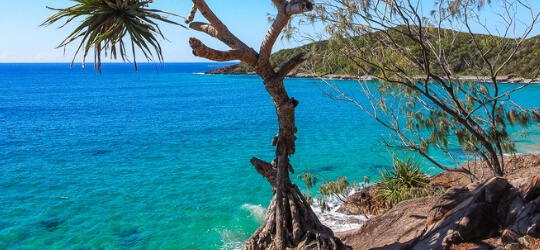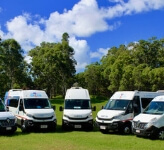 Ready to explore Noosa?
Con-X-ion (along with our partner transport provider) offers daily shuttle transfers to and from Noosa. Book your Noosa transfer today so we can get you hassle-free and on time to your destination, every time.