Enjoying Brissie's Brightest Destinations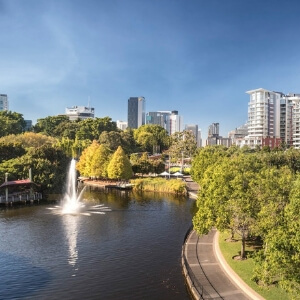 An outdoorsy atmosphere, available all year round making Brisbane a Southern Metropolis where you can enjoy summer to the fullest and relax during the winter time. Brisbane has indeed become one of the best destinations in Australia. A bus ride will take you from Brisbane Airport to Roma Street Station in an hour. Enjoy a retreat and get ready to inhale the beauty and fun that Brisbane and Roma Street offer.
Getting from Brisbane Airport to Roma Street can be accessed through driving, a shuttle, train, or via bus. You will be welcomed with a relaxing community as you enter the streets of Roma Street Parkland. It even features several facilities for people with disabilities making it a hub for family holidays and company retreats.
Roma Parklands has its own beauties to offer and be proud about. Parks are plenty and you can always find an oasis where you can sprawl in lawns and stroll around 16 hectares of stunning parklands. Garden enthusiasts would pick a thing or two with the horticultural standards featured in the city. There are also places for barbeque, picnic areas, playgroundsm and outdoor spaces to enjoy. You can also check out year-round events that are scheduled regularly in the vicinity.
Brisbane is a vibrant city to visit. With most of the year sunny -- temperatures rarely drop in the Queensland capital -- thus more fun time outdoors to enjoy. There are several lush tropical gardens to see, cafes, and restaurants to dine at, and activity centers to visit and enjoy. Galleries and heritage buildings are also favourite spots to see within the city.
Brisbane features world-class entertainment and accommodations. Cruises by the Brisbane River offer delightful experiences for young and adults alike. The Story Bridge is a sight to behold whether by the river or on top of it. South Bank also has plenty to offer - from cultural centers, museums and iconic areas where you can take souvenirs of your trip in Brissie.
Doesn't matter whatever time of the year you'll be visiting, you'll surely not get bored with some of the best things to do and explore next time you visit from Roma Street to Brisbane Airport (and back) all year round.
Roma Station to Brisbane Airport Bus
If you're traveling between Roma St. & Brisbane, be sure to catch Con-X-ion's Roma Street Station to Brisbane Airport shuttle bus transfers for a hassle-free travel to your destination. Regular daily services are available so you get to choose times and pickup and dropoff points suitable to your requirements. Hop aboard, sit back and relax, and let Con-X-ion transfer you in stylish comfort to your destination.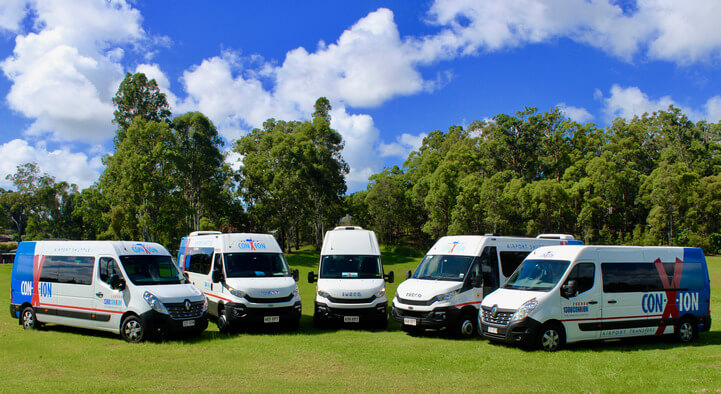 Top Things to Do & See for Brisbane Airport <> Roma Street Trip

Kookabura River Queen Cruises

Laze around the peaceful waters of the famous Brisbane River. You can check out the Kookabura River Queen Cruises. With good reviews from locals and tourists, the experience gives you access to the less travelled points of the river where you can breathe in the smell of the waters while paddling around the area. This paddle wheel vessel is very unique in the city and offers one of the best experiences you can have while on Brisbane.
Moreton Island

Visit the offshores of Brisbane and spend a few hours in the pristine sands of Moreton Island. Here you can enjoy several water activities during the day. Swim, grab a kayak, snorkel, or sunbathe under the sun and chill while feeding dolphins in the area. Mount Tempest is a sight to behold. You can also try scuba diving at the Tangalooma Wrecks. Humpback whales frequent the areas and would be a nice activity you can experience in the island.
Rail Museums

Brisbane is very proud of its history. Several historical places are renovated and kept in good condition to be able to share the city's history to this generation. Kids would certainly love the interactive setups in the Rail Museums. Visitors get to experience highlights of the city's transportation history. There are several transportation models featured in the museum, both from the past and today's modern vehicle models.
Moreton Bay Adventure

Humpback whales frequent the shores of Moreton Bay. This is mainly the reason why the bay is one of the favourite destinations in Brisbane. Grab a taxi or shuttle and head to Moreton Bay to get the chance to see this stunning sight. Several stalls and restaurants are also lined up along the area. Grab a drink or enjoy fine cuisine served in the area. Some vessels can go near the whales without scaring them away, an experience you shouldn't miss.

Roma Street Parkland

Accessible to tourists 7 days a week, you can find the Roma Street Parkland at the heart of Brissie. The area is considered as an oasis of flowers and plants forming designer gardens and stunning lawns making it an eye-catching parkland even from afar. There are several playgrounds in the area, free barbeque facilities, and picnic areas where families can lounge around and enjoy the day. Informative tours are also available within the vicinity.
Spectacle Garden

There are many relaxing places to go to in Roma Street. The place may be a small region located within Brisbane, but even with its size, it offers several interesting spots you can check out. Wander around the Spectacle Garden or bring a loved one to simply enjoy the sunny day while taking in the smell of the flowers. There's two cafes in the area where you can sit back, relax, and laze around all day long.
Children's Garden Playground

Brisbane is very generous in terms of places to go, visit, and enjoy. The same is true even for kids on a holiday. There's a lot of parks, playgrounds, and tree-rimmed green spaces that make it a perfect location for outdoor fun and entertainment. The Children's Garden in Roma Parkland offers several activity areas where you can tag your kids along to play while you enjoy a good book or simply watch them bask under the Brisbane sun.
Parkland Explorer

The best way to ensure that you are getting the most fun out of Roma Street is to head to the Parkland Explorer where you can ask for information or simply grab a handy paper map to help you explore around the area. There's a cool and coloured trackless train at the entrance of the park and would be a good way to start your adventure. You'll just have to donate a gold coin to jump in to this fun ride.
Who We Are
With over 30 years of experience in the field of transportation, Con-X-ion is a trusted provider of direct airport shuttle services within Australia. We also provide charter options and premium transport services in various parts of Queensland, as well as Sydney and Melbourne areas.
Our mission is to provide timely, comfortable, and convenient way to travel for each of our customer. Our proven track record as a direct shuttle and private transport and our unmatched customer service are what sets Con-X-ion apart in the industry.
Service excellence for more than 30 years, completed 10 million transfers -- and counting.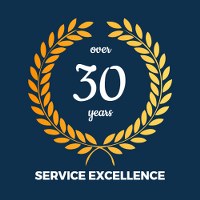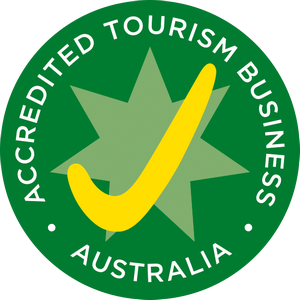 ARRIVAL PROCEDURE
All arriving passengers are to make their way to the Con-X-ion counter prior to collecting their luggage. The departure schedule will be displayed at the counter.
Passengers are required to be at the counter ready to depart 10 minutes prior to departure time.
Passengers are expected to actively look for their driver who will be wearing a blue shirt and red Con-x-ion hat.
If you require assistance, please phone 1300 266 946 or +61 7 5556 9888.
LATE FLIGHTS
Passengers arriving from delayed flights, who missed the last service of the day, are required to make alternative travel arrangements at their own expense. Passengers booked on/who missed the last service hour will be eligible for a refund for the unused service. If your flight has been delayed please contact Con-X-ion immediately on 1300 266 946.

*Please note: Our services are unable to wait for delayed flights or late passengers. Con-X-ion is not responsible for delayed flights.

 
DEPARTING PROCEDURE
Your service should arrive during the 20-minute window outlined on your confirmation. You must be ready and waiting for the entirety of your pick up window.
If you miss your allocated service please make contact with Con-x-ion directly on 1300 266 946 (Australian) or +61 7 5556 9888 (international) ASAP. Ask your hotel/concierge if you require assistance.
Please ensure your mobile is switched on in case we need to contact you.
Passengers that are not found may not be eligible for refund or reimbursement.
Please do not depart in a taxi without making contact with Con-x-ion first.