Enjoying Brissie's Brightest Destinations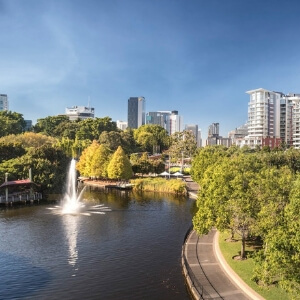 An outdoorsy atmosphere, available all year round making Brisbane a Southern Metropolis where you can enjoy summer to the fullest and relax during the winter time. Brisbane has indeed become one of the best destinations in Australia. A bus ride will take you from Brisbane Airport to Roma Street Station in an hour. Enjoy a retreat and get ready to inhale the beauty and fun that Brisbane and Roma Street offer.
Getting from Brisbane Airport to Roma Street can be accessed through driving, a shuttle, train, or via bus. You will be welcomed with a relaxing community as you enter the streets of Roma Street Parkland. It even features several facilities for people with disabilities making it a hub for family holidays and company retreats.
Roma Parklands has its own beauties to offer and be proud about. Parks are plenty and you can always find an oasis where you can sprawl in lawns and stroll around 16 hectares of stunning parklands. Garden enthusiasts would pick a thing or two with the horticultural standards featured in the city. There are also places for barbeque, picnic areas, playgroundsm and outdoor spaces to enjoy. You can also check out year-round events that are scheduled regularly in the vicinity.
Brisbane is a vibrant city to visit. With most of the year sunny -- temperatures rarely drop in the Queensland capital -- thus more fun time outdoors to enjoy. There are several lush tropical gardens to see, cafes, and restaurants to dine at, and activity centers to visit and enjoy. Galleries and heritage buildings are also favourite spots to see within the city.
Brisbane features world-class entertainment and accommodations. Cruises by the Brisbane River offer delightful experiences for young and adults alike. The Story Bridge is a sight to behold whether by the river or on top of it. South Bank also has plenty to offer - from cultural centers, museums and iconic areas where you can take souvenirs of your trip in Brissie.
Doesn't matter whatever time of the year you'll be visiting, you'll surely not get bored with some of the best things to do and explore next time you visit from Roma Street to Brisbane Airport (and back) all year round.