Fun-filled Adventures and Cultural Escapes from Brizzie to QLD's Recreational Precinct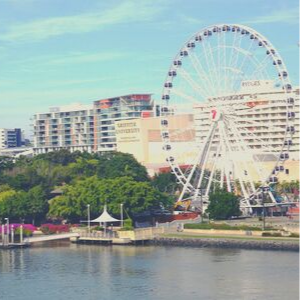 A cultural escape with social and educational activities are just a few of the top favourite things you'll get to enjoy in Brisbane's recreational district - South Bank located in the southern regions of Brisbane and the southern bank of the Brisbane River. From Brisbane Airport to South Bank, you will need to travel 21-minutes via the Airport Link to get to this suburb destination. Home to the South Bank Parklands, interesting activities await during your visit.
Brisbane is a big name in the tourism industry not only in Queensland but in the whole of Australia. The best time to explore the region would be during the months of March to May during the autumn season. Temperatures in the area during this period is quite relaxing with little rainfall to worry about perfect for outdoor activities.
South Bank is a small Australian suburb located near the southern side of the Yarra River. It is home to the South Bank Parklands built in 1992 and currently operated by the Brisbane City Council. The region is a known cultural district with several institutions and historical destinations to visit. It is often treated as one of Brisbane's favourite playgrounds with fabulous dining options and fun activities to enjoy. You can lose yourself as you drift through the cultural spaces and galleries featured in the area. 
Walking leisurely along the laneways and the areas overlooking the water is also a relaxing activity to enjoy while in South Bank. Spoiling yourself with great dining options in the many bars and restaurants in the area. Eclectic markets and live entertainment are a few of the countless activities you can enjoy.
Brisbane is a massive experience when it comes to tourism. The city offers better beaches than the other areas in the northern and southern part of Queensland. Despite its size and progressive CBD, the region has a small-town vibe with polite people around and no long lines to worry about.
Remember to take home pictures and a lot of memories as you go through your Brisbane Airport to South Bank Brisbane adventure. With so many reasons to visit and easy access to the best places and activities, a jam-packed holiday adventure is indeed guaranteed.
Doesn't matter whatever time of the year you'll be visiting, you'll surely not get bored with some of the best things to do and explore next time you visit from South Bank to Brisbane Airport (and back) all year round.