A Holiday Getaway at the Brightest Stars of the Gold Coast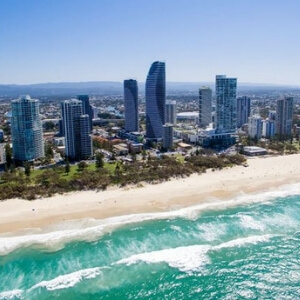 The sun shines brightly from Gold Coast to Broadbeach. These two Queensland destinations are considered to be the top destinations to be if you love sand on your feet and the sun over your head. Both destinations have endearing coastlines and pristine beaches that entice locals and tourists to delight the island with their presence. Pack your bags and get the tan you always wanted to have as you conquer and reach for the stars of Gold Coast.
A bus from Gold Coast Airport to Broadbeach is a short 30-minute ride and will bring you to the home of the best beaches and outdoor activities in the Gold Cost. Beachside Broadbeach is a vibrant destination for dining, shopping and accommodations that are directly accessible to the ocean and the popular surfing areas as the eastern end of the region.
Broadband easily made its way from a not-so-popular tourist destination to one of the world-class destinations in Queensland. It is home to renowned international events such as the Opera in the Park, Broadbeach Country Music Festival and the Blues on Broadbeach Music Festival. Broadbeach is also home to booming industries and a place for education and health services. Conveniently accessible through a light rail, you can also use other different mode of transportation to get around Broadie and the rest of the Gold Coast. Grab your bags and be ready to dine, shop, explore, and experience the Golden Coast of Queensland.
Gold Coast was once considered as a high-end destination, mostly for the rich and famous. However, Gold Coast has broken the rules and welcomed everyone to enjoy the warm sun and even warmer people in the region. You can do a lot of free and fun things in Gold Coast. Perfect would be the free lorikeet feeding that can be experienced at the Currumbin Wildlife Sanctuary.
You can also check out the National Park or bask under the sun at the Hit the Gold Coast beaches. Playgrounds and parks are also plenty in the area. Whale watching, camping by the beach to enjoy the sunrise and sunset are also free activities you could experience in the area. Festivals and events are also regularly hosted in Gold Coast for your entertainment.
Doesn't matter whatever time of the year you'll be visiting, you'll surely not get bored with some of the best things to do and explore next time you visit from Gold Coast Airport to Broadbeach (and back) all year round.
Transport from Gold Coast Airport to Broadbeach
If you're traveling between Gold Coast & Broadbeach, be sure to catch Con-X-ion's Gold Coast Airport transfers to Broadbeach for a hassle-free travel to your destination. Regular daily services are available so you get to choose times and pickup and dropoff points suitable to your requirements. Hop aboard, sit back and relax, and let Con-X-ion transfer you in stylish comfort to your destination.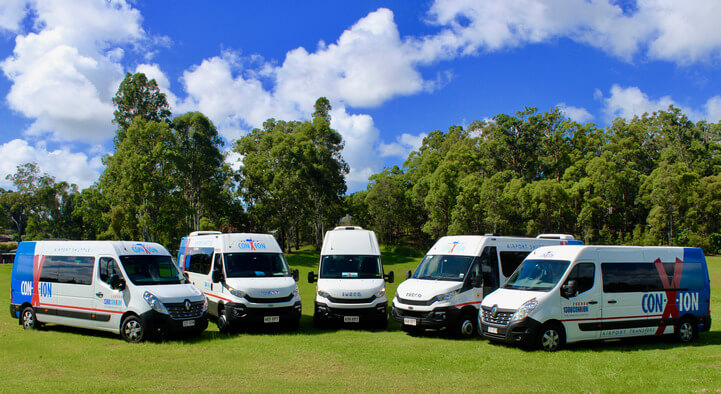 Top Things to Do & See for Gold Coast Airport <> Broadbeach Trip

Aquaduck Tours

Considered as one of the favourite tours available in Gold Coast, The Aquaduck Tours give you access to Gold Coast's land and water havens without having to get out of your seats. See the famous Palazzo Versace and the Sheraton Mirage hotels before you experience the Broadwater at the Spit where the water adventure of the trip begins. The Aquaduck is an amphibious vehicle making it possible to harbour cruise and check out the Golden Coast waters.
Currumbin Wildlife Sanctuary

Southeast Queensland's most popular attraction would have to be the Currumbin WIldlife Sanctuary. Day trips for families and solo adventurers allow you to get close with Australia's native animals in wide-open enclosure as kangaroos and koalas. There is also a eucalyptus and rainforest within the sanctuary where a trail is available for nature walks during the day. You can also feed the lorikeets in the area, a main attraction in the sanctuary.
SkyPoint Climb at the Q1 Building

Australia's highest external building that features the view of the greater Surfers Paradise region is what makes the Skypoint Climb at the Q1 building a must-see destination in Gold Coast. The 90-minute adventure brings you 270 meters above the ground where you can see the coastline as well as the Gold Coast Hinterland. A briefing is required before you embark the tower for your safety.
Crab Cruise

The Catch a Crab Gold Coast Cruise will allow you to experience how to catch a crab on your own and then later have it cooked for you to enjoy. You can also learn how to fish, hand feed pelicans, and pump for yabbies in the area. This magnificent setting brings you to the Tweed River and the Terranora Inlet where you are served with a luncheon of fresh seafoods to savour while enjoying the views of the leisurely cruise.

ULTIQA Beach Haven on Broadbeach

Beach Haven offers accommodations within the heart of Broadbeach. There are several restaurants, cafes, and shops that you can check out after you enjoy swimming ts the spacious outdoor pool of the hotel. The resort garden features modern apartments that are spacious and can accommodate families and travelers in groups. It also features an indoor pool that you can access if you want to get out of the sun and enjoy peace and quiet swimming indoors.
Kurrawa Surf Club

The Kurrawa Surf Club is a life saving club aimed to save lives and promote surfing as a sports. With over 5,000 frequent beachgoers visiting the Kurrawa Beach on a daily basis, you would want to find experts that can make the beach experience a memory to remember. The club offers outdoor activities such as surf sports, nippers to masters, life saving courses, as well as professional Ironmen and women coaching.
The Loose Moose

A relaxing and cool vibe is what the long timber tables and fully stocked bar welcomes you to at The Loose Moose dive bar, saloon. Open from breakfast till late hours in the night 7 days a week, you can try out their famous buffalo wings, an impressive burger menu as well as 25 beer varieties and 160 whiskeys collected from around the globe. Chill with a friend or get cozy with locals any night of the week in this favourite local dining option.
Azure Spa and Fitness

Time under the sun, as well as dining and shopping can make you feel exhausted even while on a holiday. Chill and enjoy a relaxing massage at the Azure Spa and Fitness to chase all those aches and pains away. They also offer signature body treatments, facials, hot stone massages, cleansing massages, as well as stress-busting scalp massages. This is a perfect way to conclude your day after a fun adventure at the sands of Broadbeach.
Who We Are
With over 30 years of experience in the field of transportation, Con-X-ion is a trusted provider of direct airport shuttle services within Australia. We also provide charter options and premium transport services in various parts of Queensland, as well as Sydney and Melbourne areas.
Our mission is to provide timely, comfortable, and convenient way to travel for each of our customer. Our proven track record as a direct shuttle and private transport and our unmatched customer service are what sets Con-X-ion apart in the industry.
Service excellence for more than 30 years, completed 10 million transfers -- and counting.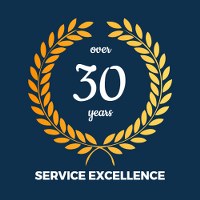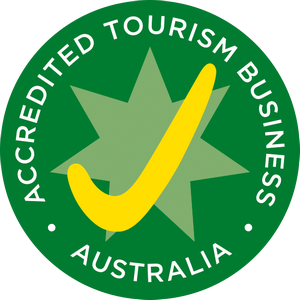 ARRIVAL PROCEDURE
All arriving passengers are to make their way to the Con-X-ion counter prior to collecting their luggage. The departure schedule will be displayed at the counter.
Passengers are required to be at the counter ready to depart 10 minutes prior to departure time.
Passengers are expected to actively look for their driver who will be wearing a blue shirt and red Con-x-ion hat.
If you require assistance, please phone 1300 266 946 or +61 7 5556 9888.
LATE FLIGHTS
Passengers arriving from delayed flights, who missed the last service of the day, are required to make alternative travel arrangements at their own expense. Passengers booked on/who missed the last service hour will be eligible for a refund for the unused service. If your flight has been delayed please contact Con-X-ion immediately on 1300 266 946.

*Please note: Our services are unable to wait for delayed flights or late passengers. Con-X-ion is not responsible for delayed flights.

 
DEPARTING PROCEDURE
Your service should arrive during the 20-minute window outlined on your confirmation. You must be ready and waiting for the entirety of your pick up window.
If you miss your allocated service please make contact with Con-x-ion directly on 1300 266 946 (Australian) or +61 7 5556 9888 (international) ASAP. Ask your hotel/concierge if you require assistance.
Please ensure your mobile is switched on in case we need to contact you.
Passengers that are not found may not be eligible for refund or reimbursement.
Please do not depart in a taxi without making contact with Con-x-ion first.