A Holiday Getaway at the Brightest Stars of the Gold Coast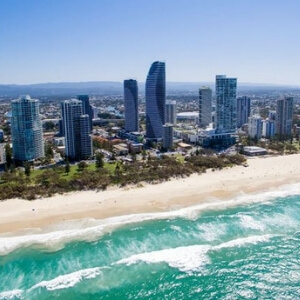 The sun shines brightly from Gold Coast to Broadbeach. These two Queensland destinations are considered to be the top destinations to be if you love sand on your feet and the sun over your head. Both destinations have endearing coastlines and pristine beaches that entice locals and tourists to delight the island with their presence. Pack your bags and get the tan you always wanted to have as you conquer and reach for the stars of Gold Coast.
A bus from Gold Coast Airport to Broadbeach is a short 30-minute ride and will bring you to the home of the best beaches and outdoor activities in the Gold Cost. Beachside Broadbeach is a vibrant destination for dining, shopping and accommodations that are directly accessible to the ocean and the popular surfing areas as the eastern end of the region.
Broadband easily made its way from a not-so-popular tourist destination to one of the world-class destinations in Queensland. It is home to renowned international events such as the Opera in the Park, Broadbeach Country Music Festival and the Blues on Broadbeach Music Festival. Broadbeach is also home to booming industries and a place for education and health services. Conveniently accessible through a light rail, you can also use other different mode of transportation to get around Broadie and the rest of the Gold Coast. Grab your bags and be ready to dine, shop, explore, and experience the Golden Coast of Queensland.
Gold Coast was once considered as a high-end destination, mostly for the rich and famous. However, Gold Coast has broken the rules and welcomed everyone to enjoy the warm sun and even warmer people in the region. You can do a lot of free and fun things in Gold Coast. Perfect would be the free lorikeet feeding that can be experienced at the Currumbin Wildlife Sanctuary.
You can also check out the National Park or bask under the sun at the Hit the Gold Coast beaches. Playgrounds and parks are also plenty in the area. Whale watching, camping by the beach to enjoy the sunrise and sunset are also free activities you could experience in the area. Festivals and events are also regularly hosted in Gold Coast for your entertainment.
Doesn't matter whatever time of the year you'll be visiting, you'll surely not get bored with some of the best things to do and explore next time you visit from Gold Coast Airport to Broadbeach (and back) all year round.