From One Premier Australian Holiday Destination to Another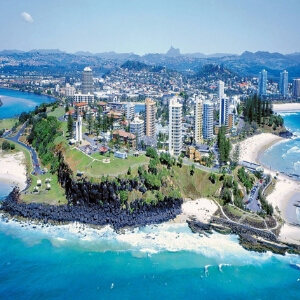 The party scene is exciting and colourful at Gold Coast, one of the prime holiday destinations in Australia. Buses from Coolangatta Airport to Gold Coast will only take you around half an hour but the memories of your holiday are bound to last for a lifetime. If the glitz and glamor is not for you, you can head back from Coolangatta to Gold Coast for some laid back adventure and a truly relaxing seaside holiday.
Situated just at the border of Queensland and New South Wales, you can find the coastal town of Coolangatta. A twin town to Tweed Heads, this laid back region is as equally stunning as the hotels and galleries of Gold Coast, but in a natural way. You'll get access to great surfing sports, swim in pristine beaches, enjoy a leisurely walk near the coastal areas of try one of the cafes.
A lot of water sports can also be enjoyed in Coolangatta. You can enjoy munching on tropical fruits after you enjoy the sun and the sand. If strolling is your ideal form of relaxation, you get to enjoy plenty of that at the Walk on Water Walking Track at the Minjungbal Aboriginal Cultural Centre. Rent a bike and explore the rest of Coolangatta as you check out the best restaurants or explore the rainforests in the area. A close encounter with whales can be enjoyed at Coolangatta beach where humpback whales visit regularly. For adventure seekers, you can try jumping on a plane above Coolangatta.
Gold Coast is a stunning beauty to behold. Get access to Gold Coast's magnificent skyline at the SkyPoint Observation Deck. This destination offers a 360 degree view of the city. You can later enjoy a nice meal at The Seventy 7 Cafe and Bar and sip in a nice glass of wine as you watch the sun slowly go down.
Gold Coast also offers a fair share of adventure and fun. If you are up for some adventure, the SkyPoint Climb is an activity you can truly enjoy. This 90-minute climb, a 270-meter building which is considered as Australia's highest external building ascend gives you access to the most amazing views of Gold Coast, together with all its beaches and the hinterland.
Doesn't matter whatever time of the year you'll be visiting, you'll surely not get bored with some of the best things to do and explore next time you visit from Gold Coast to Coolangatta (and back) all year round.