From One Premier Australian Holiday Destination to Another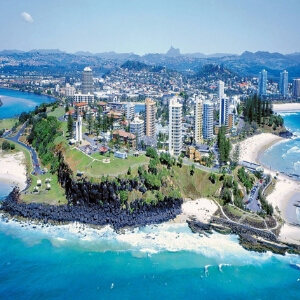 The party scene is exciting and colourful at Gold Coast, one of the prime holiday destinations in Australia. Buses from Coolangatta Airport to Gold Coast will only take you around half an hour but the memories of your holiday are bound to last for a lifetime. If the glitz and glamor is not for you, you can head back from Coolangatta to Gold Coast for some laid back adventure and a truly relaxing seaside holiday.
Situated just at the border of Queensland and New South Wales, you can find the coastal town of Coolangatta. A twin town to Tweed Heads, this laid back region is as equally stunning as the hotels and galleries of Gold Coast, but in a natural way. You'll get access to great surfing sports, swim in pristine beaches, enjoy a leisurely walk near the coastal areas of try one of the cafes.
A lot of water sports can also be enjoyed in Coolangatta. You can enjoy munching on tropical fruits after you enjoy the sun and the sand. If strolling is your ideal form of relaxation, you get to enjoy plenty of that at the Walk on Water Walking Track at the Minjungbal Aboriginal Cultural Centre. Rent a bike and explore the rest of Coolangatta as you check out the best restaurants or explore the rainforests in the area. A close encounter with whales can be enjoyed at Coolangatta beach where humpback whales visit regularly. For adventure seekers, you can try jumping on a plane above Coolangatta.
Gold Coast is a stunning beauty to behold. Get access to Gold Coast's magnificent skyline at the SkyPoint Observation Deck. This destination offers a 360 degree view of the city. You can later enjoy a nice meal at The Seventy 7 Cafe and Bar and sip in a nice glass of wine as you watch the sun slowly go down.
Gold Coast also offers a fair share of adventure and fun. If you are up for some adventure, the SkyPoint Climb is an activity you can truly enjoy. This 90-minute climb, a 270-meter building which is considered as Australia's highest external building ascend gives you access to the most amazing views of Gold Coast, together with all its beaches and the hinterland.
Doesn't matter whatever time of the year you'll be visiting, you'll surely not get bored with some of the best things to do and explore next time you visit from Gold Coast to Coolangatta (and back) all year round.
Gold Coast to Coolangatta Airport Bus
If you're traveling between Coolangatta Airport & Gold Coast, be sure to catch Con-X-ion's Gold Coast to Coolangatta Airport shuttle transfers for a hassle-free travel to your destination. Regular daily services are available so you get to choose times and pickup and dropoff points suitable to your requirements. Hop aboard, sit back and relax, and let Con-X-ion transfer you in stylish comfort to your destination.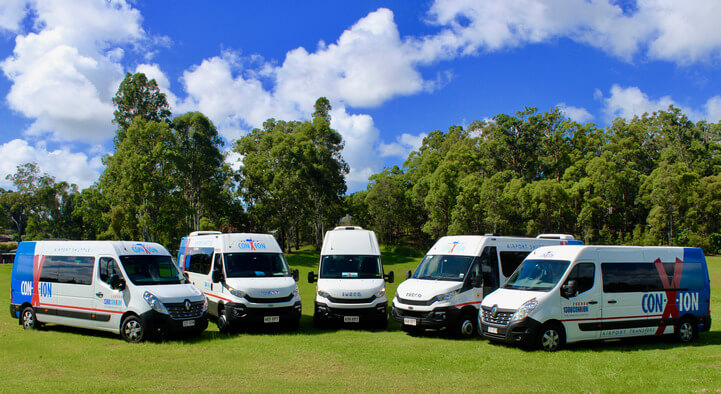 Top Things to Do & See for Gold Coast <> Coolangatta Trip
Surfers Paradise Beach

Never miss out conquering the waves of Gold Coast via a trip to the Surfers Paradise Beach. This destination has been a favourite for both local and international visitors for a long long time and remains to be one of the most beautiful beaches in Queensland. This white-sand beach is one of the most busy areas of the bustling Gold Coast. If you are up for some good time, fun and a lot of sun, Surfers Paradise Beach is the place to be.
SkyPoint Observation Deck

Situated at the tallest residential areas in Australia, The Skypoint Observation Deck is a favourite destination for thrill-seeking adventurers who would want to brave the heights and enjoy a majestic view of the Gold Coast. Located at the 77th and the 78th level of the Q1 hotel, you'll be able to see the beautiful beach and the night lights of the city below. A cinematic history of the city is featured at the Skyline Room of the hotel.
Sea World

Known to be the biggest marine park situated in Australia, Sea World is just right at the Main beach of the Gold Coast. You'll get to experience close encounters with sea creatures as well as stay close to the beautiful beach of Gold Coast. You can swim together with the reef sharks and fishes or feed eagles and sea animals in the area. There are also plenty of penguins, polar bears, sea lions, and dolphins homed in the park.
Purling Brook Falls

Situated at the Springbrook National Park, the Purling Brook Falls is one of the massive waterfalls in Australia. This 110-meter waterfalls travels down into the stunning rainforest valley where several species of ferns and palms are located. Get access to this stunning falls through a suspension bridge just below the fall. Tourists always look forward to seeing the waterfalls after a heavy rain - a spectacular view you should keep in mind when you visit.

Coolangatta Surf

Surfing is one of the favourite and sought-after reasons why tourists head to the beaches of Coolangatta. Whether you are an expert or a beginner that is interested in learning how to surf, there is something for you to try out here. Avoid Point Danger if you are just a rookie surfer. Kirra Point is the perfect destination for newbies trying to learn to surf. The Greenmount Beach and the Rainbow Bay offers average waves and swells you can enjoy to conquer.
Coolangatta Whale Watch

Whale watching is one of the common activities locals and tourists enjoy when visiting coastal areas in Australia. You can head to the Tweed Heads and see migratory humpback whales passing by. August and September would be the best months to chance a sighting of these beautiful mammals. The Coolangatta Whale Watch is one of the popular whale watching tours you can check out while in the region.
Tweed River Coolangatta

If you are up for some relaxing time in Coolangatta, fishing would be an ideal activity for you. You might want to include catching a few crabs as well at the Tweed River. Go to Catch-A-Crab to grab your gear and experience a half-day tour at the Terranora Inlet. Ths cruise gives you access to fishing, pelican feeding sports, mud-crab catching areas, and yabbie hunting. You can enjoy lunch at the area at an affordable rate.
Coolangatta Skydiving
Adrenaline rush is guaranteed via a jump 10,000 feet above the ground via a skydiving experience at Coolangatta. Tandem Skydive offers a ride above the air where you can jump anywhere from 10,000 to 14,000 feet from the air. Get an eagle eye view of the sights at the Great Barrier Reef and the whole of Queensland coast as you plummet, together with a professional skydiver, down to earth.
Who We Are
With over 30 years of experience in the field of transportation, Con-X-ion is a trusted provider of direct airport shuttle services within Australia. We also provide charter options and premium transport services in various parts of Queensland, as well as Sydney and Melbourne areas.
Our mission is to provide timely, comfortable, and convenient way to travel for each of our customer. Our proven track record as a direct shuttle and private transport and our unmatched customer service are what sets Con-X-ion apart in the industry.
Service excellence for more than 30 years, completed 10 million transfers -- and counting.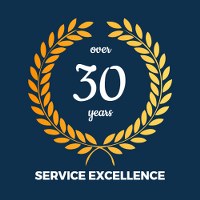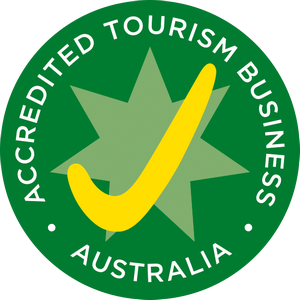 ARRIVAL PROCEDURE
All arriving passengers are to make their way to the Con-X-ion counter prior to collecting their luggage. The departure schedule will be displayed at the counter.
Passengers are required to be at the counter ready to depart 10 minutes prior to departure time.
Passengers are expected to actively look for their driver who will be wearing a blue shirt and red Con-x-ion hat.
If you require assistance, please phone 1300 266 946 or +61 7 5556 9888.
LATE FLIGHTS
Passengers arriving from delayed flights, who missed the last service of the day, are required to make alternative travel arrangements at their own expense. Passengers booked on/who missed the last service hour will be eligible for a refund for the unused service. If your flight has been delayed please contact Con-X-ion immediately on 1300 266 946.

*Please note: Our services are unable to wait for delayed flights or late passengers. Con-X-ion is not responsible for delayed flights.

 
DEPARTING PROCEDURE
Your service should arrive during the 20-minute window outlined on your confirmation. You must be ready and waiting for the entirety of your pick up window.
If you miss your allocated service please make contact with Con-x-ion directly on 1300 266 946 (Australian) or +61 7 5556 9888 (international) ASAP. Ask your hotel/concierge if you require assistance.
Please ensure your mobile is switched on in case we need to contact you.
Passengers that are not found may not be eligible for refund or reimbursement.
Please do not depart in a taxi without making contact with Con-x-ion first.