From Queensland's East Coast to its World Best Beaches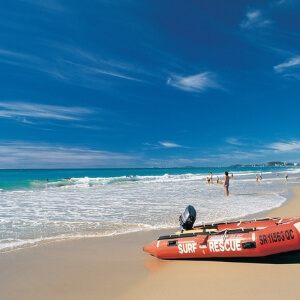 Be located at the center of fun and exciting activities right at the heart of Gold Coast via a trip from Brisbane to Broadbeach. Known for its world-class beaches, cafes, restaurants, hotels, and best hospitality services, Broadbeach is indeed the king of all the beaches in the Gold Coast. A transport from Brisbane Airport to Broadbeach takes an hour and a half, a trip worthwhile your time as Broadbeach welcomes you with its fine weather and awesome destinations.
After being overshadowed by the popular beaches at Surfers Paradise, Broadbeach is now considered as one of the top destinations for enjoying the sun and the sand in Queensland. Popularly known as Broadie for Aussies, the town has become a world-celebrated region for shopping, dining, and entertainment.
A common denominator among the most celebrated destinations in QLD would be its beautiful beaches and surfing spots. Broadbeach has plenty of this. You can check out the Kurrawa Beach or the main Broadbeach near the coast. Inner beaches include the ULTIQA Beach, Miami Beach, and Nobby's Beach. Beach breaks for surfers extend at the whole full length of the beach and moderate swells and offshore winds can be best found at the outer bar. There are also a lot of areas for fishing by the beach. The Nerang jetty and entrance wall are the best spots for fishing in the area.
Brisbane has its fair share of man-made beaches within its vicinity. However, you have a lot of outdoor activities to choose from. Popular tourist attractions include a thrilling climb up the Story Bridge, cruising around the Brisbane River, trekking and sightseeing at Mt. Coot-tha, and leisurely walks at the Brisbane Botanic Gardens.
Although these two Queensland attractions seem to be far too different in terms of the mood and vibe they offer, Brisbane and Broadbeach provide what most travelers and tourists look forward to - a lot of fun things to do under the sun with easy access to the area's popular relaxing facilities. If you're up for this experience, these two destinations should be on your list.
Doesn't matter whatever time of the year you'll be visiting, you'll surely not get bored with some of the best things to do and explore next time you visit from Broadbeach to Brisbane (and back) all year round.
Brisbane Airport to Broadbeach Shuttle Bus
If you're traveling between Brisbane & Broadbeach, be sure to catch Con-X-ion's Broadbeach to Brisbane Airport bus for a hassle-free travel to your destination. Regular daily services are available so you get to choose times and pickup and dropoff points suitable to your requirements. Hop aboard, sit back and relax, and let Con-X-ion transfer you in stylish comfort to your destination.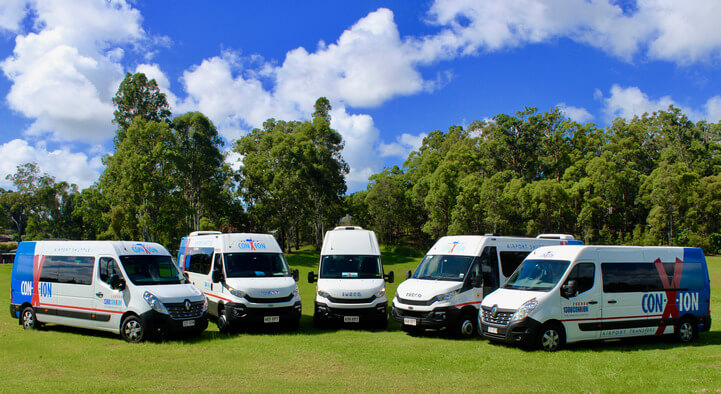 Top Things to Do & See for Brisbane <> Broadbeach Trip

Brisbane River Cruise

Brisbane River is one of the iconic features that symbolises Brisbane. This makes the area a staple destination for locals and tourists visiting this bustling city. A river cruise in Brisbane River would be best during midday where the sun is lovingly up and shining for you to see the mesmerising view of the coast and the buildings in the area. The relaxing glide over water is concluded with a nice lunch and local wine, or some musical entertainment near the banks.
Byron Bay Tandem Skydive
Set aside all your inhibitions and prepare to experience a one-of-a-kind activity in Brisbane through a skydiving experience. Byron Bay Tandem Skydive gives you access to a majestic view of Brisbane 15,000 feet above the city. It is a guaranteed adrenalin rush and a perfect way to start or conclude your holiday in Brisbane. Catch your breath and jump with a professional skydiver as you fall and glide over Byron Bay and the nearby surfing areas.
Story Bridge

Your Brisbane adventure would be incomplete unless you bravely conquer the Story Bridge climb experience. You've seen it several times in movies and even Prince Charles braved the heights of the Story Bridge. A 2-hour nerve-wracking but fulfilling climb will take you above Brisbane and will allow you to see the whole 360 degree of Brisbane's beauty. The Moreton Bay and the Glass House Mountains can be seen from this scenic spot.
Brisbane Botanic Gardens

After conquering the waters and the sky, some laid-back adventure within Brisbane's serene destinations should help you regenerate your souls. Get your much deserved retreat by grabbing a good book and setting up a nice picnic at the Brisbane Botanic Garden grounds. There's a riverfront cycling area onsite, two ornamental ponds where you can take souvenir pictures of your trip as well, as relaxing spaces near the Bamboo Grove.

Surfing on Broadbeach
Mornings are not boring in Broadbeach. You can start your day with an adrenaline-pumped surfing lesson at the main beach of the town. Lessons are both for newbies and rookie surfers. The course includes a safety briefing and basic instructions before you can jump into the water. Surfing paraphernalias like rash guards and wetsuits are available for rent on site as well as surfboards for beginners.
Helicopter Flights and Jet Boat Rides

You are in for some fun and adventure with these combo activities you can try in Broadbeach. You can tour around the area via a jet boat ride and a helicopter flight. You'll see mansions, sandbanks, and a whole lot of the beach during your time in the sky and then later on will transform into a daredevil as you try out the waters at the Wave Break Island and the South Stradbroke Island. The more than an hour activity is an experience to beat.
Scenic Flights via Seaplanes

If you want to check out the skies in a more relaxed avenue (yet as equally scenic experience), a Seaplane adventure is the best option for you. You'll see the pristine beaches of Broadbeach, Surfers Paradise, and the Southport Broadwater. The South Stradbroke Island, Q1, and the Jupiter Casino can also be seen from above during your flight. This 10-minute experience gives you unrivaled views perfect for souvenir photos during your holiday.
Dracula's Cabaret Restaurant

A lovely show and a sumptuous dinner would be the best way to conclude your day of adventure in Broadbeach. Enjoy cocktails, cabaret and canapes at the legendary Dracula's Cabaret and enjoy a 3-course dinner served, with entertainment on site. You'll have to brave the Ghost Train before you find a seat at the Theatre of the Vampyre where awesome shows, circus acts, puppetry, comedy, and live music will keep you entertained.
Who We Are
With over 30 years of experience in the field of transportation, Con-X-ion is a trusted provider of direct airport shuttle services within Australia. We also provide charter options and premium transport services in various parts of Queensland, as well as Sydney and Melbourne areas.
Our mission is to provide timely, comfortable, and convenient way to travel for each of our customer. Our proven track record as a direct shuttle and private transport and our unmatched customer service are what sets Con-X-ion apart in the industry.
Service excellence for more than 30 years, completed 10 million transfers -- and counting.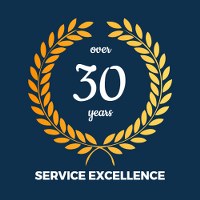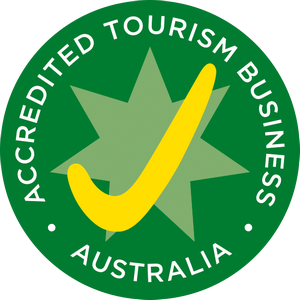 ARRIVAL PROCEDURE
All arriving passengers are to make their way to the Con-X-ion counter prior to collecting their luggage. The departure schedule will be displayed at the counter.
Passengers are required to be at the counter ready to depart 10 minutes prior to departure time.
Passengers are expected to actively look for their driver who will be wearing a blue shirt and red Con-x-ion hat.
If you require assistance, please phone 1300 266 946 or +61 7 5556 9888.
LATE FLIGHTS
Passengers arriving from delayed flights, who missed the last service of the day, are required to make alternative travel arrangements at their own expense. Passengers booked on/who missed the last service hour will be eligible for a refund for the unused service. If your flight has been delayed please contact Con-X-ion immediately on 1300 266 946.

*Please note: Our services are unable to wait for delayed flights or late passengers. Con-X-ion is not responsible for delayed flights.

 
DEPARTING PROCEDURE
Your service should arrive during the 20-minute window outlined on your confirmation. You must be ready and waiting for the entirety of your pick up window.
If you miss your allocated service please make contact with Con-x-ion directly on 1300 266 946 (Australian) or +61 7 5556 9888 (international) ASAP. Ask your hotel/concierge if you require assistance.
Please ensure your mobile is switched on in case we need to contact you.
Passengers that are not found may not be eligible for refund or reimbursement.
Please do not depart in a taxi without making contact with Con-x-ion first.