City Life Adventures Leaping to A Laid-back Escape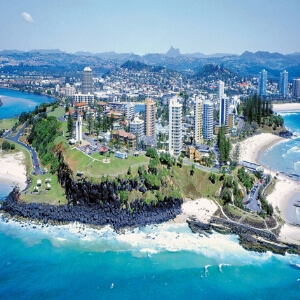 If you would want a taste of both worlds here in Queensland, you might want to catch a bus from Coolangatta to Brisbane (or the other way around) for some kind of opposite adventures but a fun holiday. You can enjoy the busy and progressive city and then later on rest and recuperate in another. Brisbane to Coolangatta is indeed a destination where you can enjoy a dose of fun and an equal dose of a serene escape.
One of the best areas you shouldn't miss when in Brisbane is South Bank. The area is considered as one of Brisbane's premier tourist destination perfect for all ages. Dining and food options are plenty and there are lots of things to do and enjoy while visiting the area. Taking in the beauty, history, and hospitality of Brisbane is indeed an adventure you should not miss.
The QAG is home to the history of Queensland's arts and artists where numerous priceless collection such as that of Drysdale, Vida Lahey, and Nolan are situated. The best part is that tours are free so you can definitely go back anytime you want. You can later on relax and enjoy a cup of tea or herbs at the herbs and tea gardens along the stretch of Clem Jones Boulevarde starting from the Victoria Abutment. A citrus orchard located nearby would be a great place to visit while in the area. Weekends are even more amazing in the area. From Friday to Sunday afternoon, you can enjoy a stretch of stalls and merchants along the Stanley Plaza.
Located at the southernmost suburb of Queensland is Coolangatta. It is named after the shipwreck in the area back in the early 1800s. Extreme adventures can be accessed via the activities featured in the area. The Gold Coast Skydive is one of the best skydive centre located on the Coast.
The Kirra and Tugun coastline are stunning spots where you can grab a blanket and enjoy a picnic. Point Danger, Eddie's Grub House, Black Sheep Espresso, Baa and Bellakai Bar are just a few of the dining options and entertainment areas you should visit in the area. If a peaceful sanctuary is what you want, Coolangatta's coastline stretch offers such.
Doesn't matter whatever time of the year you'll be visiting, you'll surely not get bored with some of the best things to do and explore next time you visit from Brisbane to Coolangatta (and back) all year round.