Visit the Metropolitan Region of the South to the Surf Breaks at the Point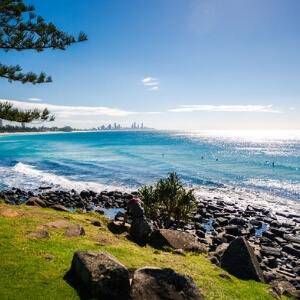 A favourite coastal region located at the metropolitan south of Brisbane is Gold Coast. Known for its exquisite beaches, premium accommodations, and fancy dining options, it is indeed one of the fave destinations in Queensland. Burleigh Heads, an equally stunning suburban destination, offers something different, but as equally stunning escape as the rest of the Gold Coast is known for.
A bus from Gold Coast Airport to Burleigh Heads takes less than half an hour. The views during the ride gives you a prologue of what to look forward to when you visit. There are elaborate canals and waterways along the way as well as a trail of natural beauty you can take home, only if you tag your favourite cameras along.
Your journey from Burleigh Heads to Gold Coast is an escapade you can really enjoy alone, with a loved one, or with the gang. Burleigh is located between the famous Surfers Paradise and the north of Coolangatta. The location already gives you an idea of the fun things you can do outdoors in the region.The beach alone is a destination for both of those who are looking for a secluded sanctuary and a wild ride. There are areas where you can relax in protected waters and spots perfect for surfing just around the headland. Walking trails and wildlife experience are also available along the ocean territory.
Seafoods are plenty with oceanfront dining experience to entertain you while you eat. Several funky restaurants are also gaining popularity in the area making it a fun place to explore the local dining cuisine in the region. Shopping areas are ample and will not disappoint. Check the inland to West Burleigh for such experiences you can enjoy during the day.
Known to be one of the premier holiday destinations in Australia, Gold Coast definitely delivers. With world-class hospitality, fabulous hotels, and a dozen of entertaining activities to do and places to go, you will never run out of things to do in the area. There's a lot of dining options and entertainment place worthy to visit in both prime destinations.
Doesn't matter whatever time of the year you'll be visiting, you'll surely not get bored with some of the best things to do and explore next time you visit from Gold Coast Airport to Burleigh Heads (and back) all year round.