A Bustling Getaway to OZ's Topnotch Surf Breaks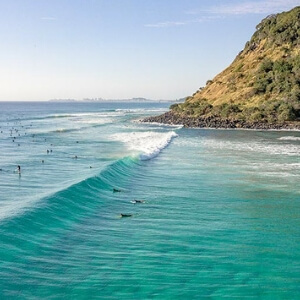 Brisbane is a testament of great things from small beginnings. From a simple town, it has now emerged as one of the top 3 favourite destinations, after Sydney and Melbourne. Burleigh Heads may not be as popular destination as Brisbane, but what it offers is a sanctuary and escape from the buzz and busy vibrant streets of Brisbane. Take a short hour trip from Brisbane Airport to Burleigh Heads and experience an adventure of a lifetime.
A must-stop in visiting Brisbane would be the Brisbane sign. Originally designed for the G20 Leaders Summit, it has now become a staple icon of the city and is still sitting by the banks of the Brisbane River at present. You can find it easily on foot by walking across the Victoria Bridge or through the South Bank boardwalk or by the Clem Jones Promenade.
Burleigh Heads is an escape perfect for breaking surf breaks and conquering the sea. You'll love the tropical vibe in the area, decorated with natural fragrant pine trees. Relaxing by the sea is also very accessible palate-wise with world-class dining options available for your to chomp on. Shopping options are also plenty and can be accessed through a number of unique boutiques along the beach. Cheap, cute handmade jewelry are available at the James Street and at the Village Markets. Bookings are sometimes required at the chic eateries in the area, but are pretty worth the time and your effort.
There are also plenty of barbeque areas and picnic tables that can host your outdoor lunch and gatherings while enjoying the view of the headland. You can also check out the Tallebudgera Creek where grasslands and areas for a stroll are plenty. Local musicians and poets performs for free around the Burleigh Heads National Park.
Going back from Brisbane to Burleigh Heads gives you access to more fun stopovers. You'll be passing through Gold Coast where you can enjoy the stunning view of the coast or simply have a great time checking out the beaches along the way. Several factory outlets are also available in the route where you can splurge on some shopping items.
Doesn't matter whatever time of the year you'll be visiting, you'll surely not get bored with some of the best things to do and explore next time you visit from Brisbane to Burleigh Heads (and back) all year round.