Coastal Hub Adventures and Destinations in Queensland's Winter Playgrounds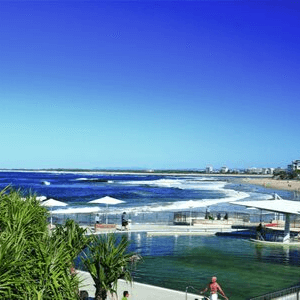 Loved for its great beaches and beautiful hinterland, Caloundra is one of the great places to be in Australia.  A bus from Sunshine Coast Airport to Caloundra will take you half an hour drive via the Sunshine Motorway/State Route 70 and the Nicklin Way. Both destinations offer a unique adventure, but with the best intentions to create your perfect holiday.
Home to the Pumicestone Passage, Caloundra is a coastal town and home to many beaches perfect for swimming and surfing. Among these popular surf beaches include the Dicky, Moffat, Bulcock, Golden Beaches, and the Kings. The beautiful hinterland is also a part of the many stunning nature destinations one can enjoy when visiting Caloundra.
Caloundra is a holiday resort town and one of the best places to retire in Queensland. It is originally a destination for retirees but slowly emerged to become one of the excellent surf beaches in Australia. The region is also loved for its rather balmy and subtropical climate and easy lifestyle. Fishing and water sports are plenty in the region. Caloundra is known to be one of the most southerly resort and beach towns on the Sunshine Coast area and among the year-round wonders to explore in Queensland.
Boating adventures can be enjoyed via accessing the Pumicestone Passage that separated Bribie Island from the mainland. Caloundra also serves as the gateway to the Sunshine Coast Hinterland where craft galleries and local artisan products can be found. Entertainment locations such as Montville and Eumundi can be accessed through this area.
Sunshine Coast Airport is a complete stunner. With its pristine beaches and world class hotel facilities, living the life of adventure and comfort is quite possible in the suburb. Springtime from September to November would be the best time of the year to head to Sunshine Coast. The sun is quite cool and appealing and rainfall is quite less during this season.
Sunshine Coast Airport to Caloundra is a must adventure on your bucket list. Pack your bags and explore the hinterlands, conquer, the waves or simply enjoy the natural beauty that this scenic route offers.
Doesn't matter whatever time of the year you'll be visiting, you'll surely not get bored with some of the best things to do and explore next time you visit from Sunshine Coast  Airport to Caloundra QLD (and back) all year round.