Novotel Surfers Paradise
Spirited Nightlife and Immaculate Holiday Escapes
Indulge with fine dining, great entertainment, cozy nights, and access to the best views and scenic spots in Golden Coast with a stay at the Novotel Surfers Paradise Hotel. A mid-scale hotel perfect for family trips and holiday escapes, you are located a few minutes away from the beach and undisturbed views of the Golden Coast skyline.
Be situated at the heart of the shopping and dining precincts in the area or simply enjoy the outdoor pool onsite or the tranquility of your well-appointed rooms. Dining at the Hanlan Seafood Restaurant is a must. Wedding facilities, conference rooms, meeting areas and venues for special occasions are also available.
Theme parks are closely located nearby, immaculate premier beaches and a lot of fun entertainment and exciting nightlife. If you are not in the mood to explore the wide open spaces around or the lovely destinations nearby, you can also try out other activities within the hotel's vicinity, such as the full-sized tennis court in the area.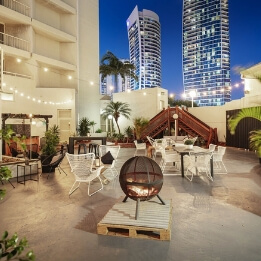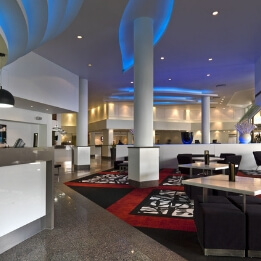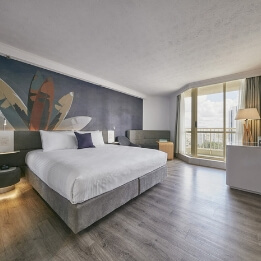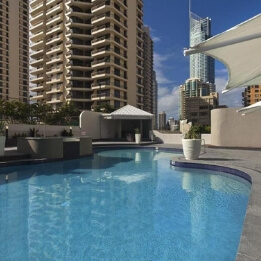 Novotel Surfers Paradise Hotel and Nearby Attractions
Nearby Hotels: 
Sofitel Gold Coast Broadbeach Hotel, Mercure Gold Coast Resort, Hilton Surfers Paradise, Luxury Residence Surfers Paradise Five Star Apartment, Bunk Surfers Paradise, The Island Gold Coast, Beachcomber Surfers Paradise
Nearby Attractions:
Super Duck Adventure Tours, Timezone Surfers Paradise, Ripley's Believe It or Not Surfers Paradise, Infinity Attraction, Flight Adventure, Jet Boat Extreme, Naturepet OZ, Aquaduck Safaris Gold Coast, Old Time Photos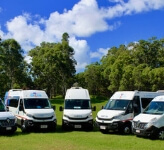 Book Novotel Surfers Paradise Hotel Transfer with Con-X-ion
Con-X-ion provides daily hotel shuttle transfers to/from top accommodations all over Queensland. Book your transfer today so we can get you hassle-free and on time to your destination, every time.
Nearby Locations Shuttle Transfers Pricing
*Note: Prices are subject to change without notice -- be sure to check via our booking form for the latest rates.
Gold Coast Airport - Dom/Int (OOL) > Novotel Surfers Paradise
$22.00
$41.00
Gold Coast Airport - Dom/Int (OOL) > Surfers Paradise Transit Centre
$15.00
$30.00
Gold Coast Airport - Dom/Int (OOL) > Pacific Fair Visitor Lounge
$15.00
$30.00
Gold Coast Airport - Dom/Int (OOL) > Australia Fair
$25.00
$50.00