Enjoying the Sunny Subtropical Climate of the Best Beaches in the World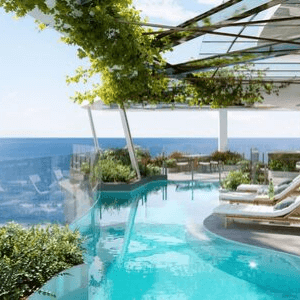 One of the major tourist destinations for surfing and beach activities in Australia is Mermaid Beach. This region is recognised as the Los Angeles Beach and the Miami Beach of the south.  Known for its rainforest, surfing destinations, and high-end hotels and resorts, the Gold Coast is considered to be one of the prime destinations in Australia. Gold Coast Airport to Mermaid Beach QLD via the Gold Coast Highways is 17 km away and half an hour drive away.
The best places to dine and eat as well as places to chill and enjoy the coastal lifestyle are readily available in Goldie. The stunning beaches, Burleigh Heads, and the salty and chic Broadbeach are more than enough reasons to go to the Gold Coast and have the best vacation of your life.
Named after the cutter HMS Mermaid, Mermaid Beach is a coastal town in Goldiet and is one of the most fashionable destinations in the region. Food and dining is also superb and world-class in Mermaid Beach. Diverse options such as Asian cuisine and modern Australia flavours can be enjoyed here. Golf courses are also plenty and easily accessible for you to enjoy. Accommodations are posh and luxurious, but with a few serviced apartments and caravan parks suited for anyone's budget.
You'll never run out of beaches to see and exceptional memories to experience while in Mermaid Beach. The entertainment district is just a short 3 kilometer away from Kurrawa Beach and the Putt Putt Golf Mermaid Beach. Shopping for souvenirs and entertainment is as equally exciting as the beaches. It is indeed a great place for families to have fun.
Fly high in the air to see a bird's eye view of the whole Gold Coast or explore wildlife and flora in the region. Whatever your kind of adventure is, Gold Coast Airport is one of your gateways to everything awesome. With over 13 million visitors each year and 12,500 new residents finding a home in the region, you are indeed in good hands in Australia's fastest growing city.
Fun and adventure is guaranteed from the Gold Coast Airport to Mermaid Beach QLD. Pack your bags light or prepare to spend a lifetime in these Australian suburbs to get a piece of paradise right at your doorstep.
Doesn't matter whatever time of the year you'll be visiting, you'll surely not get bored with some of the best things to do and explore next time you visit from Mermaid Beach QLD to Gold Coast Airport (and back) all year round.
Mermaid Beach to Gold Coast Airport Transport
If you're traveling between Gold Coast Airport & Mermaid Beach, be sure to catch Con-X-ion's Gold Coast Airport to Mermaid Beach bus for a hassle-free travel to your destination. Regular daily services are available so you get to choose times and pickup and dropoff points suitable to your requirements. Hop aboard, sit back and relax, and let Con-X-ion transfer you in stylish comfort to your destination.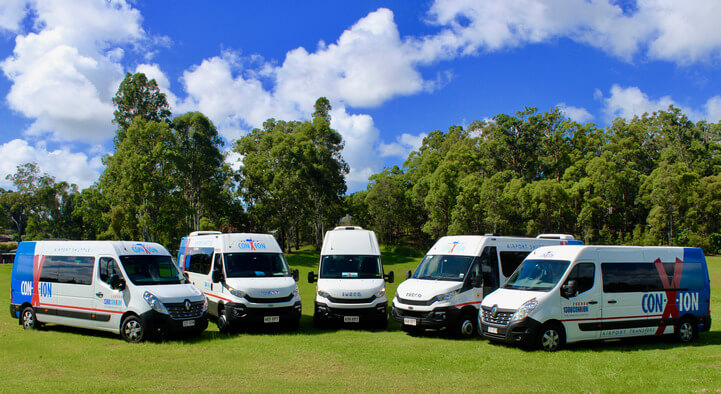 Top Things to Do & See for Gold Coast Airport <> Mermaid Beach Trip

Currumbin Wildlife Sanctuary

The beauty of nature and the animals in it is nature's gift to mankind. Enjoy these and more at Currumbin Wildlife Sanctuary. This destination is a known heritage-listed zoological garden and also serves as a sanctuary for native animals in the region. Built in 1847, it became a part of the Queensland Heritage Register in 2009. This nature adventure is indeed the ultimate bonding experience for the whole famiyl and nature and animal-lovers alike..
Elephant Rock

Looking into the ocean is such a relaxing experience to do and is practically free! Head to the Elephant Rock lookout with the iconic rock - a hardened eroded siltstone that left elephant-looking rock on the shores of Currumbin. This local landscape is one of the favourite lookout spots in the area. A few establishments and structures were also built around this area to make it more convenient and accessible to tourists and locals.
Tugun Beach

Watersport activities such as swimming, snorkeling, surfing, kayaking, boating, and many more can be enjoyed at Tugun Beach. This popular beach located less than 2 miles away from the Gold Coast Airport is one of the most outdoorsy adventures and destinations you can head to in the area. Whether your alone looking for a tranquil escape or traveling with friends for some fun memories, Tugun Beach is a destination ready to satisfy your holiday needs.
Superbee Honeyworld

Situated inside the Currumbin Wildlife Sanctuary, Superbee Honeyworld brings you to a different kind of world as you discover the life of the bees and everything in between. A bee show is featured in the area and several shops are available for souvenirs, treats, and honey. This experience is both a knowledgeable and fun experience perfect for the whole family, especially your little ones.

Putt Putt Golf Mermaid Beach
A fun attraction perfect for date nights, bonding with friends, or simply enjoying the day is available at Putt Putt Golf Mermaid Beach. This local destinations allows you to spend an hour or two of fun time in the mini golf courses featured in the area. There are also several benches installed around the area perfect for non-golf enthusiasts. You will be surprised with the amount of fun you can have in this great place in Mermaid Beach.
Nobby Beach

A picture perfect beachfront that gives you access to playgrounds, picnic areas, barbecue grill, walking tracks, and dining options. Nobby Beach is indeed a favourite destination for tourists and locals, especially for families looking for a fun holiday. A life guard is also available onsite making it one of the safest beaches in Mermaid Beach, even for the younger kids. Different water activities can be enjoyed in the area.
Pacific Fair Drive
If shopping is part of your itinerary in your Mermaid Beach holiday, head to the Pacific Fair Drive, the home to various collections of leading brands in Australian fashion and dining options. If you had enough of the sun and would want to have some fun time indoors, the Pacific Fair Shopping Centre is one of your best options. It is one of the most visited shopping centers in the area. Several dining areas are in close vicinity to this destination.
The Star Gold Coast

A sleek towering structure that has served as the home of many tourists exploring Mermaid Beach, The Star Gold Coast is one of the finest upscale hotel and restaurants in Goldie's suburbs. It also features a day spa, bars and gaming centres, a theatre, as well as poolside cabanas you can enjoy together with friends. This hotel sits on an island located within the Dunlop Canal and features a great view of the city.
Who We Are
With over 30 years of experience in the field of transportation, Con-X-ion is a trusted provider of direct airport shuttle services within Australia. We also provide charter options and premium transport services in various parts of Queensland, as well as Sydney and Melbourne areas.
Our mission is to provide timely, comfortable, and convenient way to travel for each of our customer. Our proven track record as a direct shuttle and private transport and our unmatched customer service are what sets Con-X-ion apart in the industry.
Service excellence for more than 30 years, completed 10 million transfers -- and counting.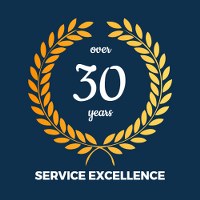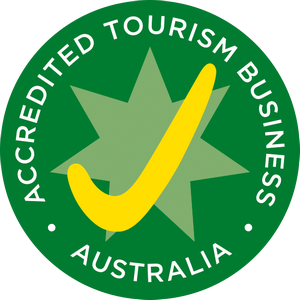 ARRIVAL PROCEDURE
All arriving passengers are to make their way to the Con-X-ion counter prior to collecting their luggage. The departure schedule will be displayed at the counter.
Passengers are required to be at the counter ready to depart 10 minutes prior to departure time.
Passengers are expected to actively look for their driver who will be wearing a blue shirt and red Con-x-ion hat.
If you require assistance, please phone 1300 266 946 or +61 7 5556 9888.
LATE FLIGHTS
Passengers arriving from delayed flights, who missed the last service of the day, are required to make alternative travel arrangements at their own expense. Passengers booked on/who missed the last service hour will be eligible for a refund for the unused service. If your flight has been delayed please contact Con-X-ion immediately on 1300 266 946.

*Please note: Our services are unable to wait for delayed flights or late passengers. Con-X-ion is not responsible for delayed flights.

 
DEPARTING PROCEDURE
Your service should arrive during the 20-minute window outlined on your confirmation. You must be ready and waiting for the entirety of your pick up window.
If you miss your allocated service please make contact with Con-x-ion directly on 1300 266 946 (Australian) or +61 7 5556 9888 (international) ASAP. Ask your hotel/concierge if you require assistance.
Please ensure your mobile is switched on in case we need to contact you.
Passengers that are not found may not be eligible for refund or reimbursement.
Please do not depart in a taxi without making contact with Con-x-ion first.