Mantra Towers of Chevron
A Three-Tower Residential Paradise in Gold Coast
Make your stay in Surfers Paradise truly amazing by getting the best accommodation experience you can enjoy at the Mantra Towers of Chevron. Whether you are travelling for business, getting some personal time off, or having a holiday with the whole family, your needs and more will be accommodated, with expectations surpassed at the Mantra Towers of Chevron.
Indoor relaxation is guaranteed. You'll get to try a few laps on the lap pool, access the gymnasium, or enjoy a detoxifying sauna. If the sun is your friend during the holidays, you should not miss the leisure area of the resort popularly known as the "Beaches in the Sky". There's also plenty of dining options available just a few steps away from the hotel.
Feeling a bit luxurious and would want to enjoy a private screening with your special someone or your family? You can rent out the private theatre available onsite. The private theatre sits 18 people in chic sofa seats and a kitchenette inside. You can prepare your own popcorn while enjoying a movie with the gang or your loved ones.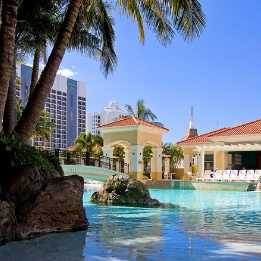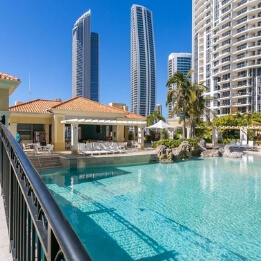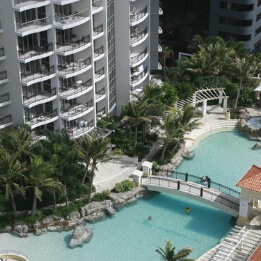 Mantra Towers of Chevron Hotel and Nearby Attractions
Nearby Hotels: 
Chevron Renaissance by Holiday Holiday, Mantra on View Hotel. Mantra Circle on Cavill, Vibe Hotel Gold Coast, Mantra Sun City, Q1 Resort & Spa
Nearby Attractions:
Infinity Attraction, Timezone Surfers Paradise, Ripley's Believe It or Not!, Padlockd Escape Rooms, Sling Shot & Vomatron Amusement Rides Gold Coast, Cavill Avenue, Surfers Paradise Beach, Q1 Observation Deck, Gold Coast Convention & Exhibition Centre, Oasis Shopping Centre, Pacific Fair Shopping Centre, The Star Gold Coast in Broadbeach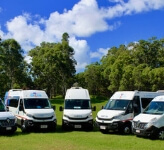 Book Mantra Towers of Chevron Hotel Transfer with Con-X-ion
Con-X-ion provides daily hotel shuttle transfers to/from top accommodations all over Queensland. Book your transfer today so we can get you hassle-free and on time to your destination, every time.
Nearby Locations Shuttle Transfers Pricing
*Note: Prices are subject to change without notice -- be sure to check via our booking form for the latest rates.
Gold Coast Airport - Dom/Int (OOL) > Mantra Towers of Chevron
$22.00
$41.00
Gold Coast Airport - Dom/Int (OOL) > Surfers Paradise Transit Centre
$15.00
$30.00
Gold Coast Airport - Dom/Int (OOL) > Pacific Fair Visitor Lounge
$15.00
$30.00
Gold Coast Airport - Dom/Int (OOL) > Australia Fair
$25.00
$50.00