Mantra Crown Towers
Exciting Memorable Holidays, Pleasing Services Guaranteed
Just a short 100m from the beach is what you'll get to enjoy when you book your hotel accommodation at the Mantra Crown Towers. The Surfers Paradise Beach is just a few steps away, thus giving you access to one of the premier beaches in the world. A balance among the sun, sand, and a good old relaxing retreat in one of the best hotels in the area is guaranteed.
Mantra Crown Towers offers a variety of accommodation for solo travelers, businessmen, group of friends, or families on a holiday. They feature one, two, and three-bedroom apartments with self-catering facilities making you feel at home, albeit a luxurious and more convenient version of it. It's a good place to relax before you go on an adventure on the Gold Coast.
Avoiding the sun can still be entertaining and worthwhile inside the hotel's vicinity. There's a day spa, the Calmer Therapies where you can enjoy a massage with your loved one. You can still enjoy the waters at the lagoon pool. There's a waterslide and a pirate ship onsite, so you'll have enough reason to stay indoors and enjoy the hotel' superb facilities.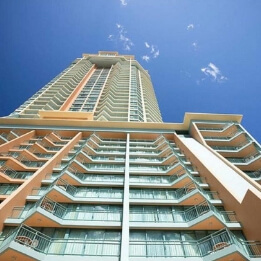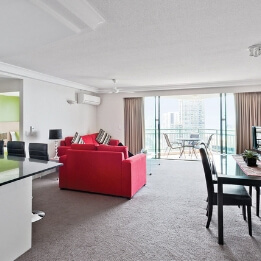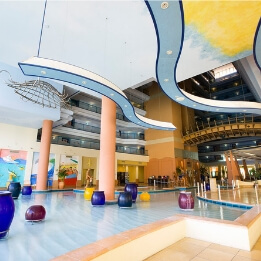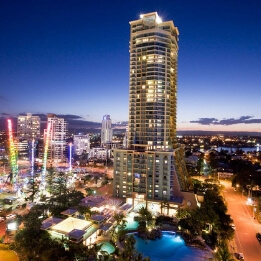 Mantra Crown Towers Hotel and Nearby Attractions
Nearby Hotels: 
Mantra Circle on Cavill, Mantra on View Hotel, Hilton Surfers Paradise Residences, Hilton Surfers Paradise, Peppers Soul, Chevron Renaissance by Holiday Holiday, Chateau Beachside
Nearby Attractions:
Slingshot Gold Coast, Cypress Avenue Light Rail Station, King Tutts Putt Putt, Gold Coast Wax Museum, Surfers Paradise North Light Rail Station, Infinity, Budds Beach, Surfers Paradise Beachfront Markets, SkyPoint Observation Deck, Surfers Paradise, Broadbeach, Sea World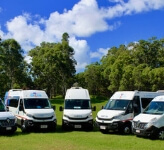 Book Mantra Crown Towers Hotel Transfer with Con-X-ion
Con-X-ion provides daily hotel shuttle transfers to/from top accommodations all over Queensland. Book your transfer today so we can get you hassle-free and on time to your destination, every time.
Nearby Locations Shuttle Transfers Pricing
*Note: Prices are subject to change without notice -- be sure to check via our booking form for the latest rates.
Gold Coast Airport - Dom/Int (OOL) > Mantra Crown Towers
$22.00
$41.00
Gold Coast Airport - Dom/Int (OOL) > Surfers Paradise Transit Centre
$15.00
$30.00
Gold Coast Airport - Dom/Int (OOL) > Australia Fair
$25.00
$50.00
Gold Coast Airport - Dom/Int (OOL) > Pacific Fair Visitor Lounge
$15.00
$30.00