Mantra Legends Hotel
An Escape to the Ultimate Gold Coast Holiday Location
Enjoy lively nights with entertainment, city lights, and a fun crowd to beat when you visit the Mantra Legends Hotel. Popular for its live entertainment and its famous seafood banquets during Saturday nights, there is a lot to look forward to when choosing Mantra Legends Hotel as your accommodation in Surfers Paradise in Gold Coast.
Seated less than 100 meters away from the ocean, nightlife is what you can easily access and enjoy at the Mantra Legends Hotel. You can go out at night by the beach even by foot and then later on succumb to a good night sleep after the party lights and fun fades out. Going to and from the beach is so accessible and safe when you stay at the Mantra Legends.
Not the outdoorsy type? There are plenty of things that can help you relax and enjoy your stay in Surfers Paradise indoors. There's a lagoon style pool onsite and spectacular views of the ocean and the hinterland by your balcony. Chomp into fresh produce and delicious cuisine at the Fables Restaurant where full menu of the best quality meals can be devoured.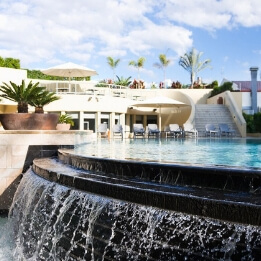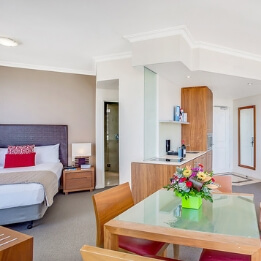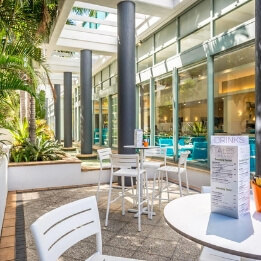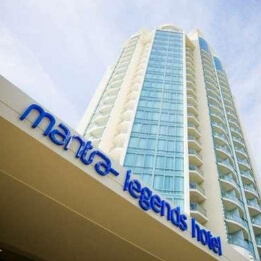 Mantra Legends Hotel and Nearby Attractions
🏨 Mantra Legends Hotel
📍 25 Laycock Street Surfers Paradise, QLD 4217
☎️ (07) 5588 7888 /  📠 (07) 5588 7885
📧 legends.res@mantra.com.au
🌐 https://www.mantrahotels.com/mantra-legends-hotel/ 
Nearby Hotels: 
Mantra Circle on Cavill, Accor Vacation Club - Legends Hotel Surfers Paradise, Q1 Resort & Spa, Mantra Sun City, 
Paradise Island Resort, Chateau Beachside, Paradise Centre Apartments, Tiki Hotel Surfers Paradise
Nearby Attractions:
Old Time Photos, Ripley's Believe It or Not! Surfers Paradise, SkyPoint Observation Deck, Surf City Church, 
Aquaduck Safaris Gold Coast, Timezone Surfers Paradise, Neal Shannon Park, Surfers Paradise Beach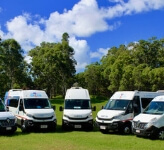 Book Mantra Legends Hotel Transfer with Con-X-ion
Con-X-ion provides daily hotel shuttle transfers to/from top accommodations all over Queensland. Book your transfer today so we can get you hassle-free and on time to your destination, every time.
Nearby Locations Shuttle Transfers Pricing
*Note: Prices are subject to change without notice -- be sure to check via our booking form for the latest rates.
Gold Coast Airport - Dom/Int (OOL) > Mantra Legends Hotel
$22.00
$41.00
Gold Coast Airport - Dom/Int (OOL) > Surfers Paradise Transit Centre
$15.00
$30.00
Gold Coast Airport - Dom/Int (OOL) > Pacific Fair Visitor Lounge
$15.00
$30.00
Gold Coast Airport - Dom/Int (OOL) > Australia Fair
$25.00
$50.00