Australia's Iconic Suburban Near Moreton Bay
A relaxing escape from the bustling city of Brisbane, Caboolture is located just an hour away from QLD's main city. Situated near the Moreton Bay Area, this fishing community is home to a natural scenery with a lot of historical heritage to boast. Caboolture is known for its rich culture, stunning mountain scenery, charming sandy beaches, and its friendly country-vibe villages.
The natural charmer is also home to the marine sanctuary in Bribie Island. Surfing spots are plenty as well as other outdoor and water activities to try and master during your stay. Nature parks and reserves abound the area, as well as great places to catch a fish or two.
Top Things To Do and See in Caboolture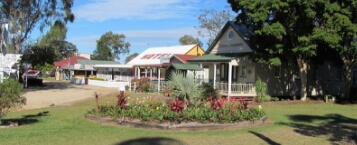 Caboolture Historical Village
The Caboolture Historical Village is situated north of the town centre. Listed as the top tourist destination in the suburb, it is home to the rich local heritage of the area where several volunteers and supporters guide tourists and locals in exploring the local history of the area.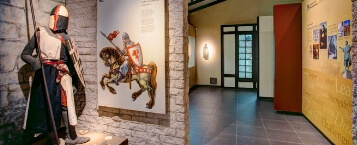 Abbey Museum of Art and Archeology
Go back to a trip back in time where ancient and classical worlds exist via a visit at the Abbey Museum. The site is home to historical treasures as old as 500,000 years, both of human history and culture. A 13th century medieval stained glass collection is also featured onsite.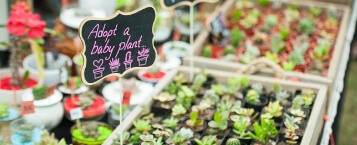 Caboolture Markets
A great place where you can check out plants for your garden, enjoy food on the go, or local delights and delicacies in food vans are two of the top activities you'll get to enjoy in the markets of Caboolture. Souvenir items and crafts are also available in several stalls.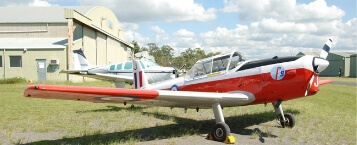 Caboolture Warplane Museum
A must-visit destination for heritage and history buffs, you'll learn a lot about the aviation history of Caboolture via a trip in this museum. There's plenty of WW2 aircraft history featured in the area, all in good condition. A Vietnam War Collection is also featured in the area.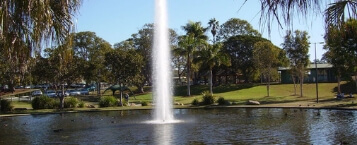 Centenary Lakes
A restful and beautiful outdoor area where you can have a picnic, walk your dog, and feed the ducks is featured at the Centenary Lakes. There's plenty of covered play area for kids and it's also a good place to relax, especially for large crowds of people touring as a group or families.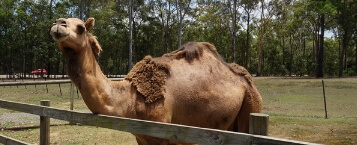 White Ridge Farm
Kids and kids at heart would definitely enjoy some fun time at the White Ridge Farm. Get close to animals that you can peat and feed. A few exotic animals are also housed in the farm. You can cuddle lambs and baby goats and have souvenir photos taken as memories of your trip.
Eat & Drink

There is a wide selection of flavours and dining options in Caboolture. As rich as its culture and history, you can take a dose of Asian flavours at Sushi Metro and the Meekak Korean BBQ Restaurants. Enjoy classic meals like some good old school pub at the Club Tavern or grab some spicy food at the Indian Brothers Morayfield. You'll also love the outdoors and cozy setting at the Namu Japanese. Favors of Thailand are featured at Sweet Basil Thai Restaurant and Thai On Wok. You'll never run out of dining choices in Caboolture.
Stay

Chill in and relax at the whirlpool tubs or the outdoor pool of the Best Western Caboolture Gateway Motel. Motor inns are also plenty. You can check out the Best Western Caboolture Central Motor Inn. A pleasant and more low-key accommodation waits at the Caboolture River Caravan Park where you can enjoy a BBQ while staying by the riverside with a boat ramp to boot. A modern sports bar, a beer garden, and a grill restaurant can be accessed near the Morayfield Tavern, a more affordable accommodation you could try while in Caboolture.
How to Get Here
There are 5 ways on how you can get to Caboolture. You can either take a train, a bus, taxi, rent a car, or get a shuttle service to get to the suburb from Brisbane Airport. Just a short 44 km north of Brisbane, it is located in the northernmost urban area of great Brisbane. It will take you less than 2 hours via a bus to reach Caboolture. A taxi ride or Uber can get you there in half an hour. Travelling via bus takes longer because it includes transfers at the Service Rd at Creek Road. Train trips are direct and will take you 45 minutes to get to Caboolture.
Getting Around
There are several modes of transportation you can use to get around Caboolture. Renting a car from the airport would be an ideal option as it gives you full access to several areas. Vehicle rentals like Thrifty has been the most favoured option for tourists enjoying Caboolture. A railway station is located on the North Coast line of Queensland and is also considered as the town centre of Moreton Bay Region and Caboolture. Bribie Island Coaches also operates to and from Caboolture to Woorim and Bribie Island. The Caboolture Bus Lines brings you to several areas around Caboolture.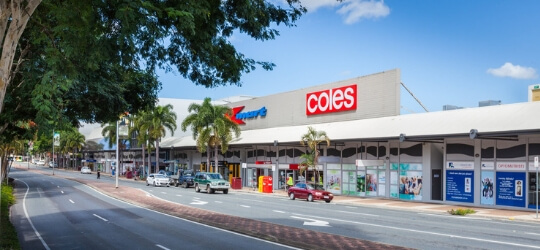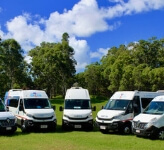 Ready to explore Caboolture?
Con-X-ion provides daily shuttle transfers to and from Caboolture. Book your Caboolture transfer today so we can get you hassle-free and on time to your destination, every time.